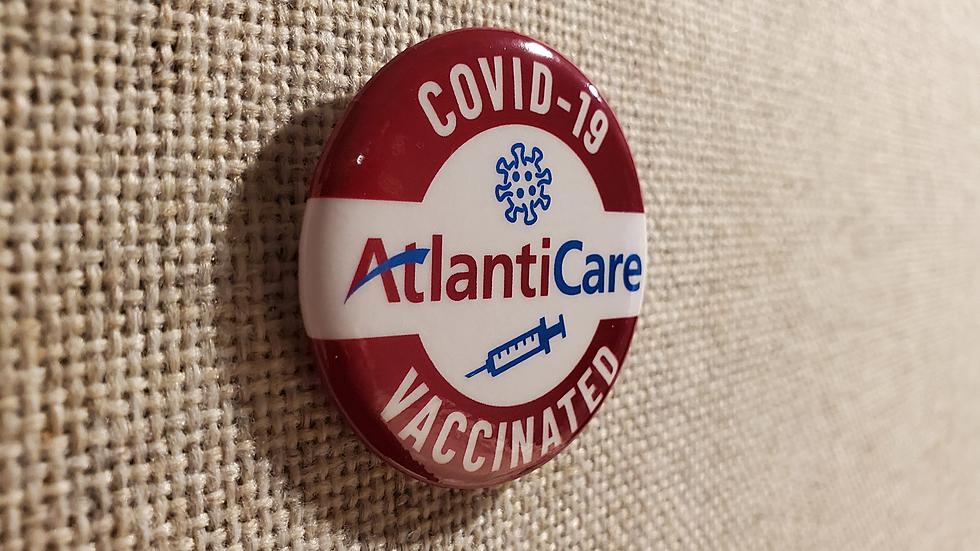 Atlantic City Vaccine Mega-site May Reopen to Distribute COVID-19 Booster Shots
AtlantiCare's COVID-19 Vaccinated Pin - Photo: Chris Coleman
It appears that it'll soon be time to roll up your sleeves one more time as U.S. health experts have announced a COVID-19 booster shot will be available for adults starting next month.
The date of your second shot will determine when you would be eligible for the booster vaccine. Originally the timeline was eight months after your second dose but that window may be moving up.
According to Gov. Murphy and WABC-TV, the CDC could approve a 6-month window thanks to the recent surge of COVID cases due to the Delta variant.
More than 2.4 million New Jersey residents would become eligible for the booster shot immediately if the 6-month guideline is approved.
Gov. Murphy tells WABC-TV,
"As these folks return to the queue in a few weeks, we do expect to see an increase in vaccine demand. to be clear, we are confident we have the supply and the distribution capacity to serve everyone," Murphy said. "While we have tremendous capacity at our distribution sites now, we have about 1,500 of them, we have to increase it further in anticipation of the booster and the demand that goes with it."
The six mega-sites in the Garden State included the Atlantic City Convention Center, Rowan University in Deptford Township, and the Moorestown Mall in Burlington County.
The Atlantic City Convention center gave out more than 272,000 doses from the end of January through mid-June.
Shot and a Beer? The Best Outdoor Beer Gardens at NJ Breweries
There are more options than ever for enjoying a Garden State crafted beer in an outdoor setting.
New Jersey tied for first place (with Kentucky) with 43% growth in the craft beer scene from 2015 to 2019, according to
C+R Research.
The following is a roundup of breweries around the state with scenic, dedicated outdoor seating as weather allows.
Atlantic County Bars to watch Football this season (alphabetical order)
Look Back at Past Philadelphia Eagles' Uniforms
We have your look back over the decades of Eagles' uniforms.
More From WPG Talk Radio 95.5 FM