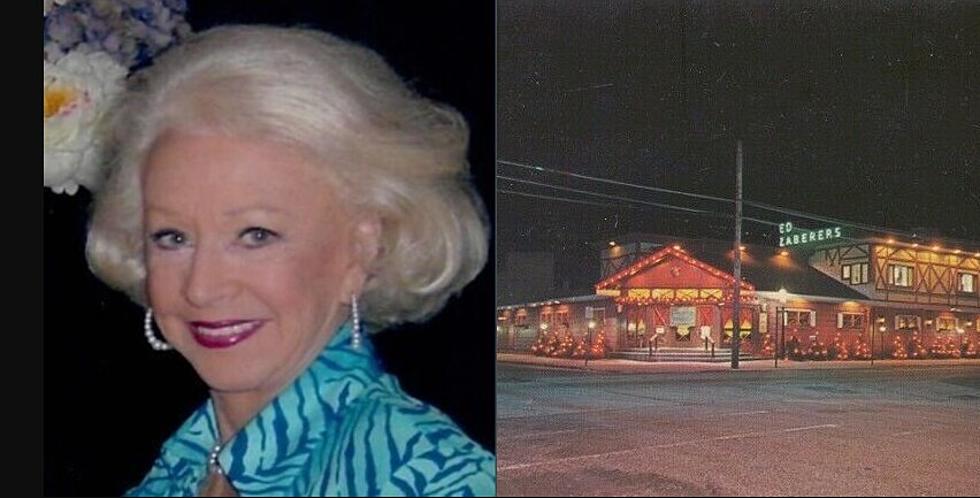 Ayne Zaberer, Wife of Wildwood Restaurant Owner Ed Zaberer, Dies
Oxley-Heard Funeral Home
Ayne Zaberer, the wife of Wildwood restaurateur Ed Zaberer, and his partner in running the popular Ed Zaberer's Anglesea Inn Restaurant in North Wildwood died on September 20th in Florida. She was 91.
Zaberer, who was born and raised in Philadelphia, according to her obituary, became a widower with a young son in 1956 and moved to North Wildwood. She met and fell in love with Ed Zaberer and they married in 1959.
The two of them turned a small nightclub into Ed Zaberer's Anglesea Inn Restaurant, one of New Jersey's biggest and best-known restaurants.
For 35 years, under their daily hands-on management, the restaurant grew into a high-end dinner house, with 350 employees, serving the prime steaks and seafood and "Zaberized Cocktails", drinks so big they came in their own serving pitcher.
The unique decor of Tiffany-style lamps, red flocked wallpaper, gingham tablecloths, original oil paintings, tapestries, and stained glass windows were all part of the dining experience.
Ayn's obituary points out that during the restaurant's heyday in the '60s and '70s, many celebrities and politicians dined there, including future presidents Richard Nixon and  Ronald Reagan, movie stars and nightclub entertainers like Jimmy Durante and Liberace, Philadelphia Mayor Frank Rizzo and many others. The walls of the restaurant had hundreds of framed signed photos from visiting celebrities.
It was in the couples' last year of ownership of the restaurant in 1987 that I took a summer job at Zaberers as a waiter. Being hired at Zaberer's meant passing the inspection of Ayne Zaberer, who oversaw the staff with the stern manner of a drill sergeant.
Uniforms were expected to be clean and pressed before every shift and the wait staff was quizzed regularly about their knowledge of the menu and the ability to explain the daily specials with diners as though we had cooked the food ourselves.
Many of the women on the wait staff prided themselves in the length of their tenure at the restaurant, with some of them having worked at Zarerer's every summer for more than 30 years.
It turned into one of the best summers of my life and I loved working at Zarerer's. By summer's end, I would occasionally be chosen to wait on Ed and Ayne Zaberer in their special table overlooking the dining room floor. This was considered a position of honor and a moment when you had better shine with your presentation, service, and knowledge of the menu.
Near the end of that summer, I remember the shock felt by all the employees when the couple announced they were selling the restaurant and moving to Florida.
The new ownership made a series of bad decisions and within a couple of years, the restaurant closed. The building burned down in 1992.
By then, Ed and Ayne Zaberer were long gone and living the good life as full-time residents in Pompano Beach, Florida.
In his obituary, his lawyer, Jack Seiler, remembered Ed Zaberer much as I do.
"He was a very colorful individual, just a lot of fun to be with," said Seiler. Mr. Zaberer drove a Rolls-Royce and was the kind of dresser who would match a bright yellow coat with bright yellow shoes, he said.
He also was benevolent. "He was a very generous tipper because he was in the restaurant business," Seiler said. "He'd say, 'Jack, these are the guys that really make the restaurants work.'"
Mr. Zaberer's generosity took a more public turn when, in 1992, Ed and Ayne gave $1 million to the Miami Heart Institute.
In 2001, Ed Zaberer died Tuesday after a brief illness. He was 83.
Ayne's obituary says that after Ed died, Ayne moved to a beachfront condo in Lauderdale-by-the-Sea.
She then found true love and companionship with Eric Cocks, a longtime friend of Ed and Ayne's, who had also recently lost his spouse. Ayne and Eric were together until his passing in 2018 at the age of 98.
Ayne was a dedicated Catholic made it a priority to enter a Catholic Church every day to pray for her loved ones. Ayne is survived by her son, Donald, his wife, Tracey, and her grandsons, Andrew and Joe.
After a funeral Mass in Florida on Sept. 30, she will be interred at Holy Cross Cemetery in Mays Landing.
How Many of These Delicious Atlantic County Restaurants Have You Tried?
22 Must Try South Jersey Breakfast Spot Locations
More From WPG Talk Radio 95.5 FM