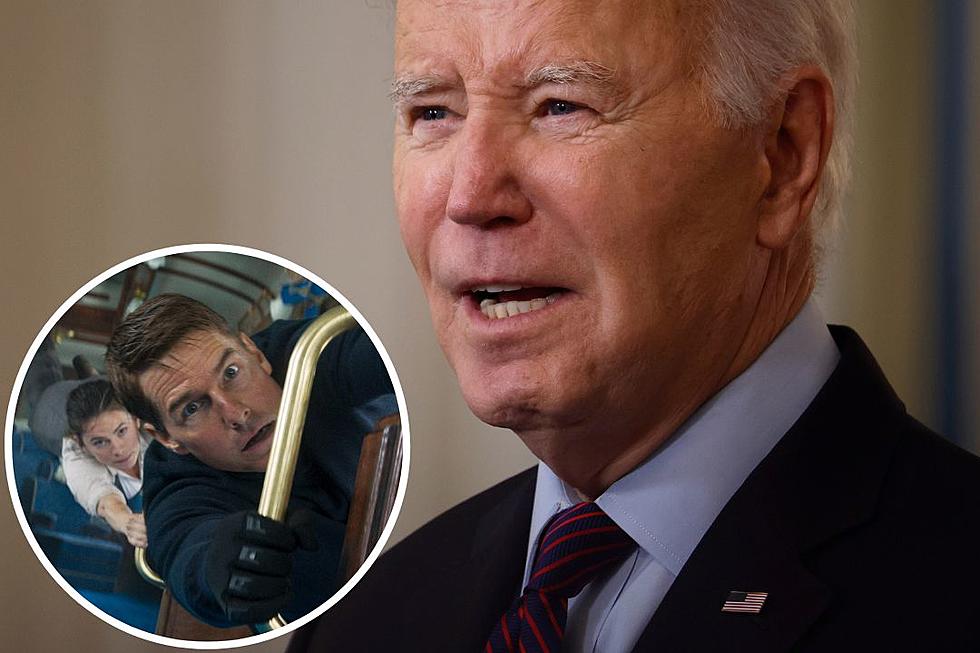 Biden Became More Fearful of AI After Watching 'Mission: Impossible 7'
Paramount Pictures / Chip Somodevilla, Getty Images
This week President Joe Biden signed a new executive order regarding the rise of artificial intelligence — a move partially inspired by Tom Cruise's 2023 action film Mission: Impossible – Dead Reckoning Part One.
Deputy White House Chief of Staff Bruce Reed told the Associated Press Biden was  "alarmed" after seeing AI-generated images of himself and his dog, as well as hearing about AI's ability to clone voices.
However, Biden's fears about AI grew after watching the seventh installment in the hit Mission: Impossible movie franchise, which was released on July 11.

"If he hadn't already been concerned about what could go wrong with AI before that movie, he saw plenty more to worry about," Reed, who watched the film with Biden at Camp David in Maryland, said.
In the film, Cruise's character Ethan Hunt fights against "The Entity," which is an aggressive, all-powerful, sentient AI program that has gone rogue.
According to Variety, on Monday (Oct. 30) Biden signed an executive order to establish new standards and security measures regarding AI.
"AI is all around us. To realize the promise of AI and avoid the risk, we need to govern this technology," Biden said before signing the landmark order.
AP reports the order "seeks to steer how AI is developed so that companies can profit without putting public safety in jeopardy."
According to Variety, the order "includes developing standards, tools and tests to ensure safety in AI systems; and requiring AI developers to share their safety test results and other critical information with the U.S. government."
Prior to drafting the order, Biden met with scientists and experts who explained both the potential advantages and dangers of AI technology.
Mission: Impossible – Dead Reckoning Part Two is due in theaters in 2025.
23 Celebrities Who Ran for Political Office
Discover 23 famous people, from reality TV stars to movie stars and athletes, who ran for government.
Gallery Credit: Jacklyn Krol
More From WPG Talk Radio 95.5 FM