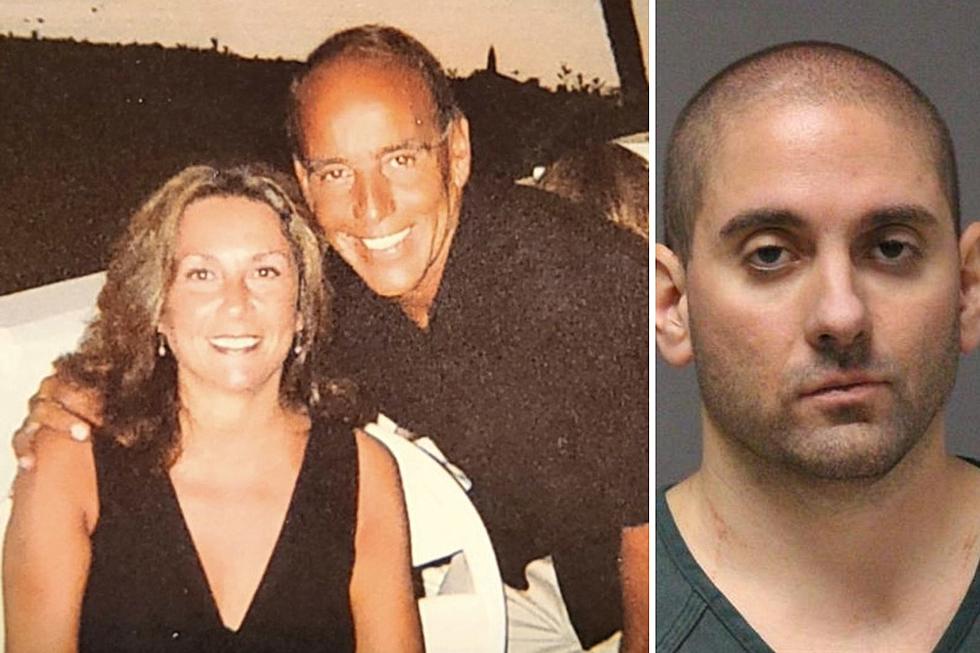 Bloody Screams on Video: NJ Man Kills Parents Over Chores, Cops Say
Cheryl & Eugene Mulgrew (Barnegat Funeral Home), Michael Mulgrew (Ocean County Jail)
BARNEGAT – A 34-year-old man killed both parents on Nov. 2 after they asked him to help with chores around the house, investigators said.
Michael Mulgrew, 34, is charged with two counts of murder in the death of Eugene Mulgrew, 71, and Cheryl Mulgrew, 69.
The victims were stabbed to death in the bedroom of their Lincoln Avenue home. Their bodies were discovered by the Mobile Psychiatric Emergency Screening Services on Nov. 2.
The couple, married for 50 years, was laid to rest Friday. Eugene was a former health inspector in Atlantic City and Long Beach Island, according to his obituary.
According to the affidavit in the case, Cheryl Mulgrew had called Barnegat Police Department and Mobile Psychiatric Emergency Screening Services the night before to request an evaluation of her son because he was experiencing "mental health issues."
Michael Mulgrew had left their home but returned, prompting Cheryl to call police and report that he had calmed down.
The next day when PESS went to the home just before 11 a.m., they found blood around the house, a bloody knife in the bedroom and the bodies of Cheryl and Eugene Mulgrew.
A neighbor provided Ring video taken at 10:40 a.m. in which screaming could be heard coming from the home, according to the affidavit.
Michael Mulgrew had left the house by the time police arrived, which led police to close off the area and put schools in Barngat and neighboring Stafford on lockdown during the manhunt.
He was found in the area of West Bay Boulevard and Gunning River Road in Barnegat and taken into custody without incident. The lockdown at the schools was lifted around 1 p.m.
History of drug use
During police questioning, Mulgrew said he had an incident of "drug-induced psychosis" in 2018 while living in Vietnam, officials said.
He admitted to using acid, opiates, as well as marijuana four days before his parents were slain, officials said.
Michael said he left the house when his mother told him he was going to be taken to hospital for treatment, sending him into a "schizophrenic state." When he returned, his mother said there were going to be "new rules," which included him not being allowed to leave the house, he reportedly told investigators
The next day when asked to do some chores, he became angry and punched both parents, investigators said he revealed.
He got a knife out of a kitchen cabinet and stabbed his mother in the neck and heart. His father was stabbed trying to protect his wife, officials said.
Michael told detectives he dragged their bodies into the bedroom, took a shower, packed a backpack with water, a towel and a book and left the house before encountering police, officials said.
"I hate everyone and everything"
A virtual detention hearing for Mulgrew on Wednesday ended abruptly when he refused to answer a judge's question about understanding his rights, according to coverage by the Asbury Park Press.
"I hate everyone and everything," he said into a telephone receiver before guards took him away.
A second hearing on Thursday was canceled because Mulgrew was experiencing an "acute mental health episode," according to the Asbury Park Press.
This sleepy historic South Jersey town is worth a half-day trip
Gallery Credit: Dennis Malloy
LOOK: What black bears want, and how to deter them
Black bears are on the move in New Jersey and all 21 counties need to be ready. Here's a look at what might attract them to your property should one be sighted in your area.
Gallery Credit: Mike Brant
More From WPG Talk Radio 95.5 FM