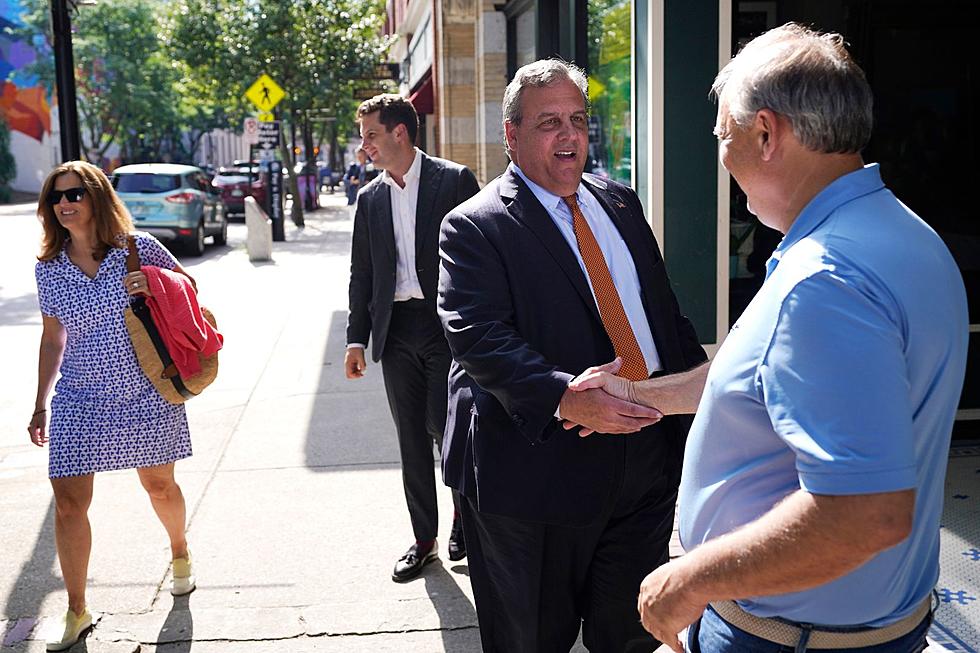 Christie jumps to double-digits in NH poll
Gov. Chris Christie shakes hands outside a campaign event in Manchester, NH. Mary Pat Christie is to the left (AP Photo/Charles Krupa)
🔴 Former New Jersey Gov. Chris Christie gets his first double-digit poll numbers in New Hampshire
🔴 Donald Trump's numbers are softening in New Hampshire
🔴 The former president will sit out the first GOP presidential debate
---
On the eve of the first Republican presidential debate, a newly released poll gives former New Jersey Gov. Chris Christie double-digit polling numbers for the first time.
Christie's strategy of bashing former President Donald Trump seems to have paid off for now as he has jumped ahead of Florida Gov. Ron DeSantis in an Echelon Insights-Republican Main Street Partnership poll of 800 likely New Hampshire presidential primary voters.
The poll puts Christie in second place, at 14%. Leading the poll is Trump who tops the survey at 34%. Entrepreneur Vivek Ramaswamy comes in third with 11%, and DeSantis is in fourth place at 9%.
Christie appeals to independents, moderates
Southern New Hampshire University Civic Scholar and founder of NH Political Capital Dean Spiliotes says Christie's anti-Trump message is resonating with independent voters who can vote in the Republican primary six months from now.
Working in Christie's favor, according to some pundits, is that he's also focused his campaign almost exclusively on the Granite State to the point where some political pundits have joked he is running for governor of New Hampshire.
"Similarly, DeSantis is focusing on Iowa where two-thirds of the GOP voting electorate are conservative evangelicals and Ramaswamy is using social media to grow his numbers," Spiliotes said.
Trump, who said he is skipping the GOP debate in Milwaukee, will likely do an interview  with former Fox host Tucker Carlson to air on X, the social media platform formerly known as Twitter.
Trump plans to surrender to authorities in Georgia on Thursday to face charges in the case accusing him of illegally scheming to overturn his 2020 election loss in the state.
Report a correction 👈 | 👉 Contact our newsroom
The Associated Press contributed to this report.
(Includes material copyright 2023 The Associated Press. All rights reserved. This material may not be published, broadcast, rewritten or redistributed.)
New Jersey residents and companies donating the most to Chris Christie
These are the New Jersey residents and businesses who have donated the most money to former Gov. Chris Christie's presidential campaign and to the super PAC supporting Christie. Numbers are as of June 30, 2023.
The Top 30 Roller Coasters in New Jersey
Happy National Roller Coaster Day! The state of New Jersey is home to the 6th most roller coasters in the United States, spread across 14 thrilling theme parks.
Your hurricane emergency kit: what to pack
More From WPG Talk Radio 95.5 FM