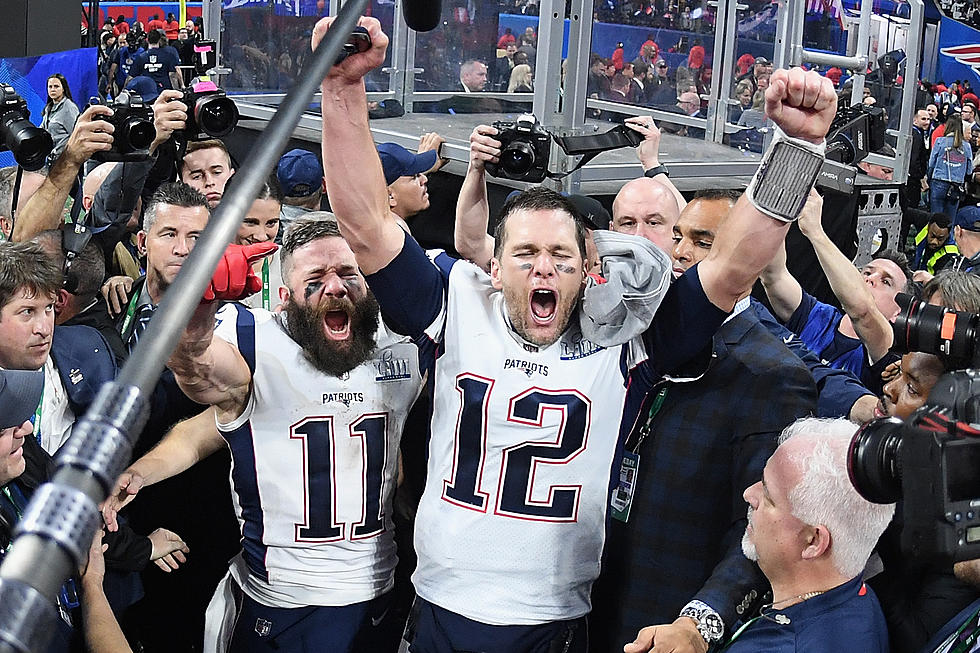 FBI Busts NJ Man For Selling Fake 'Tom Brady Super Bowl Rings'
Julian Edelman #11 of the New England Patriots and teammate Tom Brady #12 celebrate at the end of the Super Bowl LIII (Harry How/Getty Images)
Follow along. This is a wild scheme.
A New Jersey man has confessed to posing as a former NFL New England Patriots player … so that he could buy and sell custom made Super Bowl rings.
Scott V. Spina Jr. then concocted a scheme that the rings were given to Tom Brady's family as gifts, according to the United States Attorney's office for the Central District of California.
The scheme had Spina, 24 ordering three replica Super Bowl LI rings engraved with the name "Brady."
He then "sold them to an auction house for $100,000, receiving a significant profit," according to the U.S. Attorney's Office for the Central District of California.
The FBI has confirmed that one of the rings sold for more than $337,000 at an auction.
Spina has agreed to take a plea deal. He was caught in the act by the FBI's "Art Crime Team."
Spina has signed an agreement and he will plead guilty to wire and mail fraud and aggravated ID theft charges, the U.S. attorney's release says.
Prior to this alleged scam, Spina originally purchased a 2016 Super Bowl championship ring from a Patriot's player … writing a bad check to pay for it.
Spina sold this item for $63,000 to a Southern California sports memorabilia broker, according to federal authorities.
This ring was Spina's entry to the next part of the scam. "When Spina obtained the player ring, he also received the information that allowed the former player to purchase Super Bowl rings for family and friends that are slightly smaller than the player rings," the release says.
Spina has specifically pled guilty to wire fraud, mail fraud and aggravated identity theft in relation to the "Brady"-engraved rings.
"Spina then called the Ring Company, fraudulently identified himself as [the former player], and started ordering three family and friend Super Bowl LI rings with the name 'Brady' engraved on each one, which he falsely represented were gifts for the baby of quarterback Tom Brady," according to a criminal complaint on file in United States District Court in Los Angeles, California.
"The rings were at no time authorized by Tom Brady," the federal complaint reads. "Defendant Spina intended to obtain the three rings by fraud and to sell them at a substantial profit."
Spina is required to pay restitution to the former Patriots player (identity not revealed) that he impersonated," said Assistant United States Attorney Erik M. Silber.
Spina is scheduled to be in United States District Coury in Los Angeles, California on January 31, 2022.
SOURCES: United States Attorney for the Central District of California & FBI Art Crimes Team.
Check out the home Derek Jeter sold that he once rented to Tom Brady
As more people leave New Jersey for Florida, the Jersey-born Yankee captain who is now the chief executive officer and part-owner of the Miami Marlins just sold the home that he once rented to 7 time Super Bowl Champion Tom Brady for $22.5 million. Take a look at just how gorgeous this home is.
54 Jersey natives playing in the NFL in 2021 (+ 2 head coaches)
Some of them may even be on your fantasy football team.
More From WPG Talk Radio 95.5 FM