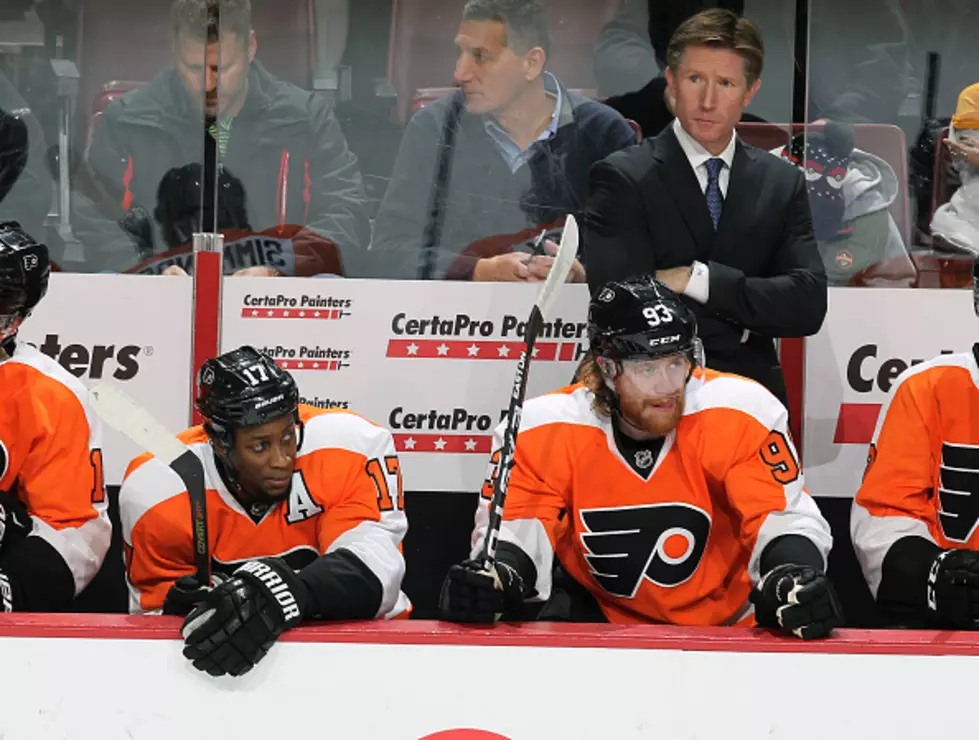 Flyers Fire Head Coach Dave Hakstol
(Len Redkoles/NHLI via Getty Images)
Reports started to surface as the team was in the air on the way back from Vancouver on Sunday afternoon after a five-game road trip. Now the news is official. Dave Hakstol is no longer the Flyers head coach.
Hakstol was officially fired on Monday afternoon by the Flyers, according to GM Chuck Fletcher.
Hakstol spent three-plus seasons behind the bench with the Flyers, coming to the NHL after coaching for 11 seasons at North Dakota.
In his first season behind the bench in 2015-16, the Flyers posted a 41-27-14 record and reached the playoffs, falling in six games to the Washington Capitals.
Hakstol's second season, the Flyers 50th anniversary season, ended with a 39-33-10 record and missing the playoffs. Last season, the Flyers had a 42-26-13 record and reached the playoffs again, falling in six games to the Pittsburgh Penguins.
Through 31 games this season, the Flyers had a 12-15-3 record and 28 points in the standings, last place in the Eastern Conference and the third-worst point total in the league.
With a career mark of 278 games behind the bench for the Flyers, Hakstol was the third-longest tenured head coach in franchise history, trailing only Mike Keenan (320) and Fred Shero (554).
There is speculation that the Flyers next head coach will be Joel Quenneville, though nothing is official at this time. Flyers assistant coaches Kris Knoblauch, Ian Laperriere, and Rick Wilson ran practice on Monday, so one of them will likely fill in for Tuesday in an interim role.
The Flyers get back on the ice on Tuesday night against the Detroit Red Wings.
More From WPG Talk Radio 95.5 FM