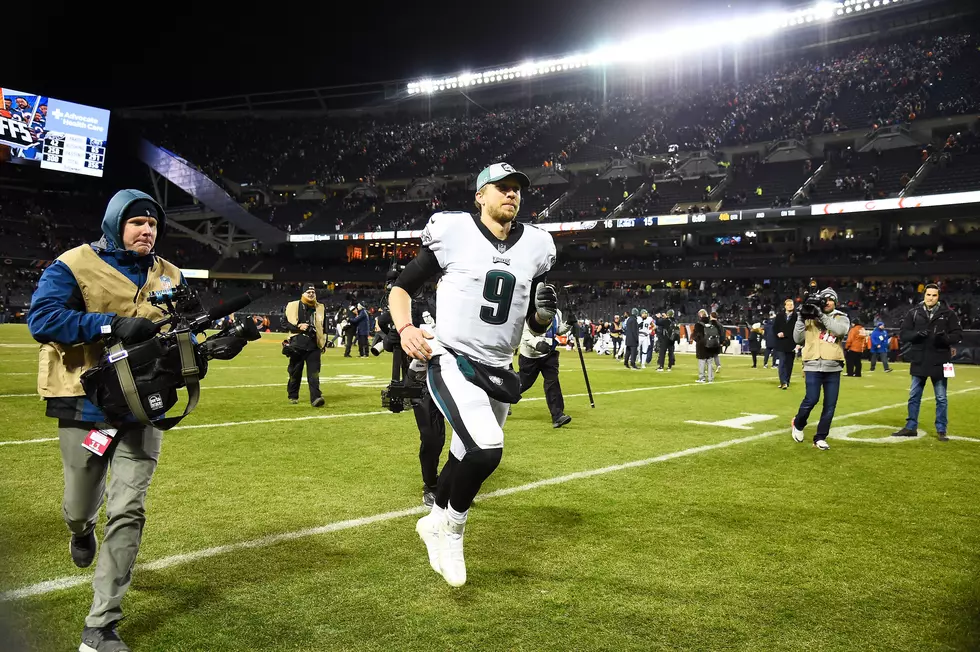 Foles Steers Through His Latest Test
(Photo by Stacy Revere/Getty Images)
There is always a margin for error in the NFL.
You saw a small one in Baltimore on Sunday when a run-first team in the modern era fell behind and were forced to throw the football with a rookie quarterback not necessarily equipped to do that.
Perhaps no individual has a smaller margin for error than Philadelphia "backup" signal caller Nick Foles, however.
For Foles to stay the guy with the Eagles, all he has to do is keep winning, something accomplished again on Sunday in Chicago thanks to a late drive resulting in a 4th-and-goal touchdown pass to Golden Tate with a little ensuing help from Treyvon Hester's fingertips.
And maybe if Foles accomplishes the unthinkable by beating the powerful Saints in New Orleans, either the LA Rams or Dallas Cowboys on the road in the NFC Championship Game, and the AFC representative during Super Bowl LIII in Atlanta to win his second consecutive Lombardi Trophy, the Eagles may revisit their unwavering long-term commitment to Carson Wentz.
Anything less than that and Foles' future is outside the only city he has actually enjoyed playing football in, whether the mechanism involves his mutual $20 million option for 2019, a sign and trade franchise tag maneuver or traditional free agency.
For now, Foles is staying in his moment, content to enjoy the latest Eagles postseason run even if the outside voices are always looking forward.
The better Foles plays the better his situation becomes for him no matter the outcome, be it monetarily for his family or an ability to have some say in steering to the next destination.
Foles can pay $2 million to the Eagles to decline the option and head toward free agency, a scenario that could force Howie Roseman to place the franchise tag on the QB in order to secure value via a potential trade.
That's an awfully big number [likely around $25 million) to carry on the books, though, and could impact Philadelphia's offseason roster-building plans.
A fourth consecutive postseason win for Foles garnered the Texas native a cool $1 million in incentives and the undying loyalty of the most passionate fan base in the country.
What would extending that number to seven straight do?
Don't get ahead of yourself -- just stay in that moment.
"You're enjoying it with your teammates but you're also giving it all you have," Foles said after the win over Chicago. "I realize that I'm blessed to be able to wear this jersey at least one more week and I get to play with these guys one more week. I get to be with the coaches one more week and that's something that I really look forward to."
More From WPG Talk Radio 95.5 FM