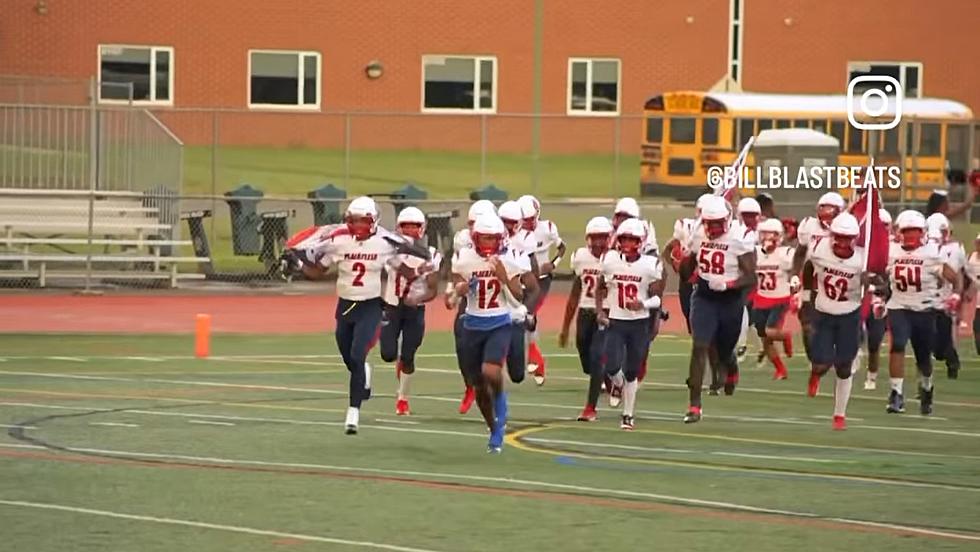 NJ District Says Football Team Penalized on Field Because of Racial Bias
Plainfield High School Cardinals football team (billblastbeats via Instagram)
A former state education commissioner will investigate whether racial bias was a factor in a high number of penalties against Plainfield High School's game against Montgomery on Sept. 8.
Plainfield School Superintendent Rashon K. Hasan issued an open letter to New Jersey State Interscholastic Athletic Association Executive Director Colleen Maguire Tuesday with examples of "poor officiating and inequitable practices employed by this officiating crew during the game." The game was played in Montgomery.
Thirty-six penalties were issued to the Plainfield Cardinals while the Montgomery Cougars received eight. Hasan said Coach James Williams' requests for an explanation of the penalties were denied while Montgomery's penalties were fully explained.
Hasan also believes there was a racial bias towards his team in the way the players and coaching staff were addressed.
"It has come to my attention that the officials referred to members of the Plainfield High School Staff by the derogatory term 'boy' and made statements such as 'hurry up boy' and 'stand right there boy' instead of showing human dignity and addressing them by their names. This is both disrespectful and unprofessional behavior, which further contributes to the perception that the officials failed to treat our students and coaching staff with the respect they rightfully deserve," Hasan wrote in his letter.
Hasan is asking for a "thorough and impartial investigation by the NJSIAA and no repercussions be taken against Williams who was eventually ejected from the game. He also wants the officiating crew to be suspended and to issue an apology.
A bigger issue at play, superintendent says
Maguire responded to the letter by appointing former state education commissioner David Hespe to lead an investigation.
"The NJSIAA takes allegations of bias seriously. All parties — the school, the coaches, and the officials — deserve due process and a thorough investigation, and NJSIAA is committed to providing that process and that investigation," Maguire said.
The officials will also not be assigned future Plainfield games.
Hasan said while he appreciates the investigation there is a critical issue not being addressed.
"The importance of diversity and inclusivity in this matter cannot be understated. It is concerning that the officials involved in the game have yet to face any disciplinary actions for their inappropriate misconduct," Hasan said in a subsequent statement. "The Plainfield Board of Education is unwavering in its dedication to seeing this case through to a just resolution."
Previous racial issue in Plainfield
The Plainfield girls basketball team in 2017 found a black-colored puppet hanging in the Clark high school art room when they were walking from the locker room to the gym for their game. It was later found to be a puppet that was part of a class project in which students make life-size figures of famous people.
The puppet in question was supposed to be a likeness of basketball player LeBron James, the parent said. She said her son is in an art class with the student who made the puppet
The team was presented with the Dr. Martin Luther King Jr. Spirit Award for displaying "great self-discipline, respect, consideration and tolerance for others when at a recent game they turned a negative situation into a positive expression of respect, honesty, and love for others. A great display of character and sportsmanship," then-Plainfield superintendent Anna Belin-Pyles said.
LOOK: Movie shoot underway in Atlantic Highlands, NJ
Production crews were seen all along the downtown area. Wonder what it could be?
Windfarm projects proposed for NJ coast — and what they might look like
These are the wind energy projects approved for and planned for the ocean off the coasts of New Jersey and New York. While the projects have the support of officials who say they will stimulate the local economy and create renewable energy to power millions of homes, many coastal residents have raised concerns about how the projects will impact tourism and the environment.
The gallery includes competing photosimulations — those on file with the federal
Bureau of Ocean Energy Management
and those recently commissioned by a group opposed to the wind farm development.
More From WPG Talk Radio 95.5 FM