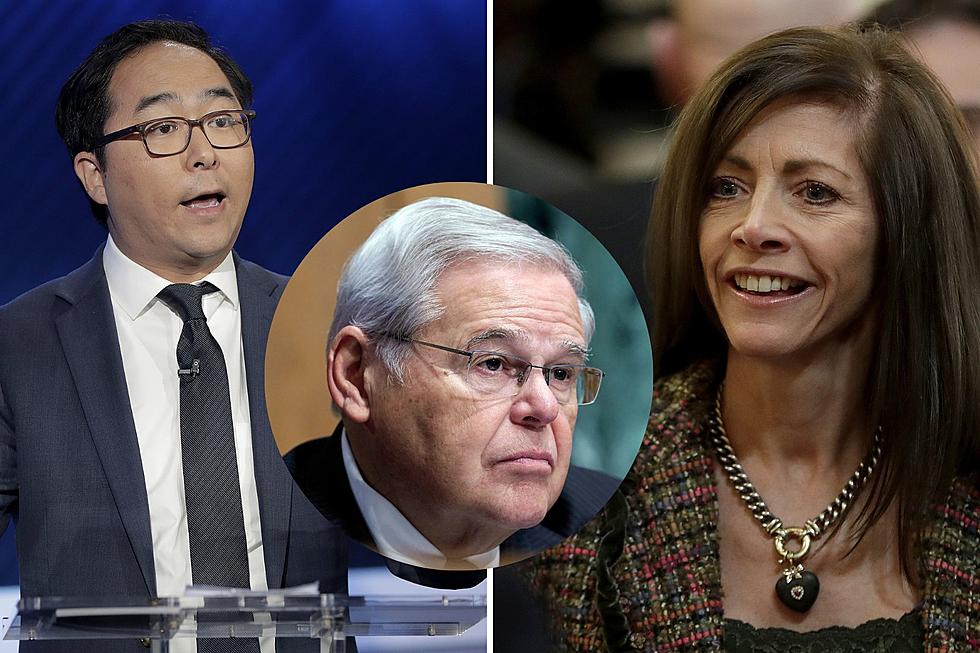 Report: NJ First Lady Tammy Murphy Ready to Launch Senate Bid
AP Photos/Townsquare Media illustration
The wife of Gov. Phil Murphy is reportedly gearing up to run for the U.S. Senate seat currently held by Bob Menendez.
Her entry into the race could set up a messy and expensive Democratic primary in 2024.
The New Jersey Globe is reporting they have confirmed that New Jersey First Lady Tammy Murphy will file paperwork with the Federal Election Commission in the next few days.
Such a move would allow Murphy to begin raising money for a potential senate run, although any formal announcement of her candidacy could be weeks away.
Menendez indictment causes political chaos
Murphy had been mentioned as a possible candidate in the days following the salacious allegations of bribery, corruption, and influence peddling made against Menendez in an indictment by federal prosecutors. Menendez has also been accused of acting as the agent of a foreign government.
He has refused loud calls from fellow Democrats, Including Gov. Murphy, to resign. Menendez has said he is loyal only to America and looks forward to proving his innocence.
However, his poll numbers have plunged, and he has yet to say if he will seek reelection. Nearly three-quarters of New Jerseyans in a recent Stockton University poll say they want him to resign. His approval rating is a mere 8%.
Democratic New Jersey congressman Andy Kim has already announced he will run for the Menendez seat.
Bid would test Murphy's fundraising
Kim has already raised over a million dollars for next year's primary and is continuing to hit big Democratic donors telling him he is the best shot for the party to retain the senate seat.
Few voters, however, know Kim's name or anything about him.
That is not the case with the First Lady.
A recent poll by Fairleigh Dickinson University found Tammy Murphy had the biggest name recognition of any potential candidate. 65% of all state residents and 73% of Democrats knew who she was.
She would also presumably be able to tap into Gov. Murphy's massive political machine to help raise money.
Murphy's 'Stronger Fairer Forward' political action committee has raised millions in dark money that has been spent to boost the governor's image and promote his agenda.
The organization is run by Murphy's top political operatives and the First Lady has been a key overseer of the organization.
New Jersey's organized labor unions have been big contributors, including the New Jersey Education Association teacher's union.
The New Jersey Globe reported Tammy Murphy is conducting a public opinion poll right now gauging support among Democrats for her candidacy as well as head-to-head matchups with both Menendez and Kim.
If Tammy Murphy wants the senate seat, she will have to earn it.
It is still possible that Menendez will be forced to resign. Gov. Murphy would then appoint a replacement.
When asked if he would consider appointing his wife, the governor said on WHYY, "I don't see any scenario where that would be the case."
All the NJ candidates endorsed by Bill Spadea in this election
Election 2023: Here's a list of the 80+ candidates that New Jersey 101.5 morning host Bill Spadea is
campaigning for this year
. Click the link for more information on each.
Gallery Credit: Bill Spadea
NJ school districts with the highest median teacher salaries
These were the highest median teacher salaries during the 2022-23 school year budget, according to data compiled by the New Jersey Department of Education. We begin with districts whose median salaries are at least $95,000 and work our way up to the highest median salary.
Gallery Credit: New Jersey 101.5
More From WPG Talk Radio 95.5 FM