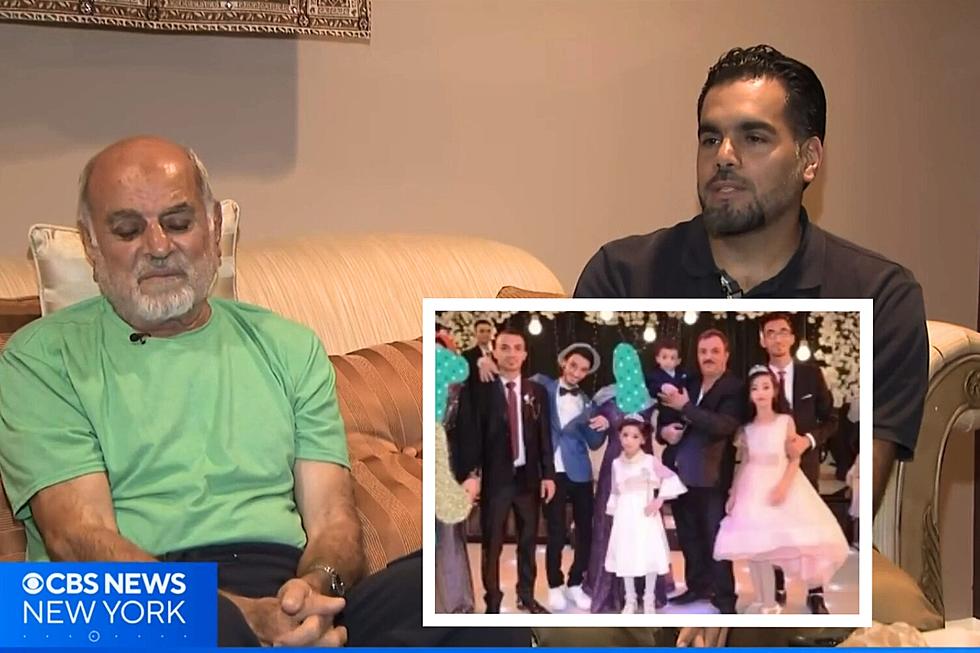 NJ Official Mourns 4 Generations of His Family Killed in Gaza Bombing
Atef and Sami Shaban, family photo. (CBS New York)
White phosphorus rained over Gaza this weekend, killing nine relatives of a Somerset County school board member.
The victims ranged in age from three months to 72.
"In that one bomb, four generations were lost," Sami Shaban said at a news conference Wednesday morning.
Shaban, who is on the Franklin Township school board, said his father Atef Shaban called him on Sunday morning to wish him a happy birthday and then told him their family had been killed when an Israeli strike destroyed their house.
Shaban family children killed in the blast included 3-month-old Farah, 2-year-old Abdalla, 13-year-old Motaz, and 15-year-old Eman.
The dead adult victims have been identified as Muhammad, 26, Muhaned, 25, his wife Haneen, 24, Abdalla, 47, and Salwa, 72.
Israel continues ground invasion in Gaza
Israeli ground forces have pushed deeper into Gaza over the past five days as part of the military's ground invasion, advancing tanks and armored vehicles on the territory's main city.
The Palestinian death toll in the Israel-Hamas war has reached 8,525, according to the Hamas-run Health Ministry in Gaza. In the occupied West Bank, more than 122 Palestinians have been killed in violence and Israeli raids.
More than 1,400 people in Israel have been killed, most of them civilians slain in the initial Oct. 7 Hamas rampage that started the fighting. In addition, over 200 hostages were kidnapped from Israel by the militant group.
Almost all New Jersey leaders have followed President Joe Biden's lead in supporting Israel's military response to Hamas terrorism. Leaders of the state's sizeable Palestinian American community have called on officials to also acknowledge the plight of people in the Palestinian territories.
Sami Shaban on Wednesday called for an end to Israel's military operation.
"Our plea is for this all to end, for there to be a ceasefire, for humanitarian aid to be allowed in, and for people like my family to stop suffering. This did not start on Oct. 7 and it will not end until there is peace and justice in the area," Shaban said.
Horrific effects of white phosphorus
Sami Shaban's uncle, Muhammad Shaban, 75, remains hospitalized with burns from the white phosphorus attack. He is being treated with morphine, Shaban said.
Burns from white phosphorus are excruciatingly painful and slow to heal, according to the World Health Organization. The incendiary weapon ignites in the air and can spread over a wide area; its smoke inflicts severe burns through heat and chemicals.
Another relative died from her burns Wednesday morning. Atef Shaban said they were relieved because her burns covered 100% of her body and death was better than suffering with unbearable pain.
"Everybody was wishing for her to die," he said.
New Jersey residents unable to leave Gaza
There are dozens of New Jerseyans who are not hostages of Hamas but are unable to leave, according to Council on American-Islamic Relations NJ Executive Director Selaedin Maksut.
The group has passed along a list of names to Governor Phil Murphy's staff who are hoping to escape to Egypt or other nearby countries.
"Gov. Murphy has called a few of the families that we know of. He said he is trying to help them but we've not seen any movement so far," Maksut said.
Townsquare Media has reached out to Murphy's office for a number of residents who may be stuck in Gaza.
On Wednesday, hundreds of dual passport holders and dozens of seriously injured Palestinians were allowed to leave Gaza after more than three weeks under siege, the Associated Press reported. It's not clear if any of them were from New Jersey.
30 'poorest' neighborhoods in NJ
These ZIP codes in New Jersey have the highest percentage of households earning less than $25,000 in annual median income. The figures are based on 5-year data by the U.S. Census American Community Survey as of 2021.
Gallery Credit: New Jersey 101.5
UPDATE 2023: All the NJ stores that sell legal weed
The number of recreational cannabis dispensaries continues to grow, since the first NJ adult use marijuana sales in April 2022.
Gallery Credit: Erin Vogt, Eric Scott
More From WPG Talk Radio 95.5 FM