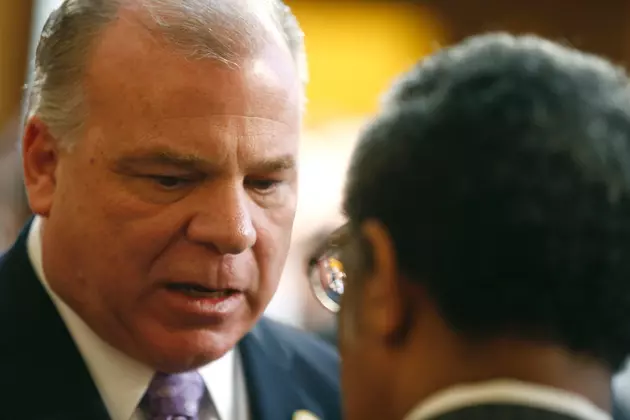 NJ Teachers Union Slams Star-Ledger Editor Over 'Murder' Tweet
Senate President Steve Sweeney. (Jeff Zelevansky/Getty Images)
The state's largest teachers union on Saturday demanded that the editorial page editor of the state's largest newspaper apologize. Not for any of the columns he regularly writes to attack the NJEA, but for saying on Twitter that the state's top Democrats "want to murder the leaders of the teachers union."
Tom Moran's tweet linked to an NJ.com piece about the New Jersey Education Association spending record-breaking sums to defeat Senate President Steve Sweeney, even though his opponent was a Republican who backed President Donald Trump. On Tuesday, Sweeney won by a large margin.
"There is no place in public discourse for the kind of violent language that Tom Moran used on Twitter yesterday," NJEA spokesman Steve Baker said Saturday. "His casual reference to the alleged desire of some top Democrats to murder NJEA's leadership is disturbing and inappropriate. If any elected official expressed such a desire to Moran, he should have harshly condemned it, not repeated it as if it is an acceptable or unexceptional statement in the context of a political disagreement."
NJEA's Twitter account spent the day retweeting outraged reactions to Moran's tweet, including calls for the Star-Ledger to fire him.
By Saturday evening, it appeared Moran had deleted his tweet without acknowledging that he had done so. But the union provided a screen shot.
Saturday's spat wasn't the first between the NJEA and Moran, whose columns and newspaper editorials have excoriated the union. In September, Moran penned a column entitled, "Classroom teachers: Your union leaders are gouging you." A month later, a follow-up column said teachers were getting "ripped off" by their union, citing Executive Director Ed Richardson's $1.2 million compensation.
Last month, Moran wrote another column calling the NJEA leaders a bunch of "million-dollar meatheads" for targeting Sweeney, who angered them by working closely with Gov. Chris Christie on pension reform and other measures. Another column called the NJEA "the state's worst union."
The union fired back in September, calling Moran a flack for the "Sweeney-Norcross machine."
More From WPG Talk Radio 95.5 FM