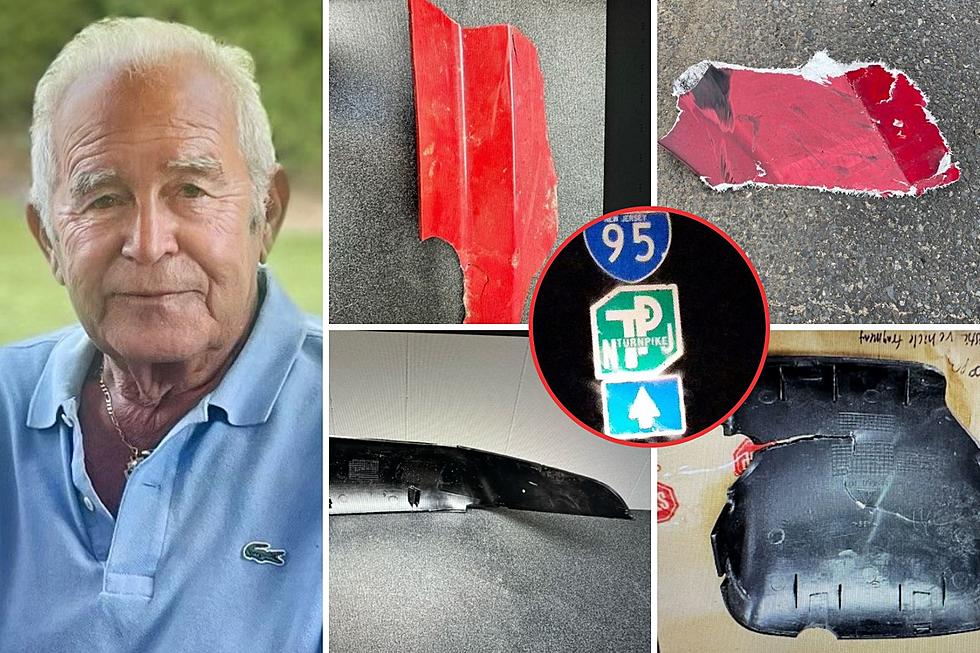 NJ Turnpike Victim Wasn't Found For Hours: $25K Reward to Find Hit-run Driver
Giuseppe Zuccarello, parts found near box truck after being struck by a truck (Richard Zuccarello)
EDISON - The family of a man struck and killed on the New Jersey Turnpike while he stood outside a box truck parked on the shoulder is offering a reward for information leading to the arrest of the tractor-trailer driver who hit him.
Giuseppe Zuccarello, 78, was driving back to the Queens Garden Center, which he owns, around 10:45 p.m. on Aug. 23 with a load of tomatoes he picked up from a farm in South Jersey,  his son Richard Zuccarello told New Jersey 101.5.
Zuccarello was outside the truck along the northbound truck lanes between exits 8A (Jamesburg) and 9 (Route 18) when he was hit by the tractor-trailer that never stopped but was damaged in the fender, bumper and headlights.
Richard Zuccarello said his father's body was thrown about 100 feet into a ravine. When the truck wasn't back in the morning, Richard and his brother thought their father pulled into a service area to sleep. They used the Life 360 app to track Giuseppe to the Turnpike.
"When he wasn't responding my brother jumped in the car and headed over there and saw the truck with the lights on from the other side heading south on the turnpike. When he got there the truck was running and my father's phone was in the truck. But he was missing," Richard said.
A traumatizing experience
A Turnpike Authority worker cutting the grass found Giuseppe's body.
"And that's how my brother saw him and he's traumatized to find his father that way," Richard said.
A camera Richard said was about 50 feet away was not working. But he has pictures of the truck parts found on the road near the box truck. State police brought the actual parts, including a distinctive fender to Elizabeth Truck Center, which is owned by a family friend. They put the parts on another truck and they fit perfectly to determine they came from a late model Freightliner, according to Richard.
They asked State Police to check E-ZPass records to find the possible truck.
Richard said his father's truck was a rental. Once it was released by police, a mechanic found a warning light illuminated.
"We've checked pictures of the water tank and it showed there was no water in tank reservoir or something. So there could have been some type of problem that he had to stop," Richard said, adding that the Joyce Kilmer service area was closed for remodeling.
Getting the word out
The family is trying to get information out about the truck parts and the reward money put up by the family and is considering buying billboards. They've hired investigators made up of former police officers to try and get answers. But they are frustrated at the slow pace of the investigation.
"I just feel it's just too long. Maybe I'm a New Yorker. I don't know what it is. I just don't understand why in this day and age we can't get with the E-ZPass. We've known now for two weeks now that it's a Freightliner. 'It's '18 and newer. We know it's red with the red bumper. The red bumper is very rare. Usually the bumpers are gray or chrome," Richard said.
Richard said his father had four children, 14 grandchildren and was still working. He came to the U.S. as a stowaway on a ship into Newark and found work at a garden center. Twice he was deported and twice the onwer went to Italy to sponsor his return to the U.S.
"He's a hard worker. Seven days a week, 14 hours a day, 78 years old, but he's just like a machine. Never complained about heat, cold, I'm sick. I don't feel well. Never complained," Richard said.
Middlesex County Prosecutor Yvonne Ciccone asked anyone with information or surveillance video of the incent to contact her office at 732-745-4328 or State Police at 609-860-9000 ext. 4424.
Spirit Halloween is back! Here's every NJ location for 2023
Most locations are open by the end of September but check ahead before heading out. Click/tap on the links for each location for more info.
Gallery Credit: Mike Brant
More From WPG Talk Radio 95.5 FM