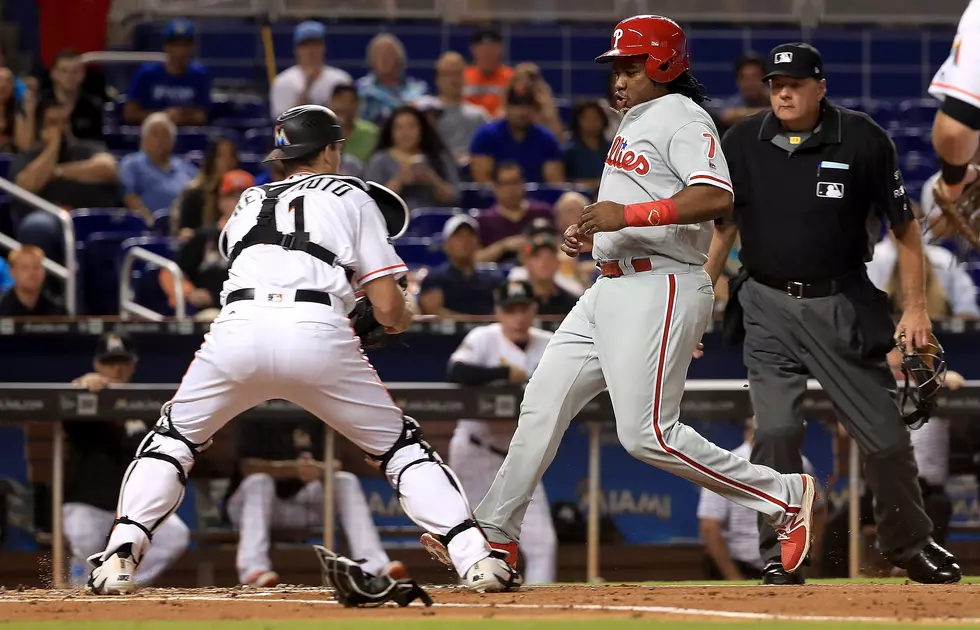 Phillies Acquire All-star Catcher Realmuto From Marlins
The Phillies land a division rival (Mike Ehrmann/Getty Images)
The Phillies made a major splash on Thursday acquiring all-star catcher J.T. Realmuto from the Miami Marlins.
To make the deal, the Phillies will send catcher Jorge Alfaro, pitching prospect Sixto Sanchez and left-handed pitcher Will Stewart to Miami.
Miami will also receive international slot dollars in the deal, according to multiple reports.
Realmuto had expressed his desire to be traded and will get his wish ahead of pitchers and catchers reporting to Spring Training.
Realmuto comes to the Phillies with two more years of control.  Turning 28 next month, Realmuto will become a free agent after the 2020 season.  This sends the message that the Phillies expect to win now.
The Phillies are expected to remain involved in their pursuit of free agents Bryce Harper and Manny Machado.  The addition of Realmuto costs them just over $5 million in 2019 and just shy of $6 million in 2020.
Realmuto was named to his first All-Star team in 2018.  On the season, Realmuto batted .277 with 21 home runs and a WAR of 4.3.   However, Realmuto performed like a much different player when not playing in Miami.  The difference was an average player versus a top slugger.
Realmuto will only have to play there nine times a season now.
Stewart pitched at Low-A Lakewood last season and had success.  In 20 starts, Stewart went 8-1 with a 2.06 earned run average.The Phillies selected Stewart in the 20th round of the 2015 amateur draft.
Alfaro remains a promising young catcher, despite some areas in which he may improve.  Alfaro's best asset is his arm.  The Phillies acquired Alfaro in their 2015 trade of pitcher Cole Hamels.
Sanchez was the top Phillies pitching prospect and will be a top prospect for the Marlins.  An elbow injury has led to Sanchez missing much of 2018 and the Arizona Fall League.  The Marlins were satisfied with the physical, however.  Matt Breen of the Inquirer suggested that Sanchez had "fallen out of favor" in the Phillies organization.
More From WPG Talk Radio 95.5 FM