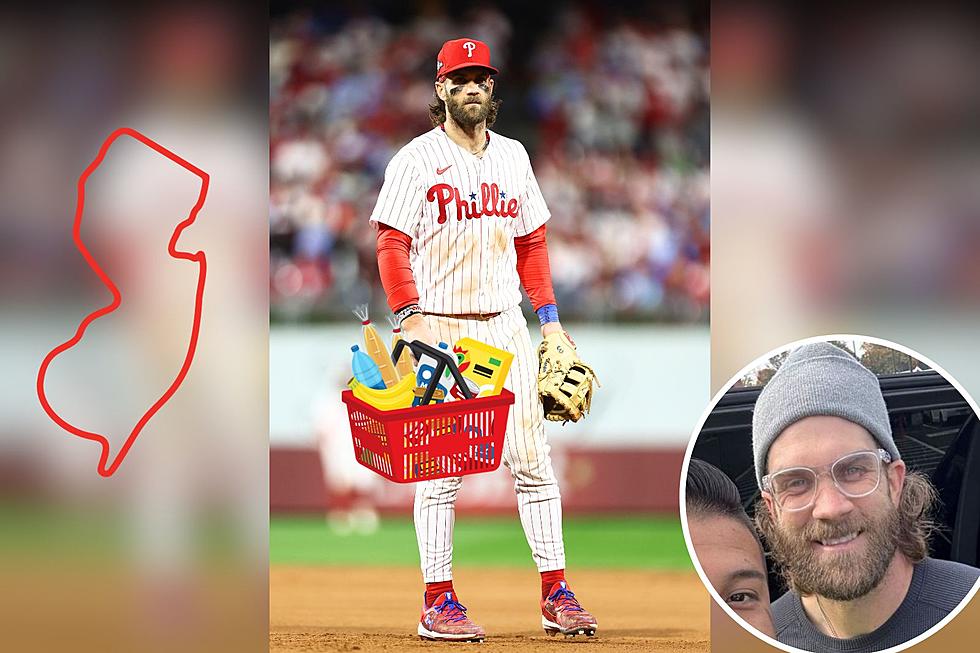 Phillies' Bryce Harper Unrecognizable Shopping For Groceries in South Jersey
Getty Images; Haddon Township Police/Facebook; Canva
Bryce, is that you?
Philadelphia Phillie Bryce Harper was recently noticed shopping at a South Jersey grocery store looking like anything but a Major League Baseball player.
He may not be playing in the World Series, but a guy's gotta eat, and it appears it's back to normal life for the athlete after the Phillies lost the NLCS to the Arizona Diamondbacks.
Harper was stocking up on groceries at Sprouts Farmers Market on Cuthbert Blvd. in Haddon Twp. where he graciously granted a photo to one of the town's policemen, Officer Aparicio.
But for the fact that Bryce is 6 foot, 3 inches tall, I might have walked right by him.
Harper was wearing eyeglasses, a knit beanie, and grey thermal shirt. He just appears to be a typical South Jersey resident running errands, except for the moment he flashed that grin in a selfie with Ofc. Aparicio.
I'm so nosey. I love seeing Harper shopping and being an Average Joe, but I am dying to know what his grocery haul was! Sprouts is pretty healthy, so I'd imagine Bryce is keeping up a clean lifestyle. I might have to start hanging around the Haddon Twp. Sprouts store more often.
The NLCS was a tough loss for Harper and the Phillies and the sports fans of Philadelphia,but he's a solid person and player and he deserves our thanks for an exciting season of baseball in the City of Brotherly Love.
The 25 Most Delicious Breakfast in All of Camden Co., NJ
We asked, you answered. When those breakfast cravings hit, these are the spots Camden County, NJ goes to indulge. Curious? Check out the list of suggestions.
Gallery Credit: Heather DeLuca
7 South Jersey Towns List Says Gotta Go in NJ
The people at NJ.com are basically invalidating these seven South Jersey towns' reason for existence.
Gallery Credit: Heather DeLuca
More From WPG Talk Radio 95.5 FM