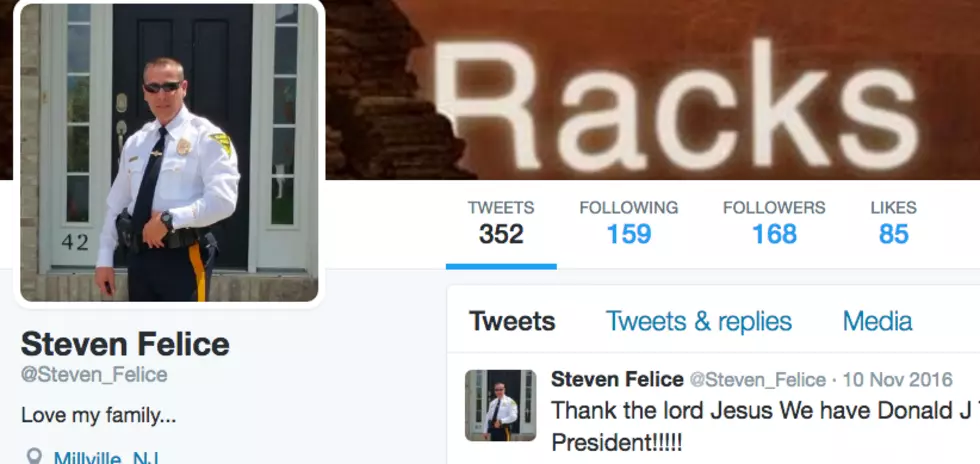 Cop in South Jersey In Trouble After Violent, Vulgar Online Attacks
Screenshot of Steven Felice's Twitter account.
EDITOR'S NOTE: This story vulgar quotations and images of messages containing uncensored profanity.
ELMER — A South Jersey police officer — who had been booted from another police department after allegedly threatening to kill a woman — is under fire again after messages threatening journalists and a congressman were posted on his Twitter account.
The now-deleted Twitter account appears to belong to Elmer police Lt. Steven Felice, according to a report on NJ.com.
Before the account disappeared, Felice claimed that his account and phone had been hacked. But screenshots taken by other Twitter users before the account was deleted show a pattern of similar tweets dating back months.
Borough police officials and Felice could not immediately be reached for comment Saturday evening.
Felice's account targeted public figures with violent and threatening language, telling NBC's Chuck Todd to "watch your back down there in Rockefeller Center" and warned Seth Moulton, the Democratic congressman from Massachusetts, that "your gonna get your ass beat."
He told one woman on Twitter to "die bitch!!!!" and "Go kill yourself do it today."
In January, he responded to an Obama Foundation post by saying: "Go guck yourself you racist scumbag mother fucker."
The account often tried to bait people he disagreed with to "come to NJ," including CNN's Don Lemon in a tweet with the hashtag "#deadmenwalking."
Felice was indicted in 2004 on charges of threatening to kill a woman while he was off-duty while working for his hometown Millville Police Department.
He resigned from the Millville force in 2006 as part of plea deal with the Cumberland County Prosecutor's Office, the Press of Atlantic City reported at the time.
But Felice was hired a year later in Elmer and was promoted to lieutenant in 2014.
He's listed in the state pension database as being enrolled in the public employee system, instead of the usual Police and Firemen's Retirement System, earning $49,140 a year.
More From WPG Talk Radio 95.5 FM