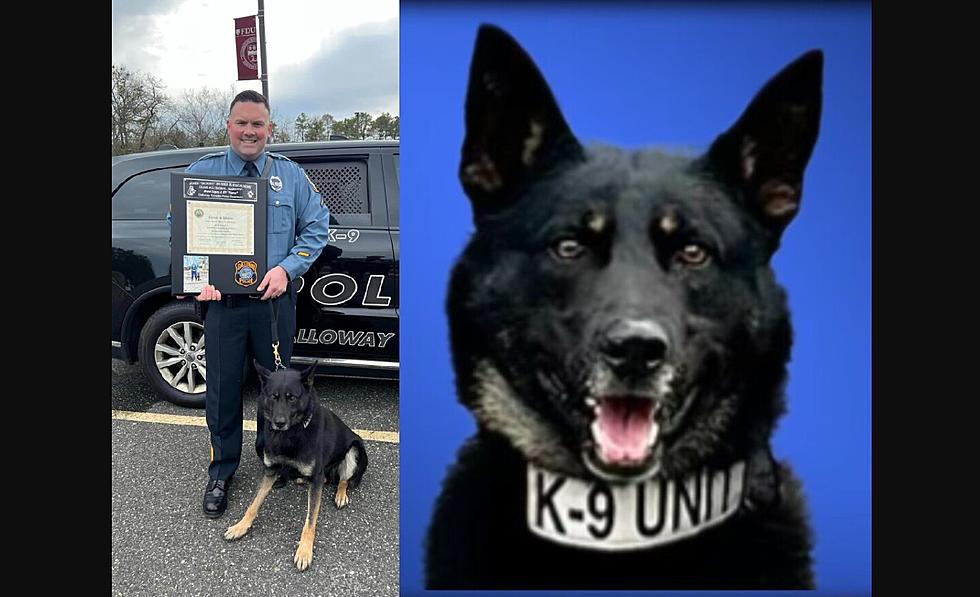 Galloway Twp., NJ, Police K-9 Makes Drug Bust on First Shift
Galloway Twp Police photos/Facebook
Let this serve as a warning to drug dealers traveling through Galloway Township: there's a new K-9 in town and he's keeping his nose up just for you.
A brand new K-9 named Narco, working on his first-ever shift for the Galloway Township Police, took the sniff test of two suspects and came up with some dangerous drugs and a weapon.
The Galloway Township Police updated Facebook Thursday with the news that patrol Officer Cody Trout observed a 2015 Jeep driving on Aloe Street with several motor vehicle violations.
After pulling the jeep over, Trout decided to follow his instincts and called in the K-9 Unit to check on his suspicions.
Officer Brent Lopez and his new partner, K-9 Narco, responded to assist with the investigation.
"Fresh out of the Atlantic County K-9 Academy and on his first official shift, K-9 Narco conducted an exterior sniff of the Jeep and provided a positive indication for the presence of the odor of narcotics."
Narco graduated from the K-9 Academy on Friday, March 10. He must have been a good student.
During the subsequent search, 115 wax folds containing heroin were found in the Jeep, along with a Glock 19 semi-automatic handgun. The handgun was reported stolen in Atlantic City and contained a prohibited large-capacity magazine.
David P. Parker Jr., 28, from Atlantic City, and Jose Echevarria, 35, of Galloway were charged with multiple drugs and weapons offenses and were booked into the Atlantic County Justice Facility.
I have attached the Facebook posts from Narco's Graduation Day last Friday and the Galloway Twp Police Facebook post congratulating him on his successful first shift on Thursday. It would appear that he's a natural.
The 10 Most Naughty-Sounding Town Names in New Jersey
TV 40 News - A Look Back at South Jersey's TV Station
More From WPG Talk Radio 95.5 FM