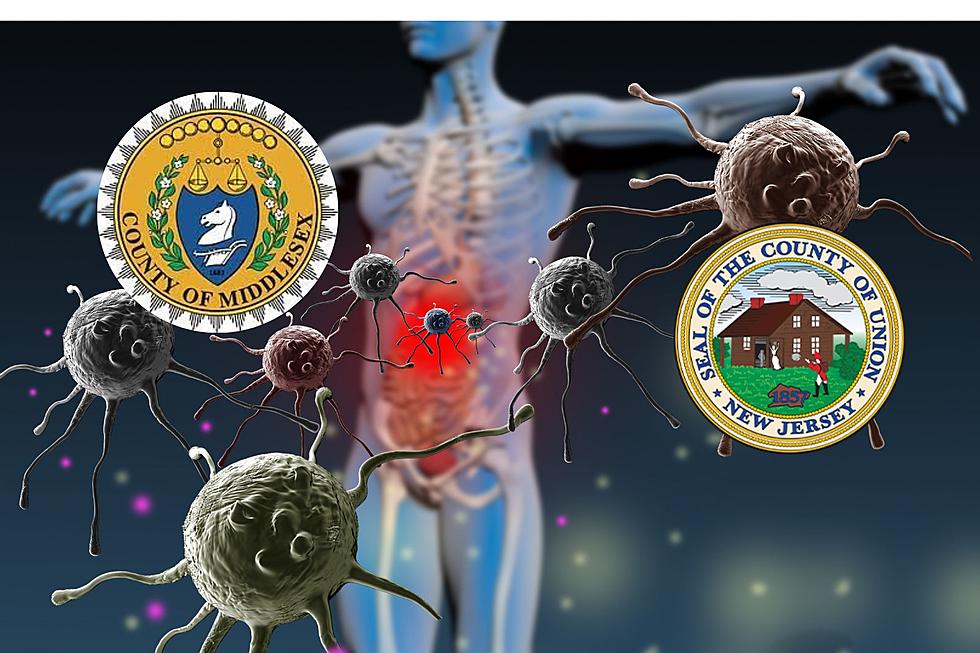 Scary, Potentially Deadly Lung Infection Spreading in New Jersey
Middlesex County/Union County/Townsquare Media illustration
State health officials are sounding the alarm about a dangerous lung infection after cases spiked in Middlesex and Union Counties.
The New Jersey Department of Health is baffled about a possible source.
As of Nov. 6th, 21 cases of Legionnaires' disease have been confirmed in Middlesex County. Another 20 cases have been confirmed in Union County.
Those numbers are triple what is typically seen at this time each year.
What is Legionnaires' disease?
According to the NJ Health Department and the CDC:
Legionnaires' disease is a type of pneumonia (lung infection). It is important to note that Legionnaires' disease symptoms are similar to those of COVID-19 and other respiratory illnesses such as the flu. Symptoms can include fever, chills, cough, shortness of breath, chest pain, muscle aches, and headache.
If Legionnaires' disease is suspected, only tests ordered by a doctor can confirm the diagnosis. Although Legionnaires' disease is a serious illness, it is treatable with antibiotics.
How do you get Legionnaires' disease?
State health officials say people can get Legionnaires' disease by breathing in aerosolized (small droplets of) water containing the Legionella bacteria.
Aerosolized water can come from cooling towers, hot tubs, cooling water misters, decorative fountains, and plumbing systems.
In rare instances, individuals may also become sick when water containing Legionella is aspirated into the lungs while drinking ("goes down the wrong pipe"), particularly among those with swallowing difficulties.
How serious is Legionnaires' disease?
If it is not identified and treated, Legionnaires' disease can be deadly.
Health officials say if it is caught early, it responds well to antibiotic treatments.
Acting New Jersey Health Commissioner Dr. Kaitlan Baston said in a statement, "Early diagnosis is key to effectively treating Legionnaires' disease"
"Although the risk of contracting Legionnaires' disease if you live in or have recently visited Middlesex or Union counties remains low," Baston said, "Individuals who develop pneumonia-like respiratory symptoms should visit their health care provider immediately to be evaluated."
What is causing this latest outbreak?
We don't know.
In the cases referenced above, the onset of symptoms occurred between August 3 and October 24, 2023.
Working with local health departments, the state has been unable to find any common exposure that would link the cases.
Local health departments, hospitals, doctors, and other healthcare providers were alerted to a potential problem in October.
How do I protect myself and my family from Legionnaires' disease?
Water contaminated with Legionella doesn't look, smell, or taste any different than clean water, so there is no way to tell if a water source is tainted without lab testing.
The state health department says it is rare for healthy people exposed to Legionella to develop Legionnaires' disease.
However, people over the age of 50, especially those who smoke, or those with certain medical conditions, including weakened immune systems, chronic lung disease, or other chronic health conditions, are at increased risk for Legionnaires' disease if exposed to Legionella bacteria.
If you or a family member show any symptoms, it is important to see your healthcare provider immediately to determine if an exposure has occurred.
How common is Legionnaires' disease in New Jersey?
The New Jersey Department of Health receives approximately 250-375 reports of Legionnaires' disease each year.
Health officials say they work closely with local health departments to investigate potential sources of infection.
However, such investigations can be lengthy, and identifying the exact source is often challenging. Any potential sources found will be addressed and remediated to prevent further transmission.
Scary, giant, invasive spider's arrival now imminent for NJ
What to know, and what to do when it finally arrives in New Jersey
Gallery Credit: Mike Brant
These NJ towns are among the best, most sought-after places to live statewide
According to
Travel & Leisure
, they are the 10 best places to live in New Jersey based on data from local real estate experts.
Gallery Credit: Mike Brant
More From WPG Talk Radio 95.5 FM