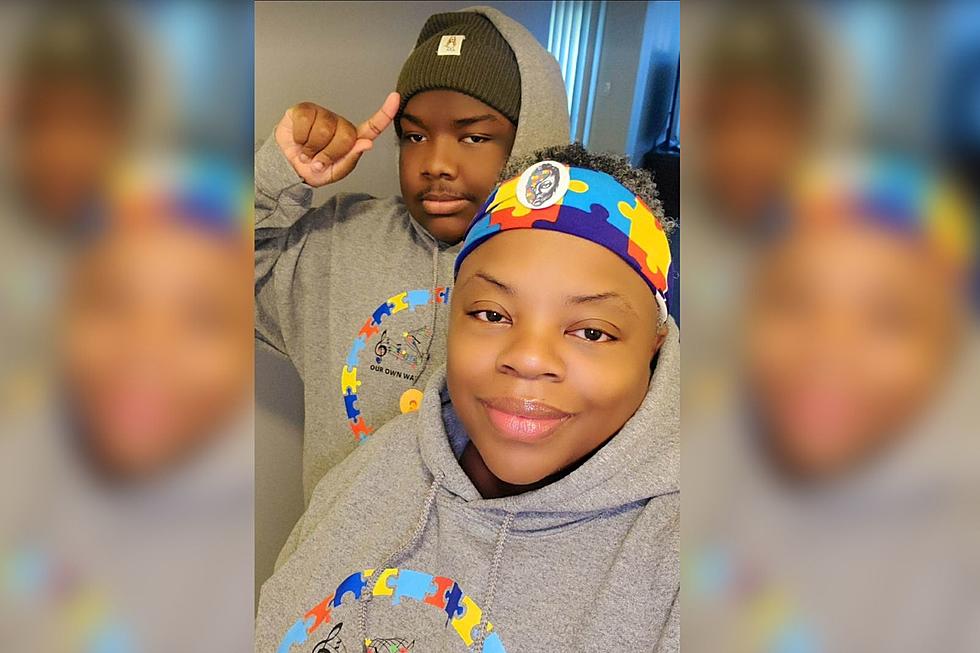 'Scary' swatting call targets NJ house of 18-year-old with autism
NJ mom of autistic son describes swatting incident (courtesy Irisa Leverette)
NORTH BRUNSWICK — A swatting incident on Monday targeted the home of a young man with autism, whose mother was — days later — still processing the very scary situation.
Irisa Leverette said she was home with her 18-year-old son, Darius, who is autistic.
Her husband was out of the house, working, and Darius was taking a bath when she heard banging on the front door, setting off a motion sensor alarm there.
Leverette said as she approached, she heard calls of "police" — at which point she put her arms up and complied with directions to open the door slowly.
She said about 20 police officers with guns and shields were outside, where they pulled her away from the entrance.
A female officer patted her down as they asked questions about her husband, according to Leverette — based on the fake 911 call that had reported a phony domestic violence emergency.
"The only thing I could say was my autistic son, he's 18, he's in the house… my autistic son, he's 18, he's in the house. I repeated it over and over again," Leverette said in an interview with NJ 101.5.
She said her biggest fear was that Darius would be approached by officers and not understand what was going on, inside their own home — possibly ending in tragedy.
🔺 Safety alert door sign a key factor in peaceful end to 'swatting' response
Leverette said once officers had thoroughly checked the home, letting her back inside to help her son get out of the bath — they told her it was a swatting incident.
North Brunswick Police later said that the call could not be traced, according to Leverette.
She said it was her first time hearing about such phony emergency calls made, directing police to rush to locations where there had been no actual threat.
One of the officers told her that a safety alert sign, which she had received through the National Autism Association, was the reason they had not busted into the front door immediately.
"Safety Alert: Person with Autism. May not respond to verbal commands," the door sign reads, as it is featured in a free kit offered by the non-profit to families of individuals with autism.
Door signs are part of a free autism safety kit available online by non-profit
"How incredibly scary for this family," National Autism Association Co-founder Lori McIlwain said in response to New Jersey 101.5."
The Big Red Safety Box — which also includes a motion sensor door alarm that Leverette had heard going off — can be requested online by caregivers of those with autism.
There are also free safety materials available for download.
Families not in need of a kit, but who would like to donate to make them available for free for those who do, also can do so online. 
Another crucial resource on the NAA website is a "Meet the Police Toolkit."
"We encourage all families (who are able) to set up a time to meet with their local police department. Allowing those connections/relationships to develop is a tremendous step towards mutual understanding and overall safety," McIlwain said.
🔺 Swatting penalties are tough in NJ — if call was traceable
The same day that the Leverette family dealt with their traumatizing swatting call, police in Hoboken responded to what turned out to be a fake emergency on a public street corner.
"While no member of the public was ever in danger, and no injuries were reported, this type of fraudulent call is serious, and it is dangerous," Hoboken police said in a statement, as reported by NJ.com.
New Jersey toughened its penalties for those caught "swatting" several years ago.
Anyone convicted of third-degree causing a false public alarm faces up to five years in prison and a fine of up to $15,000.
Fourth-degree swatting convictions still face up to 18 months in prison and a $10,000 fine.
Leverette has built a following of one million users on Tiktok, in her quest for autism awareness.
She said she had been live-streaming on the social media app right before the incident, but ended the session when she heard banging on the door.
Leverette said she has since been told about swatting calls made to others on live streams, such as gamers, with a possible motivation to see the police response unfold in real-time.
In NJ, schools have also become a popular swatting target.
On a single day in October, State Police confirmed there were "swatting" calls received by at least 10 different school districts — all reporting fake shootings.
Read More: FBI investigates 'swatting' calls to 10 NJ towns 
In November, police announced a teen in Canada was charged with making two different such hoax calls targeting a Toms River school, as reported by NJ.com.
"Though we're so glad all ended well and that our safety tools helped, no family or individual should ever have to go through something like this, nor our members of law enforcement," McIlwain continued.
"We hope those responsible are brought to justice and new safeguards can be developed to protect innocent people from these types of situations."
Erin Vogt is a reporter and anchor for New Jersey 101.5. You can reach her at erin.vogt@townsquaremedia.com
Click here to contact an editor about feedback or a correction for this story.
Play ball NJ: These MLB pros are from New Jersey
A fair amount of New Jersey born baseball players have made it to the majors. These pros, active to start the 2023 season, all have NJ roots.
Up or down? Average property tax changes in NJ in 2022
Below are the average property tax bills for every municipality in New Jersey last year.
The towns are listed from the biggest cut in the average bill to the highest increase. On the county maps, the deeper red color means a higher increase above 2% whereas the darker green signifies a smaller increase or a reduction.
Each listing also shows how the average tax bill is split among the county, school and municipal governments.
Weird things NJ taxes - and some they don't
In general, New Jersey assesses a 6.625% Sales Tax on sales of most tangible personal property, specified digital products, and certain services unless specifically exempt under New Jersey law.
However, the way the sales tax is applied in New Jersey sometimes just doesn't make sense.
New Jersey puts out an itemized list for retailers that spells out what is, and what is not, taxed.
Perhaps because this is New Jersey, there are some bizarre and seemingly contradictory listings.
LOOK: 20 American foods that raise eyebrows outside of the US
Stac



ker
compiled a list of 20 unusual and uniquely American foods that might raise eyebrows outside the U.S.
More From WPG Talk Radio 95.5 FM