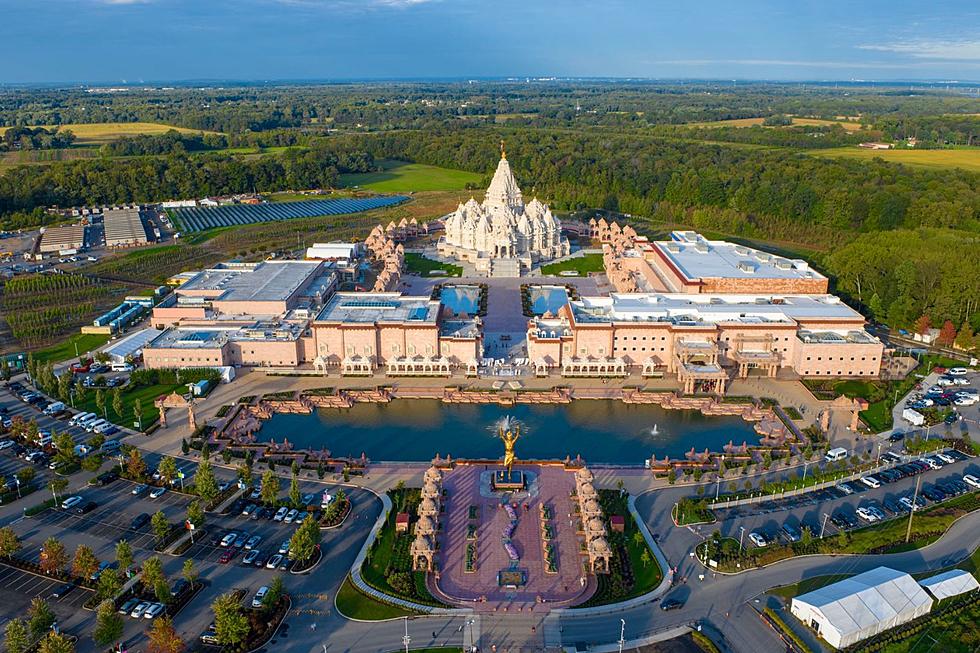 Hindu Temple, The World's Largest, Opens in NJ After Toil By Thousands
BAPS Swaminarayan Akshardham in Robbinsville (BAPS Swaminarayan Akshardham)
ROBBINSVILLE — What is believed to be the largest Hindu temple in the world officially opens Sunday after being under construction for 12 years.
The BAPS Swaminarayan Akshardham and surrounding campus off Route 130, which was built by over 12,500 volunteers from around the world, has been a buzz of activity in anticipation of Sunday's opening.
BAPS (each individual letter is pronounced) is short for Bochasanwasi Shri Akshar Purushottam Swaminarayan Sanstha, a socio-spiritual Hindu faith with its roots in the Vedas. Founded on the pillars of practical spirituality, BAPS says it reaches out far and wide to address the spiritual, moral and social challenges and issues faced in the world.
"Akshardham is a labor of love, representing the dedication and unwavering commitment to selfless service and unity. It will be a place for all visitors to find inspiration and peace as envisioned by our spiritual leaders, His Holiness Pramukh Swami Maharaj and His Holiness Mahant Swami Mahara,"  Kanu Patel, the CEO of BAPS said in a statement.
Why Robbinsville?
The 185-acre campus is set back from the southbound side of Route 130 just south of the East Windsor border.
"Central Jersey is perhaps one of the most dense populations of Indian American communities anywhere in the U.S.," spokesman Darshan M. Patel said. "If you look at the Indian American population in America versus in just the Northeast Corridor and the Mid-Atlantic, that corridor is about 33 to 35% of it is right here.
"We want it to be equidistant between Boston and Washington and at the same time, equal distance between Philadelphia and New York City."
Municipality's reaction to the BAPS temple
Robbinsville Mayor Dave Fried said the BAPS community has shown kindness to the township for over a decade.
He cited some of the events held by the temple leading up to the grand opening including their Festival of Inspiration, the "75 Days of Hope" blood drive, a "My Country, My Duty" day celebrating our police department and other law enforcement throughout the County and Robbinsville Appreciation Day.
"The journey to this most grand of grand openings has been long and sometimes painstaking. But to have the unique opportunity to meet with His Holiness, Mahant Swami Maharaj, not once, but twice, over the past six years has been an experience I'll carry with me for the rest of my life."
The temple made adjustments after complaints from nearby residents about loud music and lights, much of which was part of the grand opening celebration, according to a post on the Nextdoor app.
Future events with music will be moved indoors. Temple leadership shared their personal cell phone numbers for future problems, the post said.
A Hindu American experience
Visitors to the temple will have their breath taken away by the 255-foot wide, 345-foot long and 191-foot tall mandir but there are also other cultures and religions well represented on the campus.
"This is not just a story that is Indian, Hindu or American. It's a Hindu American story because people from the Hindu community, the American community and the Hindu American community and beyond feel at home," Patel said during a tour of the facility for New Jersey 101.5.
"At what house of worship would you see something from about 5,000 years ago like the bunichez, which are part of the Vedas, the oldest religious texts known to mankind, right alongside [messages from Americans like] Albert Einstein and Martin Luther King?"
Thousands of volunteers helped build Robbinsville temple
Volunteers from all walks of life came to Robbinsville to work on the temple over the years. Some came for only a few days while others stayed for weeks and even years, according to Columbia University Professor Yogi Trivedi, who spent time at the campus. He wrote a book about the volunteers in Robbinsville called "If Stones Could Sing."
"You may have a CEO that's coming. You may have a business owner or a business executive. They're people of means who put their careers on hold. But you also have every American. You have an individual migrant who came here, they struggled to educate themselves, to earn a living, to make it in America then they realized that the support system they had throughout this was the community."
Controversy during construction
The construction of the campus has been far from perfect with investigations into BAPS labor practices and the living conditions of workers including one who died.
Federal agents went to the temple on May 11, 2021, before a class action lawsuit was filed in federal court on behalf of nearly 200 Indian nationals who say they were paid $1.20 an hour for construction work.
According to the complaint, the workers were brought to the United States between 2018 and 2020 under false pretenses, had their passports confiscated and were forced to live in trailers inside a fenced and guarded compound. They could not leave the grounds on their own and were constantly threatened with arrest, the complaint said. The complaint said the workers were brought to the United States on R-1, or religious visas, which are intended for ministering not manual labor.
A 57-year-old construction worker from Hillside died in September 2022 in a construction accident on the rear of the property where curbing was being installed.
Previous reporting by Rick Rickman was used in this report
These are the most and least expensive toll roads in the U.S.
According to data compiled by
Uproad
, these are the highways across the country that charge the most and least to drive as of 2023.
Gallery Credit: Mike Brant
More From WPG Talk Radio 95.5 FM