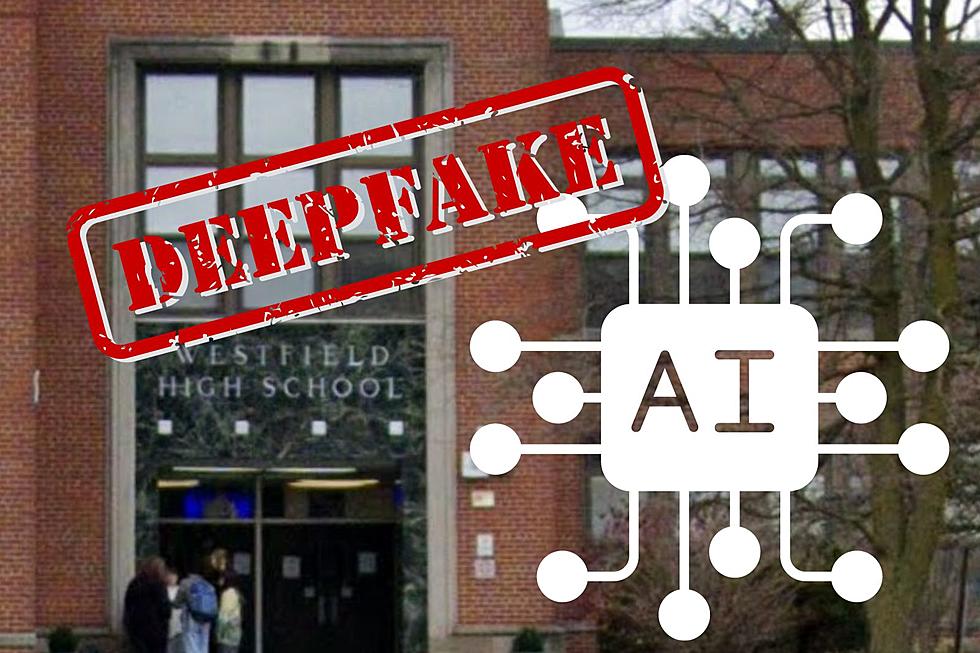 Shocking AI-generated Porn Images Circulated at NJ High School
Google maps/Townsquare Media illustration
The dangers of artificial intelligence technology have been brought home in Westfield after fake pornographic images of female students were circulated at the local high school.
The images were created using real photos from social media on an AI app that is shockingly easy to access and use. The creation of these types of altered photos are known as 'deepfakes.' In many cases, it is difficult to tell that the photos are not real.
Parents in the district were notified via email from the school principal.
CBS 2 obtained a copy of that email, it reads:
"Earlier today, students brought to our attention that some of our students had used Artificial Intelligence to create pornographic images from original photos. There was a great deal of concern about who had images created of them and if they were shared. At this time, we believe that any created images have been deleted and are not being circulated."
School officials have been notifying the parents of students involved and is asking anyone who believes they are a victim to come forward and to contact Westfield Police.
Parents of the victims say the incident has shaken the female student body and are demanding safeguards be put in place.
School Superintendent Dr. Raymond González says the district is already educating students on the dangers of this technology and the harm it can cause to fellow students. He said in statement the district is putting safeguards in place to prevent AI technology from being used or accessed on the school network and school-issued devices.
One parent told the Wall Street Journal her daughter doesn't want to attend school with the boys who were responsible for making and circulating the photos.
While Westfield Police are aware of the incident, they have not commented on any investigation. School officials say they also cannot comment on how many students were effected or any disciplinary actions that have been taken.
Struggles with emerging AI technologies
President Joe Biden signed an executive order on artificial intelligence last week.
"AI is all around us," Biden said, "To realize the promise of AI and avoid the risk, we need to govern this technology."
The order is an initial step that is meant to ensure that AI is trustworthy and helpful, rather than deceptive and destructive.
The order — which will likely need to be augmented by congressional action — seeks to steer how AI is developed so that companies can profit without putting public safety in jeopardy.
Many distrust AI technology
Due to its use to create deepfakes and aid in numerous consumer scams, public distrust in AI is growing.
A new poll from The Associated Press-NORC Center for Public Affairs Research and the University of Chicago Harris School of Public Policy finds a majority of American adults think artificial intelligence tools will increase the spread of false and misleading information in the 2024 presidential election.
The poll finds that just 30% of adults have used AI chatbots or image generators and fewer than half have heard or read at least some about AI tools.
Yet most adults say they think political candidates using AI for a variety of purposes is a bad idea.
The Associated Press contributed to this article.
NJ 'perv' teachers, coaches busted in the past two years
There have been a number of educators, coaches and private teachers facing criminal charges for sexual offenses around New Jersey, between 2023 and 2022 alone.
Gallery Credit: Erin Vogt
NJ school districts with the highest median teacher salaries
These were the highest median teacher salaries during the 2022-23 school year budget, according to data compiled by the New Jersey Department of Education. We begin with districts whose median salaries are at least $95,000 and work our way up to the highest median salary.
Gallery Credit: New Jersey 101.5
More From WPG Talk Radio 95.5 FM