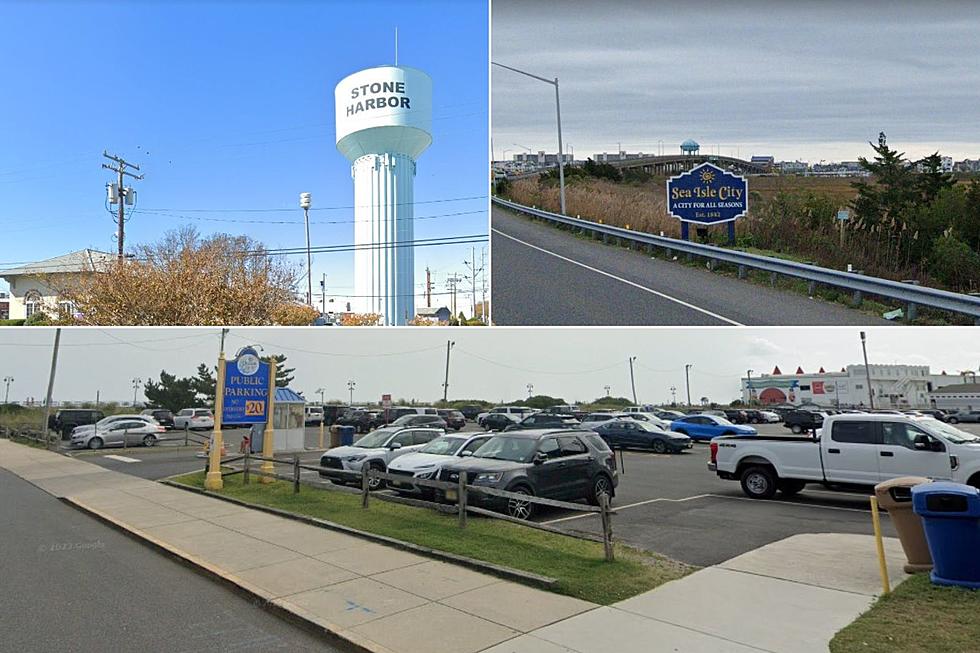 Should All South Jersey Shore Towns Offer Seasonal Parking Passes
Photos from Google Maps
One of the most challenging aspects of life at the Jersey Shore in the Summer is dealing with parking.  Whether you are a frequent visitor to the South Jersey Coastal Communities or you are a year-round resident, parking is an exasperating experience during the busy Summer Months.
As more South Jersey towns move away from the traditional parking meters and pay-to-park lots into an era of Virtual Meter Parking areas where drivers pay through an app on their smartphones, one South Jersey town has proposed Senior Parking Passes.  The municipality of Stone Harbor had a tumultuous summer dealing with the transition from Physical Meter Parking to Virtual Paid Parking during the busy season. There was a gross increase in Parking Tickets issued because there was a lack of public awareness by visitors to the popular coastal community of the paid parking changes.
During the Summer Months, Stone Harbor attempted to rectify the situation by placing more informational signage in the areas around the busy 96th Street business district. They even deployed city employees from various departments to serve as "Information Officers" to assist people who were unaware of how to use the ParkMobile App to pay for the Virtual Parking Meters.
After the summer, no real resolutions had been found to the excessive amount of parking violations issued and the subject unearthed some ugly political contentions among the town's politicians.  There has been a proposal for a Senior Citizen Parking Pass that would allow certain people over a to-be-determined age to park in the municipality lots instead of dealing with the ParkMobile App. Naturally, this proposal generated questions from the public for  a variety of reasons brought up at recent Stone Harbor City Council Meetings:
-Is $100 for a seasonal parking pass too much money?
-Is a Senior Citizen someone who is 61 or 65 years old?
-How would a Senior Citizen Parking Pass Program impact the availability of the municipal lots for city employees parking along with the current parking permit plan in place for business district employees who work downtown during the summer months?
-Should there be seasonal parking passes offered for other groups of people, such as those with Disabilities or Year-Round Residents or Seasonal Parking Passes that are a part of Vacation Rental Properties Cost
While I am sure the Stone Harbor Politicians will continue to drag out any common sense resolution to their paid parking calamity, their experiences this summer and this recent proposal does open the door for a bigger question: Should all the South Jersey Coastal Communities offer season parking passes?
As I stated earlier, Parking at the Jersey Shore during the Summer Months is arguably the most exasperating part of life in South Jersey for visitors and local residents of the shore communities. So why not offer the option to remove the most exasperating variable for people who are willing to pay for parking convenience?
For example, the South Jersey community of Sea Isle City sells seasonal parking permits every year at the cost of $250 and there is only a total of 400 sold. Now this parking permit cost may not be worth for someone who vacations in Sea Isle City several days over the course of a couple weekends in the Summer; But for those who work in town but live offshore along with people who own Shore Houses but do not have a driveway or assigned parking for their property, this would be a worth while option.
The discussed cost for a Senior Citizen Parking Pass in Stone Harbor is $100 but unlike Sea Isle City, the Stone Harbor pass does not include the Virtual Metered Parking areas.  But maybe there is something we can learn from all of this and have a larger discussion about Seasonal Parking Passes in all South Jersey Coastal Communities. Sea Isle City is not the only town with people who live off the island who drive into town for work and Stone Harbor is not the only town with people who have expressed difficulties with the Virtual Meter Parking set up.
Here's an idea: All Cape May County towns to work together with the ParkMobile App to have a Parking Tier system where people get to pay for a certain amount of hours of parking every year and they can use those parking hours throughout the summer in any town with park mobile.  All the towns get a share of the money through the app and people get incentives through the App Membership Program, similar to how the Casinos in Atlantic City incentivize patrons of their properties. Members of the Parking Membership Program get a 5% Cash Back on any purchases made at a business located near paid parking spaces and the more money they spend, they get perks to become patrons of other businesses. It would be an amalgamation of a Casino Rewards Card with the Upside or T-Mobile Dining Rewards Program plus the Cash Back Incentives from a Credit Card.
I am probably thinking too big and forgetting that politicians are involved in many of these decisions, so I doubt they would all put aside their egos to do something that is for the greater good of their communities (although I guarantee there are a handful who would).  The French Philosopher Voltaire once wrote, "Common Sense is not so Common".
10 Favorite Things about Cape May County, NJ
The history of Cape May County predates the formation of the United States of America by about 100 years as it was one of the first counties established in what was originally known as the West New Jersey Provence. Cape May County's historical records go back as far as 1685 and the County was originally established in 1692. Cape May County has been a huge part of my life and that of my family's for decades, so I wanted to share with you my favorite aspects of the southern most County in the state of New Jersey.
Gallery Credit: Josh Hennig/Townsquare Media
More From WPG Talk Radio 95.5 FM