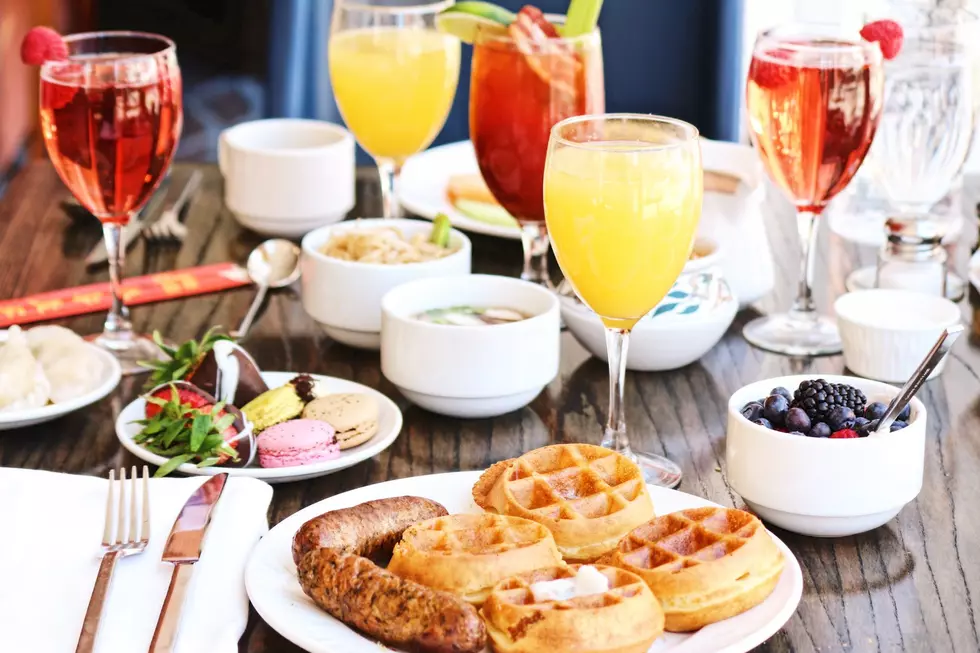 Some of the best brunch spots in every part of NJ
Austin Melonie Carroll
🍽 There are many brunch spots to choose from in New Jersey
🍽 Here are some of the region's best, according to one report
---
Ahhh…Sunday brunch. It's a lovely time to get together with friends and family and relax over a mimosa or Bloody Mary, a plate of pancakes, succulent seafood, and everything in between.
Lucky for us, New Jersey has a plethora of brunch spots around the state. So much so, that it may be hard to choose where to dine and catch up with others.
Bestofnj.com put out a list of the top brunch spots in the Garden State broken down by region: North Jersey, Central Jersey, Jersey Shore, and South Jersey.
Let's look at their top three picks from each region.
North Jersey
Grand Lux Café
1 Garden State Plaza Boulevard, Paramus
Grand Lux Café offers weekend brunch that includes classics like eggs, omelets, pancakes, and French Toast. Unique options include Huevos Rancheros (crispy corn tortillas topped with black beans, sauteed peppers and onions, fried eggs, cheddar cheese, and spicy ranchero sauce), and Short Rib Benedict (tender braised short rib with mushrooms and onions on crispy potato cakes topped with poached eggs and hollandaise sauce, served with sliced tomatoes).
Their Cinnamon-Caramel Banana pancakes are buttermilk pancakes topped with sauteed bananas in a warm cinnamon caramel sauce, pecans, and Chantilly cream.
The Grand Lux Café French Toast features thick slices of brioche bread served with maple butter syrup. Add fresh strawberries, bacon, ham, or sausage links to make it even heartier.
Signature cocktails include Blood Orange Mimosa, and three kinds of spritzes (peach, pomegranate, and Rosé.
1776 by David Burke
67 East Park Place, Morristown
The title says 1776, but this modern restaurant features a Sunday brunch packed with so many options from appetizers and salads to pizza and sushi.
Some unusual features include fried lobster salad (fried lobster, corn succotash, jalapeno aioli, and roasted tomato vinaigrette), bacon and egg pizza (mozzarella, cherry tomato, bacon lardon, and scallion), General Tso's broccoli and cauliflower, and Pastrami Salmon Benedict (kale pesto, poached eggs, and hollandaise).
Don't forget the brunch cocktails. The Cocktail Tree features an Aperol spritz, sangria or mimosa. There is also the Bellini, Passionfruit Mimosa, and the 1776 Bloody Mary (Ketel One vodka, tomato juice, David Burke's special blend of spices, and B1 sauce).
Amanda's Restaurant
908 Washington St A, Hoboken
Amanda's has been a staple in Hoboken for over three decades. The restaurant has both indoor and outdoor dining, plus live music. For brunch, they serve dishes like The Breakfast Burger (tomato, American cheese, fried egg, garlic aioli on a brioche bun), Mushroom and Goat Cheese Omelette, and the restaurant's signature dish, Belgian Waffle with Bananas (dulce de leche syrup and whipped cream, topped with walnuts).
Cocktails include Mimosa, Bellini, Screwdriver, Tequila Sunrise, Bloody Mary, and Aperol Spritz.
Central Jersey
Orchard Park by David Burke
670 Cranbury Road, East Brunswick
Orchard Park is Bestofnj.com's top Central Jersey pick for Sunday brunch which is served from 10 a.m. to 2 p.m. The terrace offers al-fresco dining in an airy structure.
Signature Sunday Brunch menu features include Cinnamon Sugar Donuts (raspberry yogurt sauce, whipped cream, passionfruit caramel, fresh berries), Top Hat Oysters (shrimp stuffed oysters, pickled vegetables, and mignonette), Clothesline Bacon, Giant Cornbread Pancakes (served with seasonal fruit, toasted almonds, and syrup), and Steak and Eggs (skirt steak, stuffed popover scramble, home fries and B1 sauce).
The brunch cocktails have some of the most unique names. Lips and Heels (beach badge vodka, OP Blood Mary mix with B1, lemon, candied bacon, shrimp, chile, and togarashi), One Eyed Undertaker (bacon-infused four roses bourbon, maple syrup and bitters), and Smokeshow Maria (Banhez Mezcal, OP Clamato Mix, Tajin, and lime).
Rat's Restaurant
16 Fairgrounds Road, Hamilton
Located at Grounds for Sculpture, Rat's is an award-winning brunch spot, offering a unique French experience amid beautiful Impressionist-inspired sculptures, and a Monet-inspired bridge and pond.
Sunday brunch is served from 11 a.m. to 3 p.m. Their signature cocktails are crafted to pair with their menu. Popular dishes include Foie Gras Brulee on grilled sourdough with house jam, Croque Monsieur (sliced brioche, bechamel, smoked ham, and gruyere cheese), Pappardelle Beef Bourguignon (house pappardelle, short rib, Kennett square mushrooms, shaved pecorino, confit egg yolk), Belgian Waffles (strawberry compote, whipped cream, maple syrup), plus artisan cheeses and a smoked salmon platter.
Tap & Bitters
200 Liberty Corner Road, Warren
Tap & Bitters is where the spirit of New Orleans comes alive, according to its website. If you like southern cooking, then here, you'll immerse yourself in the flavors of Cajun and Creole-inspired cuisine.
The brunch menu is unique featuring Eggs Purgatory (eggs baked in cast iron in spiced tomato sauce, anchovies, grated Parmesan, and melted mozzarella, served with toasted sourdough bread, and a house mixed greens salad), Lemon Ricotta Pancakes (blueberry compote, maple syrup, and toasted pecans), and Smoked Salmon Benedict (poached eggs over potato pancakes, dill sour cream, hollandaise sauce, served with breakfast potatoes, and a house green salad).
Another cool feature at Tap & Bitters is the Make Your Own Bloody Mary, which features cart service table side.
Jersey Shore
Freddy J's Bar and Kitchen
5698 Somers Point Road, Mays Landing
Brunch is served at Freddy J's Bar and Kitchen on both Saturday and Sunday from 10 a.m. to 1 p.m. There is so many cool choices on the brunch menu.
The King's Stuffed French Toast is a signature dish featuring Texas-style toast, peanut butter, banana, bacon, powdered sugar, and maple syrup.
Everything But The Sink is a mix of three buttermilk pancakes, three eggs, choice of meat, and breakfast potatoes.
The Brunch Brisket Cheesesteak is house-smoked brisket with scrambled eggs, bacon, sauteed peppers and onions, bourbon BBQ sauce, and Cooper sharp American cheese sauce on a toasted long roll and breakfast potatoes).
The cornbread with cinnamon honey butter is a must-try.
Buttered Biscuit
700 Main St, Bradley Beach
If you want comfort-style food, the Buttered Biscuit is a great place. Open only Thursday through Monday, it offers a brunch menu with a New American twist. Enjoy the classics like omelets, egg sandwiches, pancakes, and of course, biscuits.
But also try some fun options like Caramelized Grapefruit (1/2 ruby red grapefruit sprinkled with raw sugar and broiled to light golden brown), Eggs Oscar (lump crab, two poached eggs, and grilled asparagus), and Maui Meg's French Toast (banana bread grilled and topped with crushed Hawaiian macadamia nuts and toasted coconut).
Molly Pitcher Inn
88 Riverside Ave, Red Bank
The Molly Pitcher Inn is famous for its weekend brunch. Some favorite dishes include Strawberry Cannoli Stuffed French Toast (strawberry marmalade, and cannoli cream), Mr. Barry Salad (mixed greens, Cambozola Blue Cheese, Candied Pecans, Bartlett Pear, Champagne Vinaigrette, Lobster Roll (celery, Boston Bibb, and mayo), and Croque Madame (Pain Perdu, Black Forest Ham, Gruyere Cheese, Poached Eggs, Hollandaise
South Jersey
Braddock's Tavern
39 S Main St, Medford
Brunch is served every Saturday and Sunday at Braddock's Tavern. Highlights include all the flavors of fall like Warm Apple Bread Pudding with salted caramel and Crème Anglaise, an Autumn Omelet, Pumpkin Cranberry Pancakes (spiced pecan, bourbon maple syrup and Chantilly cream), Salmon Tacos (butternut squash salsa, pepitas, cranberry cream, corn, or flour tortillas), and Roasted Acorn Squash Pizza (goat cheese, kale, spiced pecans, and maple crema).
Robin's Nest Restaurant
2 Washington Street, Mount Holly
Sunday brunch at Robin's Nest features soups, sandwiches, burgers, breakfast and lunch platters.
Signature dishes include the Mount Holly Melt (Robin's chicken salad, celery, onions, mandarin oranges, dill mayo, and melted cheddar, open face on a toasted English muffin, and served with a side salad), Shrimp n' Grits (homemade grits with fried shrimp tossed in a Cajun maple butter and topped with a sunny-side up egg), Bleu Lime Salad (mixed greens, crumbled bleu cheese, dried cranberries, candied walnuts, mandarin oranges, and honey cumin lime dressing).
Drinks? There are so many signature cocktails like the French Toast Martini (a mix of Fireball whiskey and vanilla vodka), The Pumpkin Spice White Russian (vodka, Pumpkin spiced rum chata, Kahlua, and whipped cream), or the Caramel Aperol Spritz (caramel vodka, apple cider and prosecco over ice).
Sabrina's Café
714 Haddon Avenue, Collingswood
Sabrina's serves breakfast all day, every day. Some favorite dishes include Cannoli French Toast, breakfast tacos, and a tofu scramble.
The Mushroom Toast is toasted thick multigrain bread spread with garlic, shallot and tarragon-whipped goat cheese, topped with warm roasted oyster, shiitake, portobello, button mushrooms, arugula, and a poached egg.
Cinnamon Roll Pancakes consist of two cinnamon sugar-swirled buttermilk pancakes topped with cream cheese frosting and cinnamon streusel.
Yoshi's Elvis-Inspired Waffle is a waffle topped with Nutella, peanut butter, bananas, and bacon.
There are also many gluten-free and vegetarian options.
Check out the full list of favorite brunch spots here.
Report a correction 👈 | 👉 Contact our newsroom
Check out this landmark Jersey shore breakfast and lunch spot
Gallery Credit: Dennis Malloy
More From WPG Talk Radio 95.5 FM