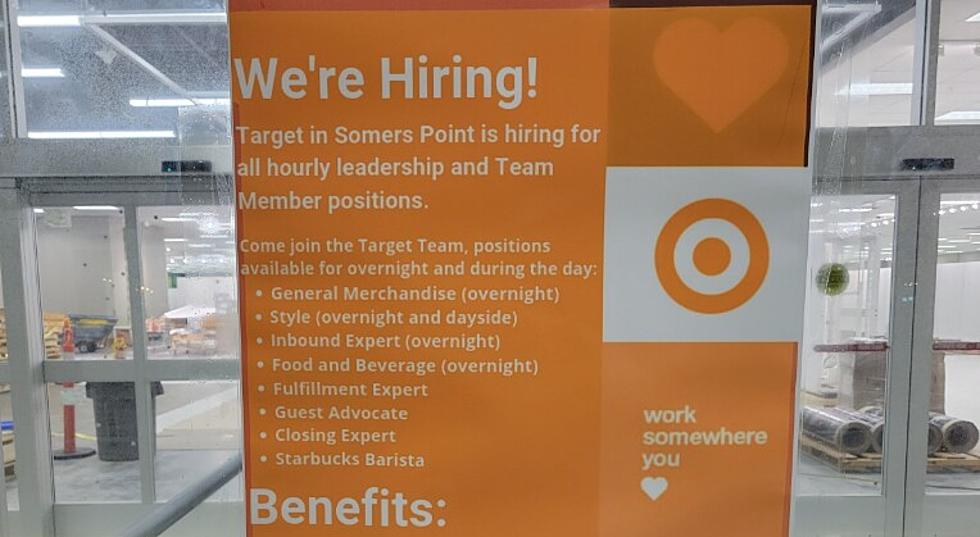 Somers Point Target Prepares to Open – Here's the Latest
Eddie Davis
The long-awaited opening of the new Somers Point Target is now in sight.
I really don't have any inside information on the status of the store's opening, but I wanted to tell you what I found out by dropping by the new Target on Thursday.
It's obvious from the work underway, that they plan to have the store open in the next few weeks - maybe a month, at most.
First, let's recap. Target is taking over the spot previously occupied by Kmart in the Somers Point Plaza, the shopping center that features Acme and Big Lots.
The anchor space Target is moving into is over 100,000 square feet and has been vacant since Kmart closed in December 2019. Target is remodeling the store to fit their purposes, selling everything from groceries and essentials to clothing and electronics, and the work is well underway.
There are signs in the front window announcing,  "We're Hiring!" (Who isn't, these days). The signs list positions available on the Somers Point Target team in general merchandise, style, "inbound expert" (that's Target-speak for stocking and setting up), clothing expert, guest advocate, and Starbucks barista.
If you are considering working at the new Somers Point Target, the advertisement in the window says jobs start at $15 an hour ($16 an hour overnight) offer 10% discounts and access to free mental health support and counseling.
Target also announced this week that they will offer debt-free college tuition, joining a growing number of employers, like rival Walmart, to their 340,000 full and part-time workers.
If you live close to this Target store, as I do, then you know how anticipated it is by the local shoppers who are looking for a good alternative to driving to Mays landing for everything.
I am here to tell you, your wait is almost over.
Vintage Wawa: A Look Back to the First Store & More
South Jersey's Ultimate Ice Cream Guide
More From WPG Talk Radio 95.5 FM