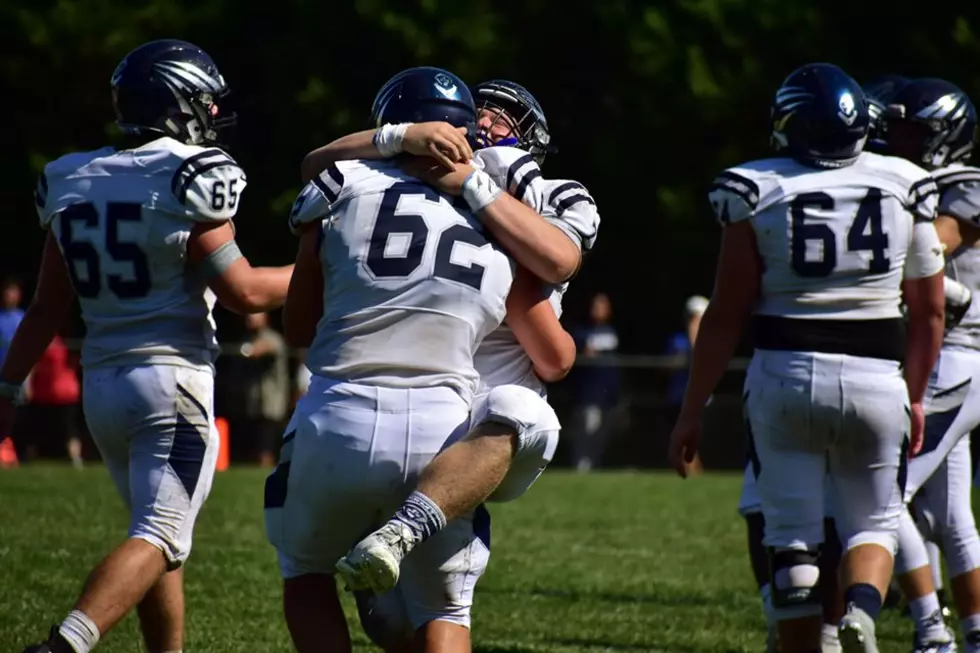 South Jersey Football: St. Augustine Prep Upsets St. Joe's
(Glory Days photo/Dave O'Sullivan)
HAMMONTON — The St. Augustine Prep offensive linemen must have skipped breakfast on Saturday morning, because they were hungry for some pancakes once their game kicked off against St. Joseph — the No. 5 team in the state, according to nj.com.
Angelo Fodera, Chandler Bird, Dylan McNally, Jake Ketschek and Gavin Kennedy imposed their will on the Wildcats with a seemingly endless series of "pancake" blocks to the tune of 268 rushing yards, as the Hermits — who came into this week 0-2 and in desperate need of a win — dominated from start to finish on both sides of the ball in a 28-12 victory over previously unbeaten and defending Non-Public Group 2 state champion St. Joseph. It was the Hermits' first win over the Wildcats in Hammonton in 11 years.
"All these guys have been together forever. We just don't take days off. We eat together, we work together — it's a great feeling. We ran the same plays, just run it down their throat the best we can, and we did that. We came out here and won this game by pounding it down their throat. We knew we were able to do this from the beginning of the season, it just took us a little bit to find our groove. We put it together today," Fodero added. "Jake just told me, 'stand them up and I'll take care of the rest.' I said, 'alright, big Jake, you got it, buddy.' There are two giants next two me and two guys on the right side with the biggest hearts. I can't complain about this offensive line. It's the best group of guys I've ever played with.""It felt great being able to just pound the ball. They couldn't stop us, and as an offensive line — when you know the defensively line can't stop you and you can just pound the ball — that's a special feeling," Bird said. "It's a lot of responsibility, but it feels good knowing the coaching staff can rely on us to just pound the ball and win like that. Things are coming together for us as a unit, and it's showing out on the field. We have to have some more hard practices and just come out here and keep this great feeling going next week."
St. Augustine (1-2) set the tone right from the start, taking the opening kickoff and driving right down the field behind some big runs from Nasir Hill and quarterback Austin Leyman. Leyman's big run up the middle brought the ball to the St. Joseph 23-yard line, and then Hill took it to the house from 19 yards out. Luke Snyder, who was 4-for-4 on PATs, added the extra point to give the Hermits a 7-0 lead. St. Joseph (2-1) answered right back, as the Wildcats capped off a 72-yard drive when quarterback Jayden Shertel connected with Jada Byers on a short touchdown pass to pull the Wildcats to within 7-6.
But the Hermits tacked on a pair of second-quarter touchdowns, as Hill plowed in from four yards out on the first play of the second quarter to push the lead to 14-6, and after a St. Joseph punt, Prep drove in for another score when Leyman ran a keeper from the 5-yard line. That made it 21-6, and although St. Joseph got to within 21-12 with 8:10 left in the third on a 44-yard run by Byers, the Hermits continued to chew up clock behind the running of Leyman, Hill, Isaiah Raikes and sophomore Franklin Sims, who made an impressive varsity debut with 109 yards and a touchdown on 22 carries. His three-yard scoring run with 10:42 gave Prep a 28-12 lead, and the defense handled things from there. St. Joseph, which has one of the most prolific offenses in South Jersey, was limited to just 69 rushing yards and just 187 yards of total offense.
"We came out here knowing we can come out and play with any team if we play our best. Our defensive line came in pretty young, we have one junior and two sophomores, so they'll be making plays for years to come," said Raikes, a 300-pound senior defensive lineman who is committed to Texas A&M. "This feels good. I lost to them the last two years in big games, and I feel like I came out here today and played one of my best games. I felt like I just needed to come out here and do what I do, which I didn't do in the first two games. When I go back and watch the film I'll see what I did wrong, but as of right now I feel like I played pretty well."
The Hermits now have a ton of confidence going forward, and they'll need it, as they travel to Shawnee next Friday night before an October slate that includes games against Ocean City, Rancocas Valley, Holy Spirit and Cherokee, and a big-time home game on Nov. 1 against Williamstown, the likely No. 1 team in South Jersey after this weekend."Franklin really stepped up. We had a couple guys step up today and that paid off, we were able to come out here and get the win. We had the mentality this week that the defense needed to just fly to the ball. We knew they were going to try to tee off on Raikes, so everyone else had to step up and fly to the football," Bird said. "This win feels special, to be able to come out here and beat the No. 1 team in South Jersey. Everyone was doubting us, but to get a win like that is such a good feeling."
"We watched film, broke them down. They're definitely a good team, well coached and they make plays, as you can see," Raikes said. "We'll have a lot more energy (Monday) but we have to put this behind us and get to work, just like we did after we lost."
Added Fodero, "We knew this was in us this whole time, it just took us this long to get there. Now, it's going to be hard trying to stop us."
What's next: St. Augustine Prep travels to Shawnee on Sept. 27 at 7 p.m. St. Joseph hosts Atlantic City on Sept. 28 at noon.
More From WPG Talk Radio 95.5 FM