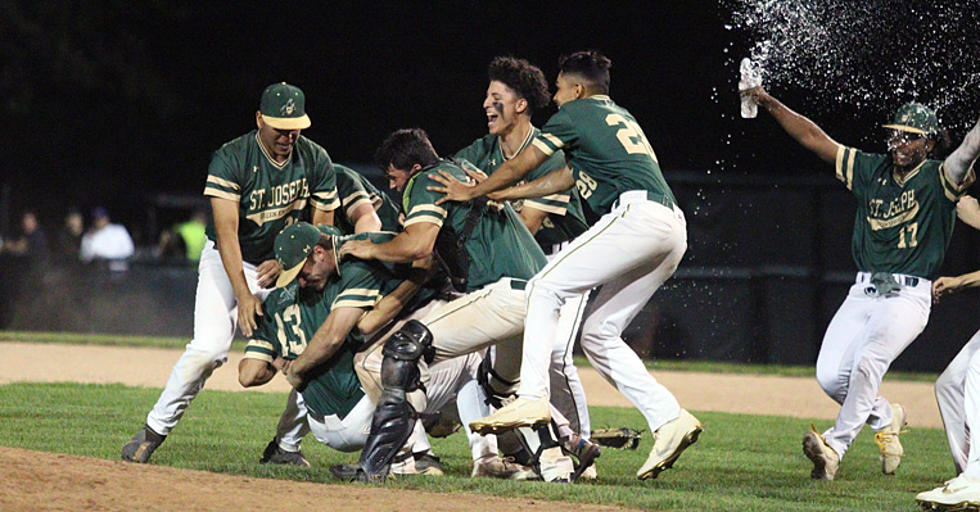 St. Augustine's Baseball Season Comes to an End in State Finals
Photo: Sully/Glory Days
It's really hard to win a state Non-Public A baseball championship. Some of the best teams reside in that playoff bracket, such as Bishop Eustace and Gloucester Catholic in the South and Don Bosco Prep, Seton Hall Prep, Delbarton and St. Joseph-Montvale in the North bracket.
What makes winning a state championship even tougher is going up against a pitcher like senior right-hander and Boston College commit Sean Hard.
Hard was on point Wednesday night at Bob DeMeo Field at Veterans Park as he went 6 1/3 innings, striking out 13 and allowing just one earned run as St. Joseph-Montvale's Green Knights took down St. Augustine Prep, 4-1. The Hermits were making their fifth straight appearance in a state championship game, with their last title coming in 2018.
Hard struck out the side in the first and fourth innings and was never really in trouble, as he had a 3-0 lead when he gave up his only run, which came on a Jackson Vanesko single in the top of the sixth inning.
"We're just using this as motivation, honestly. We're going to come back here (in 2022) and win this," said St. Augustine Prep sophomore pitcher Marco Levari, who came on in relief of Vanesko in the fourth inning. "We have to. We have to win this again. It's going to come soon. We just want to win. We're going to come back here next year and win it. We got here, we showed everyone we could do it, and we're going to win it next year."
"I thought we competed. Obviously, we all know who they are, they are a tremendous hitting team," said Hermits coach Mike Bylone. "We had our chances. We had base runners almost every inning, but we had some bad base running. But I'm proud of our guys. Give (St. Joe) credit, they are as advertised, but I'm really proud of our group, how they battled. We were big underdogs here. We did get some hits but we just didn't get it done when we had our opportunities. If we could have pushed a couple runs across early, it's a different mindset, a different ball game."
After Hard whiffed the side in the top of the first, Vanesko battled through some control problems in the bottom of the inning. With one out he walked the bases loaded but then got a pair of strikeouts to keep the game scoreless. The Hermits threatened in the second and third innings, but each time had a runner picked off second to end a golden scoring opportunity.
"We talked about it in practice all week, we have to do the little things," Bylone said. "We were the underdogs and we had to do the little things, we just didn't do it today. That's baseball. The finality of it stinks, losing the last game. If it's a series it's a different ball game, but that's the way it is."
The Green Knights (27-2) got on the board in the bottom of the third when Angel Colon drew a bases-loaded walk, and in the fourth shortstop Ellis Garcia drilled a two-run home run to left to put St. Joe up, 3-0. St. Augustine loaded the bases in the top of the fifth on three walks by Hard, but couldn't convert as Hard got Ryan Taylor to line out hard to right field to end the threat. In the bottom of the sixth St. Joe tacked on an insurance run, taking a 4-1 lead on a sacrifice fly by Garcia, and Jimmy Romano came on in relief of Hard in the seventh to nail down the save.
Austin Sofran and Vanesko each had two hits for St. Augustine, which rapped out seven hits.
The Hermits went 23-7 in what was a challenging year with a lot of games jammed together in a shortened spring season.
"This year with everything going on, it was a really weird year with the Covid and all this stuff we had to battle through in the beginning; staying six feet away (from each other), different water bottles, masks — all this stuff we fought through — I'm really proud of this group," Bylone said. "Nobody expected us to be here. We have almost everybody coming back next year, so if anything this gives us experience."
Bylone said he fully expects his team to make a return trip to the state championship game in 2022. The Hermits lose just three starters — Vanesko, center fielder Brody McKenzie and third baseman Jack Peacock — to graduation.
"I made them look at the celebration and I said, 'that's going to be us next year.' We're only losing three seniors from the starting lineup and we got some good experience with some of the younger kids, the younger pitchers. I challenged them right here tonight and said there's no reason we shouldn't be back here next year," he said. "I told the kids coming back that we have five returning starters. Look at Marco Levari, he's a sophomore and he pitched pretty damn well on a big stage like this, and hopefully that springboards him. We've been in this situation before where we lost a final and we bring the same kids back the following year, in 2017 and 2018. We weren't expected to be this close with them, so I'm proud of our effort."
What Are the Signature Drinks From Every State?
More From WPG Talk Radio 95.5 FM