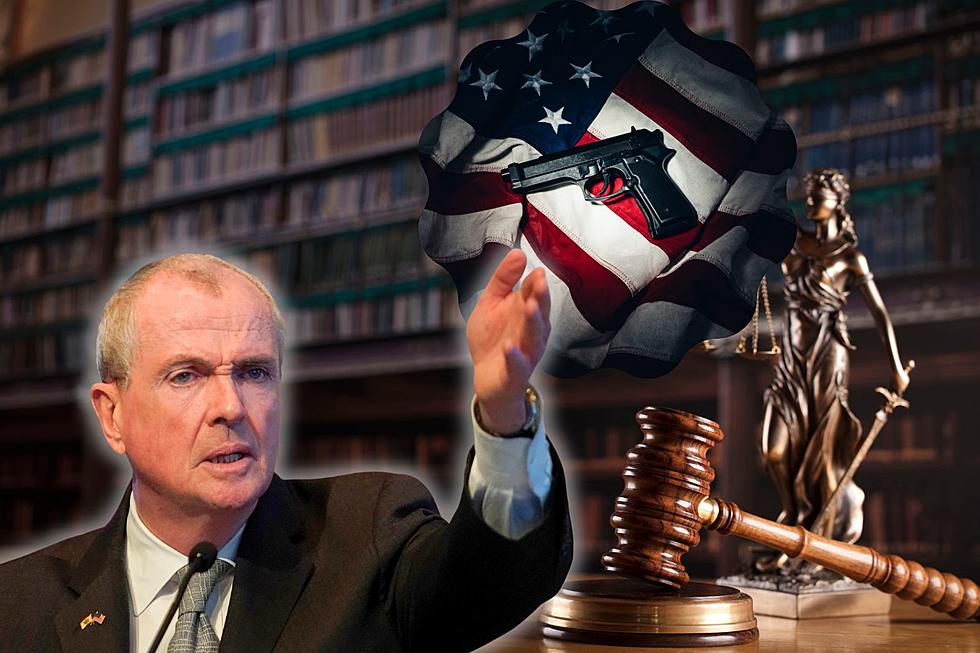 Strict Concealed Carry Restrictions Remain in New Jersey
AP/Townsquare Media illustration
The latest skirmish in the battle over the concealed carry of a firearm played out in a Federal Appeals Court in Philadelphia on Wednesday.
A resolution, however, could still be months away.
The three judge panel head from the attorneys representing Gov. Phil Murphy's administration and gun rights advocates.
At issue is a whether Murphy and his legislative allies overstepped when they imposed severe restrictions on where residents can carry a concealed handgun.
After the U.S. Supreme Court invalidated concealed carry restrictions in New Jersey and elsewhere, Murphy moved quickly to enact the toughest concealed carry law in the United States.
Gun rights groups immediately filed a lawsuit.
U.S. District Judge Renée Marie Bumb ruled the restrictions "went too far" and were "aimed primarily — not at those who unlawfully possess firearms — but at law-abiding, responsible citizens."
That decision was appealed by the state, and now the matter is before the Appeals Court.
NJ.com reports an attorney for gun rights groups argued the new law essentially bans you from carrying anywhere but on private property and makes it a crime to exercise a constitutional right.
Lawyers with the New Jersey Attorney General's office countered that identifying so-called 'sensitive areas' where guns are prohibited falls in line with Second Amendment rights.
Before the hearing, New Jersey Senate President Nick Scutari defended the ban he helped move quickly through the legislature.
"People think they're going to go out and play cowboy when they have a gun out there," Scutari said at a news conference.
He said New Jersey is not Florida or Texas, and "we're not used to seeing people walking around with guns."
What happens now?
For now, the tight restrictions on where you can carry a gun remain in place.
It could take months for the appeals court to make a ruling.
After listening to two hours of argument on Wednesday, the judges gave no indication when they may issue a ruling.
What are New Jersey's restrictions on concealed carry?
The legislation signed into law by Gov. Murphy did eliminate the requirement to justify why you want a concealed carry permit, but also imposed these new restrictions:
⭕ Expand the vetting for permit applicants by increasing the number of nonfamily members who must vouch for them to five from three and adding disqualifications such as "character of temperament" and past violations of restraining orders and convictions.
⭕ Applications would have 90 days to be approved, up from the current 60 days, which often isn't followed.
⭕ Prohibit people from carrying handguns in around two dozen categories of places, including schools, government buildings, polling places, bars and restaurants, theaters, sports arenas, parks, airports, casinos and childcare facilities.
⭕ Require property owners to opt-in to allow people to carry guns on their premises, rather than opt-out.
⭕ Require gun safety training, including a gun range qualification, for permit holders.
⭕ Establish new insurance requirements for handgun owners: $100,000 of coverage for the injury or death of one person, $300,000 for the injury or death of multiple people in any one incident and $25,000 for property damage.
⭕ Increase permitting fees to $25 from $2 for a firearm purchaser identification card and to $50 from $5 for a permit to purchase a handgun. The application fee for a permit to carry a handgun would be $200.
⭕ Direct some of the revenue from the fees to the Victims of Crime Compensation Office.
All of the above restrictions remain in place while the court process plays out.
Places in New Jersey where you can now carry a legal gun
New Jersey passed its own law in December, trying to ban legal guns from "sensitive places."
A federal judge found many of those spots to be legally protected on grounds of armed self-defense, noting in her opinion, "Crowded locations are not sensitive places."
As of June,
a federal appeals court granted the state attorney general's request to keep part of the law that bars people from carrying handguns in "sensitive places" in effect. The decision means handguns cannot be carried in places such as zoos, public parks, public libraries and museums, bars, and
health care
facilities. The law bars handguns from being carried in those places as well as schools and child care facilities. The lower court's May injunction did not specify those locations, and the appeals court also didn't remove the prohibition in those places.
Gallery Credit: Erin Vogt & The Associated Press
NJ teachers and educators caught in sex crime busts
The following individuals were arrested and charged in 2021 and several years earlier. Some were convicted and sentenced to prison. Others have accepted plea deals for probation and some cases were still pending.
Gallery Credit: Erin Vogt
More From WPG Talk Radio 95.5 FM