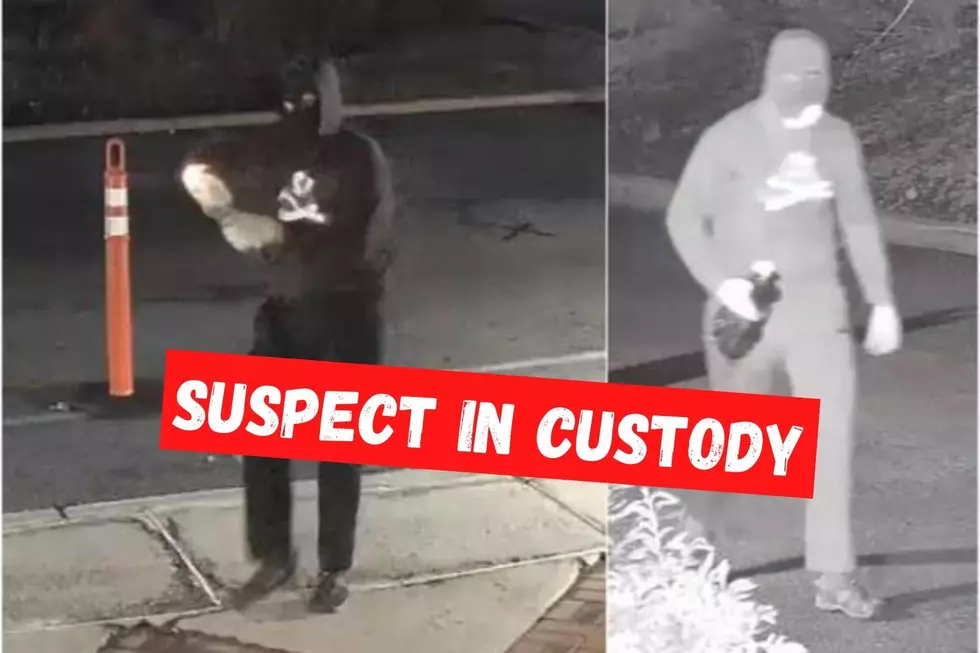 Suspect in Custody For Molotov Cocktail Hurled at Bloomfield, NJ, Temple
(Bloomfield police/Townsquare Media Illustration)
👮‍♂️ Authorities have made an arrest in the attempted firebombing of Temple Ner Tamid, officials say
🔥 Rabbi Marc Katz says security upgrades stopped the Temple from going up in flames
🕊 The synagogue is hosting an interfaith rally against hate with local rabbis, pastors, and imams
---
BLOOMFIELD — The masked man who threw a Molotov cocktail at a Jewish Temple on Sunday morning is in custody, according to the mayor.
"I'm proud to announce that the suspect in the Temple Ner Tamid firebombing is in the custody of the FBI and Bloomfield Police Department," Bloomfield Mayor Michael Venezia said on social media Wednesday evening.
A spokesperson for the FBI in Newark was not immediately available for more information.
Hours before the mayor's announcement, the reward for information leading to the suspect's arrest had risen to $15,000 total.
🔥 Molotov cocktail stopped by security upgrades
According to Bloomfield police, a man in a ski mask walked up the driveway of Temple Ner Tamid on Broad Street early Sunday morning around 3:15 a.m. with a Molotov cocktail in hand. He ignited the homemade weapon and threw it at the building's front doors.
However, the glass bottle broke and only caused minimal damage. Rabbi Marc Katz confirmed to New Jersey 101.5 that reinforced doors stopped the bottle from going threw the glass and igniting the building from within.
While Katz is grateful that state grants helped to pay for the security upgrades, he worries that smaller synagogues without an executive director to spend time filling out pages of forms for grant applications will be vulnerable. He sees a world where bigger synagogues will keep getting more "hardened" but smaller ones will not.
"Unfortunately, we live in an era where we do have to take these precautions. We probably don't need them everywhere, but when we do need them, they are really important," Katz said. "Who would have guessed that somebody would've shown up in the middle of the night with a Molotov cocktail outside of our congregation."
🕊 Bloomfield interfaith rally against hate
After the attempted firebombing of the Bloomfield synagogue, faith leaders and elected officials are coming together for a rally to unite against hate Thursday night. The congregation at Temple Ner Tamid will hear readings from local rabbis, pastors, and imams.
"This attack on our congregation was likely motivated by antisemitism and that is one form of hatred, but that doesn't necessarily mean that there aren't others who are dealing hatred in other forms in their own way," Katz said.
Katz said that as the rabbi of the synagogue, his job is to remind his congregation that they are safe and have allies in their community to unite against a growing trend of hatred.
The rally is scheduled for 6:30 p.m. at Temple Ner Tamid located at 936 Broad Street in Bloomfield.
New Jersey's smallest towns by population
New Jersey's least populated municipalities, according to the 2020 Census. This list excludes Pine Valley, which would have been the third-smallest with 21 residents but voted to merge into Pine Hill at the start of 2022.
How much does the average NJ home cost? Median prices by county
Everything is costing more these days — and housing is certainly no exception in New Jersey.
Data for 2022 from January through August, compiled by New Jersey Realtors, shows that South Jersey has been seeing homes hit the market and sell in less than a month, on average.
Median prices for single-family homes have reached $500,000 and above in nine counties in North and Central Jersey.
All but two counties have seen houses go for more than the list price, on average, this year.
More From WPG Talk Radio 95.5 FM