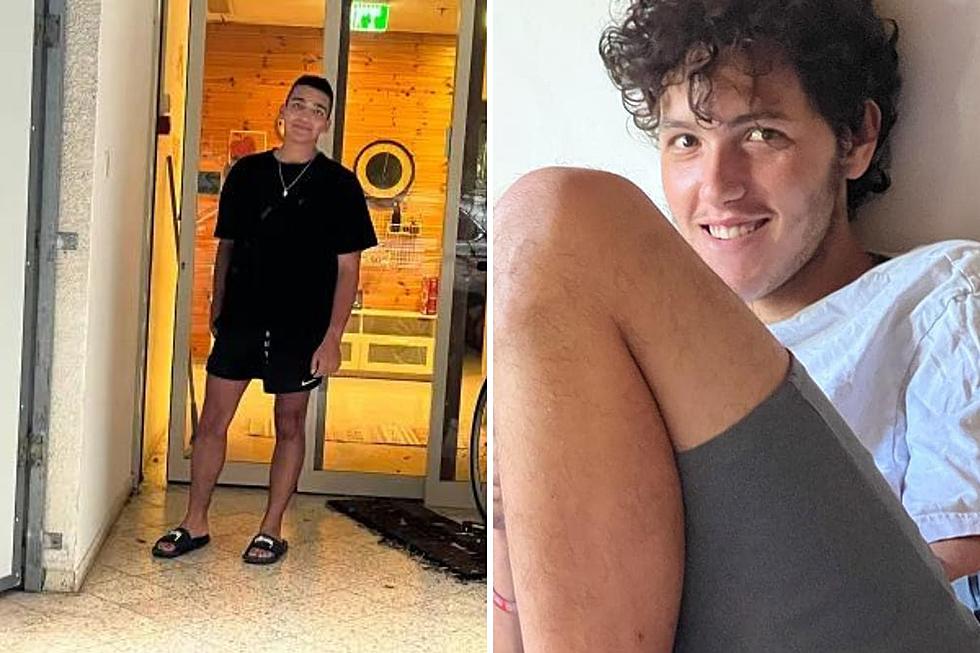 Teen, Young Men From NJ Missing, Dead in Israel After Terror Ambush
Edan Alexander (Gov. Phil Murphy's office), Laor Abramov (Michal Halev via Facebook)
New Jersey residents remain missing following terrorist attacks by Hamas in Israel.
One of them is a 19-year-old from Tenafly who serves in the Israel Defense Forces. Another is a 20-year-old DJ who attended the music festival ambushed by terrorists.
Teenager from NJ missing in Israel
Gov. Phil Murphy joined several thousand for a candlelight vigil at Hoboken's Pier A Tuesday night to show support for Israel. During the event Murphy specifically mentioned Edan Alexander, 19, of Tenafly who is part of the Israel Defense Forces (IDF) Golani Brigade 51st Division.
Alexander, a member of the Tenafly High School Class of 2022, was serving near the Gaza Strip during Saturday's attack and is now missing.
Joint statement by Murphy and bipartisan leaders
"New Jersey stands with the people of Israel in the wake of Hamas' unspeakable acts of brutality against innocent civilians. We are united across party lines in the fight against terrorism and are praying for the victims, their families, and the people of the region," Murphy said in a joint statement with state Sen. President Nicholas P. Scutari, Assembly Speaker Craig J. Coughlin, Senate Minority Leader Anthony M. Bucco, and Assembly Minority Leader John DiMaio.
Number of Americans dead or missing in Israel
Attorney General Matt Platkin spoke at a community gathering at Kaplen JCC on the Palisades in Tenafly and mentioned "two Bergen County men" are missing but didn't identify them, according to a report by NorthJersey.com.
Platkin's office on Wednesday morning on Wednesday morning did not respond to New Jersey 101.5's request for clarification.
President Joe Biden said 14 Americans were killed in the attack but their identities have not been disclosed.
NJ mother has not heard from her son
Nancy Dubin, of Fair Lawn, told News 12 New Jersey she has not heard from her son Ari, 20, since Saturday. He is also serving with the IDF.
Dubin said that in their last conversation, Ari said he couldn't tell her where he was going and wouldn't have his phone for 36 hours.
DJ at an ambushed concert
Laor Abramov, 20, is a DJ who was at the Nova music festival that was ambushed by Hamas. More than 250 were killed in the attack while some attendees are being held hostage.
His mother, Michal Halev, of Hopewell, told CBS New York, said a witness sent her a photo of Avramov in a bomb shelter before he was taken away in a pickup truck.
His mother told CBS New York that he moved from Hopewell to Israel during the COVID-19 pandemic.
Family in New Jersey mourns 20-year-old
The family of Itay Glisko, 20, told The Daily Beast that the Paramus native who was serving with the Israeli Defense Forces was killed in a border sneak attack by Hamas. His family moved to Israel when he was 2 but he still has family in New Jersey.
A relative was at the Kaplen JCC event when she was told of Itay's death, the family told The Daily Beast.
Stuck in Gaza City with three children
CNN host Jake Tapper during his show on Tuesday offered to make sure the White House was aware of a Palestinian-American woman named Haneen Okal from Union County who is stuck in Gaza City.
Phone calls to the American Embassy have not offered a clear solution.
"They say go to the shore, and then they bomb the shore the next day. They say go to north, and then they bomb the north areas the next day. Like, everywhere. They're bombing everywhere. So, no place is safe here in Gaza Strip," Okal told Tapper.
Okal, who told Tapper she is not with Hamas, was traveling with her children (ages 8, 2, two months) at the time of Saturday's attack.
FREE RIDE! These U.S. states have absolutely no toll roads
According to data compiled by
Uproad
, there's no charge to drive on highways in these states.
Gallery Credit: Mike Brant
More From WPG Talk Radio 95.5 FM