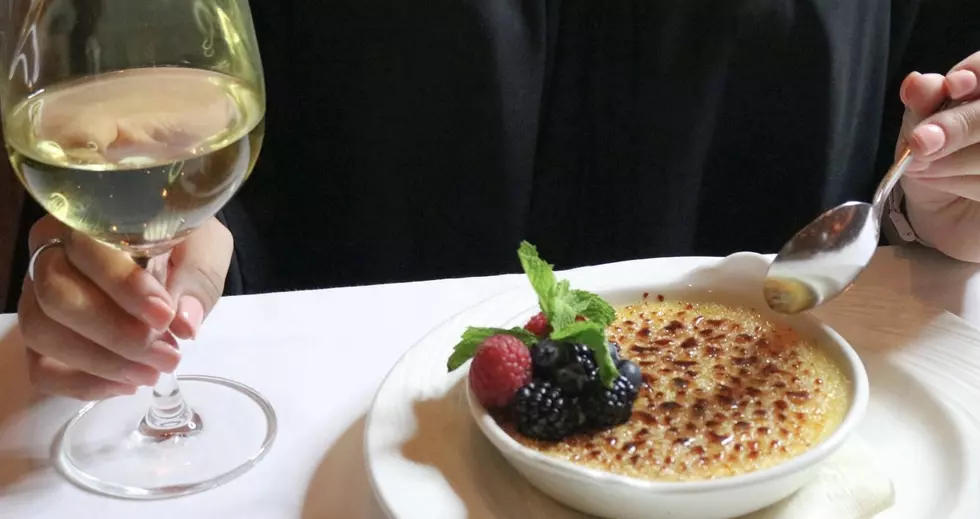 The Best Crème Brûlée Desserts In Atlantic City, New Jersey
The Palm Restaurant via Facebook.
This was another really fun "Best of"  list that we assembled during 2022. During this holiday season, or, right after … following a wonderful meal, consider treating you and yours to this wonderful dessert.
For many, it's hard to leave "room" for dessert. We've all been there. You've had a great meal and then your service team approaches you with the dessert menu.
You place your hand on your stomach and wave it off. You just can't think about eating another thing.
Enter to the stage … our topic for this report … the wonderful, light and delicious Crème Brûlée dessert.
It's one of my favorite desserts. It's a great dessert to share after a great meal. There always seems to be room for just one more bite. Although rarely does it end after just one spoonful.
It's also a great experience to watch when the blow torch comes out and that caramelized, crunchy topping is cooked to perfection right before your eyes, table side.
The combination of the soft custard-like filling, coupled with the crunchy, sweet topping takes you to dessert nirvana.
This offering, pictured here is from a recent dinner that we had at Capriccio Italian Restaurant, located at Resorts Casino Hotel in Atlantic City, New Jersey.
Capriccio is the # 1 rated casino restaurant in America by  USA Today10Best for the past 3 years and 4 out of the past 5 years. They've earned it.
HERE IS OUR LIST OF THE BEST CRÈME BRÜLÉE DESSERTS IN ATLANTIC CITY, NEW JERSEY.
CAPRICCIO ITALIAN RESTAURANT - Resorts Casino Hotel, Atlantic City, New Jersey. This is the # 1 rated casino restaurant in America. Their world class staff does not disappoint, right through to the dessert portion of your meal. When they present the dessert menu, say yes.
CHEF VOLA'S, Atlantic City, New Jersey. This special offering is actually a crème brûlée pie. Simply everyone raves about this exquisite dessert.

VIC & ANTHONY'S STEAKHOUSE - The Golden Nugget Hotel & Casino, Atlantic City, New Jersey. The attention to detail and excellence in service makes for an exceptional experience. They bill their crème brûlée dessert as "It speaks for itself." It does.
THE PALM - ATLANTIC CITY. This dessert is a menu highlight. Prepared with great care for your maximum enjoyment.
McCORMICK & SCHMICK'S SEAFOOD & STEAKS - Atlantic City, New Jersey. This fabulous item is a featured item on their menu. Grab a spoon, it tastes as good as it looks.
MORTON'S THE STEAKHOUSE - Atlantic City, New Jersey. We've decided to include this different take versus all of the others that are included here on our list. It's a New York cheesecake, with a crème brûlée flair. It's true decadence with every single bite.
RUTH'S CHRIS STEAK HOUSE - Atlantic City, New Jersey. Great dessert. If you want your top firmer, just ask. Some prefer this delicacy softer on the top … some prefer the contrast of it being crunchier.
GORDON RAMSAY PUB & GRILL - Atlantic City, New Jersey. We have recently dined in this fine restaurant. It was a great experience. This classic dessert will not disappoint.
COUNCIL OAK STEAKS & SEAFOOD - Atlantic City, New Jersey. The standards in this high quality restaurant also applies to the dessert menu. crème brûlée is a featured dessert menu item.
OLD HOMESTEAD STEAK HOUSE - Atlantic City, New Jersey. Crème brûlée is a highlighted menu item in this fine establishment. Their are take is an excellent one.
CONCLUSION:
We recognize that our list is incomplete and entirely subjective in nature.
Please let us know who we inadvertently missed.
BONUS ENTRY - UNRELATED TO OUR ATLANTIC CITY CRÈME BRÜLÉE DESSERTS LIST:
STEVE & COOKIES BY THE BAY, Margate City, New Jersey. Owner Cookie Till is a world class baker and a James Beard Foundation Award winner. Her desserts are perfect each and every time. The deserts are so good, Till opened her own bakery. Enough said.
Cookie Till offers a fabulous Crème brûlée dessert.
Unrelated, but, irresistible … Cookie Till makes the finest Blueberry Pie that we have ever eaten. Don't miss out when Cookie turns the "Blue Light" on. This treat is only available on a limited basis.
Immediately below, are two photo galleries that you're not going to want to miss. The guest features the best cakes in the Atlantic County, New Jersey area.
The second photo gallery features amazing warm, winter comfort foods sent in by our listeners and readers.
Hurley's List Of The Best Cakes In Atlantic City & Cape May Areas
Atlantic City Area Readers Submit Favorite Winter Comfort Foods
More From WPG Talk Radio 95.5 FM