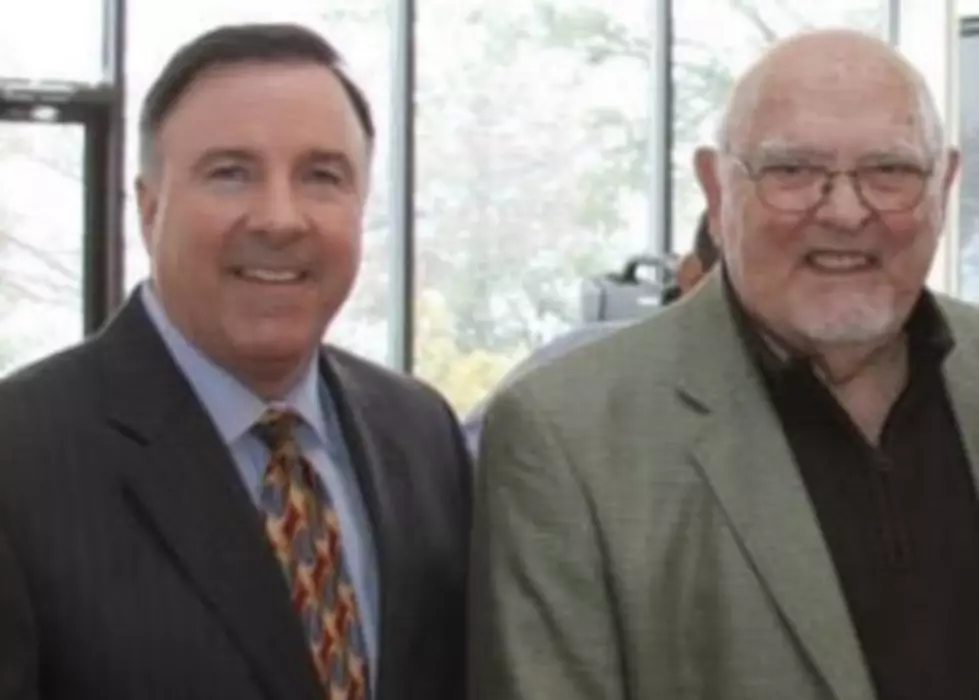 The Legendary Ed Hurst Has Passed Away At Age 94
Harry Hurley & Ed Hurst at The Broadcast Pioneers of Philadelphia
Editor's note... please join us tomorrow (Saturday 10/31) at 1PM when we will be replaying two hours of Ed's Steel Pier Radio Show. You'll get to hear Ed interview Tony Bennett, Bobby Rydell, Bob Hope, and more.
Please join with me in properly mourning the passing of the legendary Ed Hurst - to my knowledge - the longest serving broadcaster in American history.
Ed enjoyed a broadcasting career that spanned more than 75 years. It is a record of accomplishment that will never again be matched.
Ed passed away this morning (Friday, October 30, 2020) at 2:55 a.m. at age 94.
Ed was so relevant in the radio and television industry that Dick Clark said "without Ed Hurst, there never would have been a Dick Clark."
Ed's radio and television, multi Hall of Fame career began at age 16 in 1943, right here on then WFPG AM in Atlantic City, the predecessor to now WPG Talk Radio 95.5.
Ed is truly one of the most significant Broadcasters in American history. He met and played all of the greats in history: Frank Sinatra, Tony Bennett, Nat King Cole, Michael Jackson, all of them.
Ed was a pioneer and innovator. He was the creator of the dance record "hop" format; inviting people to dance live, where he conducted live interviews on radio and television.
Generations of people have these incredible memories because of Ed.
It was my privilege to bring Ed out of "retirement" and he enjoyed a great 15-year-run with my twin Brother, Don P. Hurley, together partnering to produce some of Ed's greatest work on the radio version of The Steel Pier Radio Show.
Ed was the first Broadcaster to interview the iconic Tony Bennett. They forged a loyal friendship that lasted more than 70 years.
Tony always remembered to remember and would always say, "Ed is my true friend. He's the first person to ever put me on-the-air," said Bennett.
I want to acknowledge Pam Cappelluti, who took such loving care of Ed for many years and promised to be with Ed when he passed away. A pure promise made. Promise kept. Pam is a very special person.
Pam advised me this past Wednesday, that Ed was in his final hours or days.
Thanks to Pam, I was able to rush over to see Ed to say goodbye. The truth is, I said goodbye, without ever saying goodbye to Ed.
I held Ed's hand and told him that I loved him and that I will make sure that no one ever forgets him.
Ed is a deserving member of both the Philadelphia and New Jersey Broadcasters Hall of Fame.
Ed is the holder of many awards in radio and television.
A fond memory was the day that Ed asked his WFPG Steel Pier listeners to mail-in a quarter to receive a record that he was promoting.
25,000 quarters arrived to Steel Pier owner George Hamid. Mr. Hamid was not amused. But, Ed's big footprint and market impact was firmly established.
Of course, for many of Ed's years in broadcasting, he was not a solo act.
Ed had a legendary partnership with Joe Grady and The Grady and Hurst Show became the undisputed biggest thing in Philadelphia radio for many decades.
Grady and Hurst returned in 1981 to Philadelphia's WPEN after a 26 year absence for an anniversary, short-time, two week special broadcast event.
Due to overwhelming listener popularity, it lasted for 6 more years. Grady and Hurst had conquered Philadelphia radio, yet again.
Ed often told me that he always wanted to prove to himself that he was good enough to be on Philadelphia radio, which was then the # 4 largest market in America.
Make no mistake about it, Ed Hurst's star burned bright on the national stage.
There is so much more that I want to share with you. I will continue to keep adding more content to this article about Ed's amazing life in radio and television.
Enter your number to get our free mobile app
Check Out the $11 Million House Available Now in Longport
More From WPG Talk Radio 95.5 FM