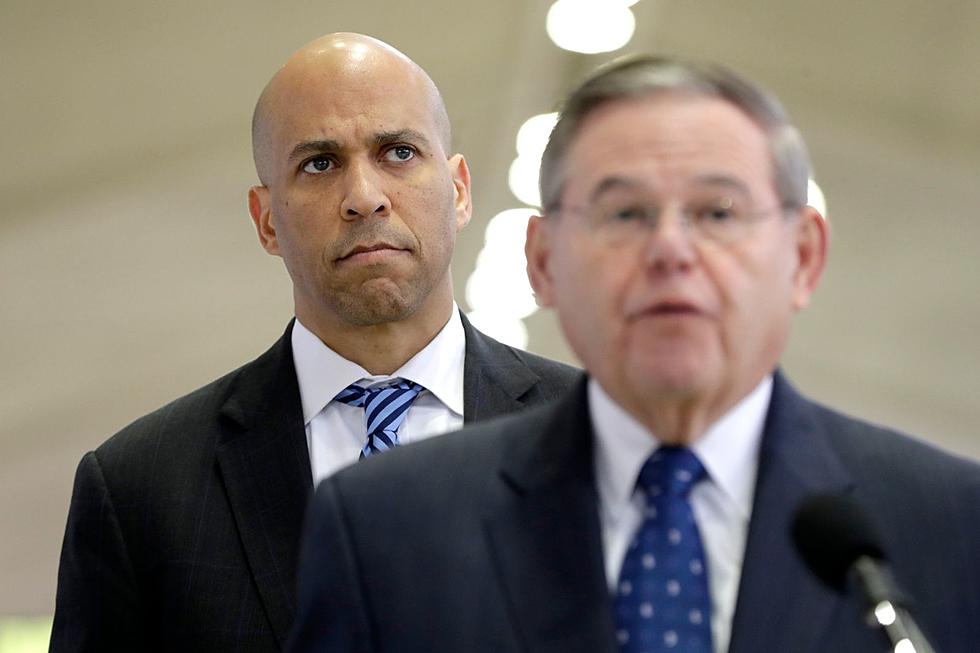 The Other NJ Senator — Cory Booker — Finally Breaks Silence on Menendez
Sen. Cory Booker, back, looks on as Sen. Bob Menendez speaks in 2019 (AP Photo/Julio Cortez)
U.S. Sen. Cory Booker, D-N.J., has added his name to a list of New Jersey and national Democrats calling for Bob Menendez to step down following bribery charges.
"The details of the allegations against Senator Menendez are of such a nature that the faith and trust of New Jerseyans as well as those he must work with in order to be effective have been shaken to the core," New Jersey's junior U.S. senator wrote in a message on his X account, formerly known as Twitter.
"Senator Menendez fiercely asserts his innocence and it is therefore understandable that he believes stepping down is patently unfair. But I believe this is a mistake."
Booker says resigning would not be an admission of guilt
Booker said that resigning is not an admission of guilt but an acknowledgment that holding public office often demands tremendous sacrifices at great personal cost.
Booker, who serves on the Senate Foreign Relations Committee with Menendez, praised him as a friend and mentor who is "intellectually gifted, tough, passionate and deeply empathic."
Van Drew considers run, Tammy Murphy asked
Democrats, including Gov. Phil Murphy and most of the Democratic members of the state's congressional delegation, have called for Menendez to resign.
A Republican member of the delegation, 2nd District Rep. Van Drew, R- N.J., is considering a primary run for the seat held by Menendez in 2024.
"I think this is a unique time in New Jersey history where a solid conservative could actually win a Republican could win this election. And I think it would be great for the state," Van Drew told New Jersey 101.5's Bill Spadea on Tuesday morning.
The former Democrat said his current focus is on the possible government shutdown before making a decision on a Senate run. Van Drew would have to give up his House seat, which is also up for re-election if he runs for Senate.
NJ Globe reported Thursday that first lady Tammy Murphy has been approached by "political advisors and key Democrats locally" about making a run for the Senate in 2024.  Her husband is term-limited to two terms as New Jersey's governor and will leave office in January 2026.
Spirit Halloween is back! Here's every NJ location for 2023
Most locations are open by the end of September but check ahead before heading out. Click/tap on the links for each location for more info.
Visiting the Twin Lights in Highlands, NJ: Photos
A virtual tour of the historic Twin Lights National Landmark. Please note that this particular tour was conducted in 2021 while COVID restrictions were still in place. Since then, all mask and COVID related restrictions have been lifted.
More From WPG Talk Radio 95.5 FM