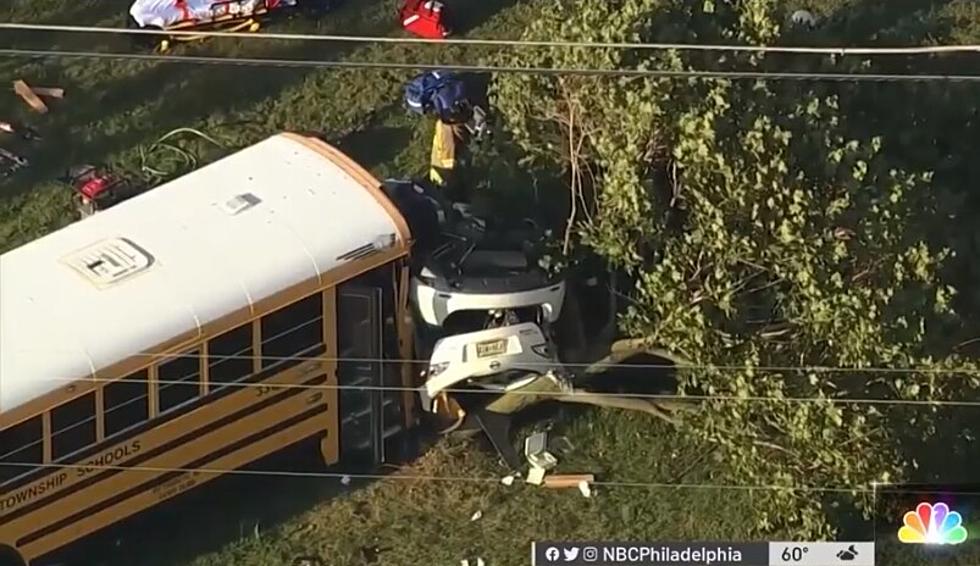 Two Dead in 3-vehicle Crash Involving School Bus in Salem County, NJ
NBC10 News/Image grab
New Jersey State Police gave details Saturday afternoon about a fatal three-vehicle crash involving a school bus with students aboard that happened about 4 PM Friday in Pittsgrove Township, Salem County.
According to police, a woman driving a Nissan Murano westbound on Welchville Road, County Road 540, crossed the center line and hit a school bus transporting 19 students from Olivet Elementary School in Elmer.
After the impact, the school bus and the Nissan entered the westbound lanes and struck a Volkswagen causing all three vehicles to travel off the right side of the roadway.
The driver of the Nissan and the school bus driver have died, the driver of the Volkswagen sustained moderate injuries, and two students on the bus were injured with non-life-threatening injuries.
The school bus driver, Denise Powell, 60, of Newfield, was airlifted to Cooper Hospital where she was later pronounced dead.
NBC 10 reports that Powell was also a cafeteria worker for Pittsgrove Township schools, according to Superintendent Matt Casey, who issued a statement Saturday.
"Mrs. Powell was a beloved member of our district for over 20 years," Casey's statement read. "The children loved her and her colleagues did as well. She passed serving the school community."
"Denise Powell is a hero," the statement concludes.
The school community is planning to wear purple on Monday to remember Powell.
South Jersey Police Who Tragically Died in the Line of Duty
This is a tribute to South Jersey police officers who tragically have died in the line of duty.
Photos of Some of South Jersey Firefighters Most Memorable Fires
Photos of South Jersey firefighters fighting fires and coming to the rescue when called.
More From WPG Talk Radio 95.5 FM