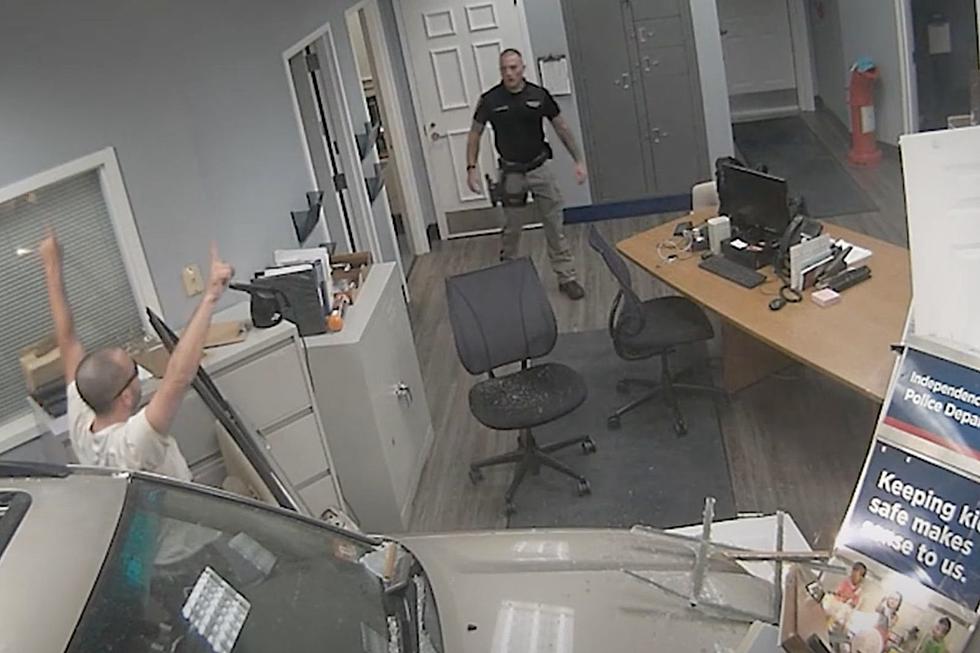 Video Shows NJ Driver Ramming SUV into Police Station Blaring Guns N' Roses Song
(Warren County Prosecutor's Office, NJ.com via Youtube)
A 34-year-old Warren County man is accused of intentionally rammed into the garage door of someone he knew, before driving his SUV through the wall of the local police station — while blaring a Guns N Roses song.
John Hargreaves, of Belvidere, first drove his gold-colored SUV into the garage of a homeowner in Liberty Township the evening of Sept. 20, according to Warren County Prosecutor James Pfeiffer.
Hargreaves knew the person whose property it was, Pfeiffer said, and it appeared to be an effort to scare or harass them.
'Welcome to the Jungle' blasting as SUV wrecks NJ police wall
Shortly after the first incident, Hargreaves then drove his SUV through the outside wall of the Independence Township Police Station, as his entire vehicle came to stop inside the squad room.
The wreck was caught on surveillance video, which the prosecutor's office shared footage from on Friday — though without the apparent soundtrack, as there was no audio to the clip.
As Hargreaves exited the driver's seat, he rose both arms above his head, while the Guns N Roses' classic rock hit, "Welcome to the Jungle" blared from his SUV stereo.
He appeared to be celebrating the damage, Pfeiffer said.
Hargreaves was quickly taken into custody by two officers at the station.
He has been charged with first-degree terrorism and second-degree causing widespread injury or damage, aggravated assault and harassment.
Hargreaves also faced two counts each of burglary, criminal mischief and possession of a weapon for an unlawful purpose.
State Police also investigated the first incident in Liberty Township.
NJ.com uploaded the video from the prosecutor's office and posted it to Youtube.
These are the best NJ high schools for sports
Stacker
put together a list of the best high schools for sports across New Jersey — using data from Niche that included sports championships, family surveys, student enrollment, athletic participation rate and sports options. Here's the top 25.
Gallery Credit: Stacker
LOOK: Most dangerous states to drive in
Gallery Credit: Katherine Gallagher
More From WPG Talk Radio 95.5 FM