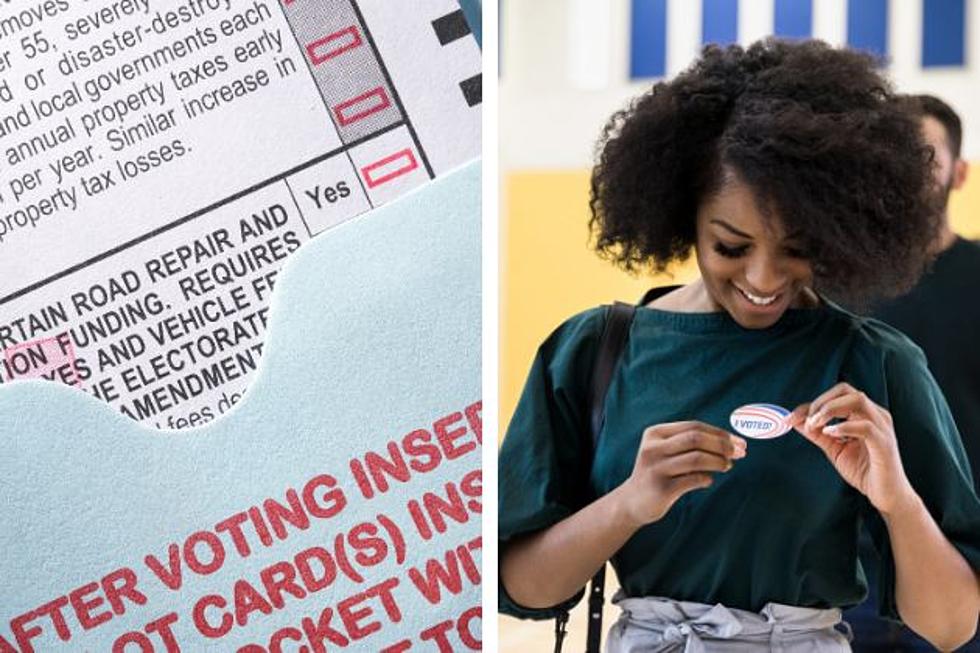 Voting For President Won't Be as Convenient in NJ in 2024
Canva
A 2023 analysis of the 2020 presidential election finds New Jersey topped the nation in voter turnout among a key demographic.
But the same analysis suggests New Jersey won't hold the top spot in next year's race because voting options in the Garden State will be different than what they were at the height of the coronavirus pandemic.
New Jersey had best turnout ranking
At 64%, New Jersey recorded the country's highest turnout rate among eligible citizens aged 18 to 34, according to data gathered by the National Vote at Home Institute. The national average was 50%.
According to Phil Keisling, the institute's chair, New Jersey's ranking is remarkable because it was far from being a battleground state in 2020, and the state has one of the most diverse populations of young people in the country — nationally, white 18-to-34-year-olds were almost twice as likely to vote than their Black or Latino counterparts.
When counting only active registered voters aged 18 to 34, New Jersey ranked 12th (70%) among the states. Montana recorded the highest turnout at 86%.
Automatic ballots in New Jersey
Of the top 10 states for eligible voter turnout in 2020, six of them had systems in place to mail ballots to active registered voters ahead of the election, including New Jersey.
Gov. Phil Murphy had announced the plan for a "hybrid" voting model in August of that year, in response to the coronavirus emergency.
According to the National Vote at Home Institute, the automatic mailings helped lift the turnout numbers in New Jersey and other states.
"When you mail ballots to all voters who are actively registered, the odds that they're actually going to cast a ballot go way up," Keisling said. "When that ballot arrives, it acts as a gentle poke in the ribs, reminding people."
In a 2020 analysis by The Brookings Institution, New Jersey was given an "A" grade for its readiness to handle voting during the pandemic. The state earned 10 out of 10 points for automatically sending ballots to all voters.
Is NJ mailing out ballots for the 2024 election?
New Jersey was one of a few states to try out the approach for the first time in 2020. And, according to Keisling's group, New Jersey is the only state among them that has chosen not to continue that approach for future elections.
The method is set to be used by eight states and Washington, D.C. in 2024.
When reached for comment about the report and the potential for automatic mailings in the future, New Jersey's Division of Elections would only say that Garden State voters have three options for voting in elections: in-person on Election Day, in-person early voting, and by mail.
But to vote by mail, one must contact their county clerk to receive a ballot. The deadline to do so for this election cycle is Oct. 31.
"About 15% of New Jersey's voters are now signed up to automatically get the ballot, and that's a start," Keisling said.
NJ residents giving most money to Trump 2024 campaign
According to filings with the Federal Election Commission, these New Jersey residents have given the most money this year to former President Donald Trump's 2024 election campaign. These aggregate year-to-date totals are current as of June 30, 2023. These figures do not include donations to super PACs, which can raise and spend unlimited amounts.
Gallery Credit: New Jersey 101.5
Top NJ contributions to President Biden's re-election campaign
In New Jersey. these are the top campaign contributors (of at least $2,000) to donate to President Biden's re-election as of June 30, 2023. The list also includes contributions made to the Democratic National Committee, which is also spending on Biden's re-election. Donations to the DNC are labeled as such.
Gallery Credit: New Jersey 101.5
More From WPG Talk Radio 95.5 FM