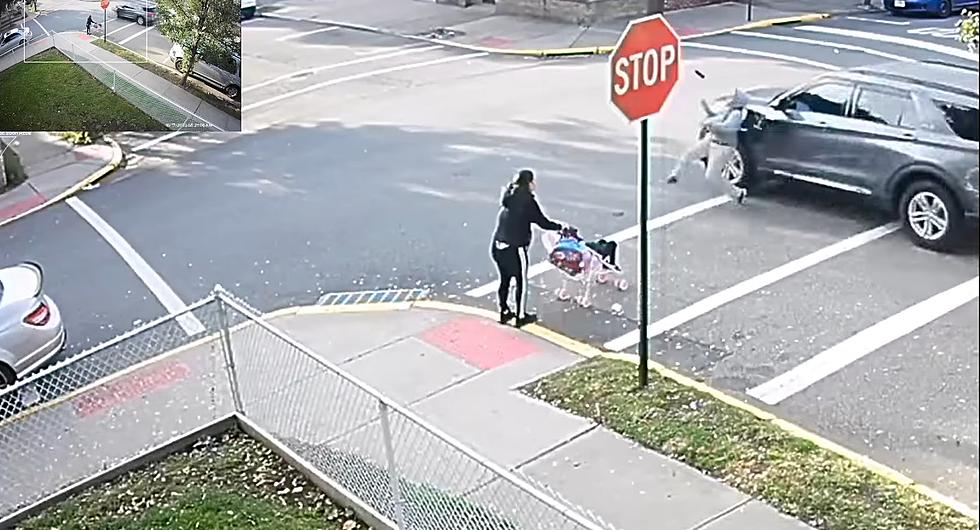 Watch: SUV Blows Through NJ Crosswalk, Strikes Boy Crossing
Image from video showing a North Bergen boy struck in a crosswalk (North Bergen Police)
NORTH BERGEN — Police are looking for the driver of an SUV that went through a stop sign striking an 11-year-old boy inside a crosswalk Tuesday morning.
North Bergen police posted video of the boy stepping into the crosswalk at Hudson Avenue at 76th Street around 8:15 AM while looking down at his phone.
He was halfway across when the driver of a gray Ford Explorer, model year sometime between 2020 and 2024, didn't stop and hit the boy knocking him to the ground.
The boy got back up, retrieved his phone from the ground, and walked back to the sidewalk where he doubled over in pain.
A woman pushing a stroller who had been walking behind the boy but stopped for the Explorer comforted him before taking his arm and walking him across the street as the video ends.
The boy continued onto school and told teachers what happened, NJ.com reported. They in turn called the police.
Police looking for witness
Police said they would like to talk to the woman who saw the hit-and-run.
Anyone with information about this incident is asked to call North Bergen police at 201-392-2100.
The boy's parents told ABC 7 Eyewitness News he went to school on Thursday.
Season ends soon for NJ camping: Last days to reserve in 2023
A look at all New Jersey state park campgrounds and the final dates you can reserve a campsite this year. State parks are listed in alphabetical order.
Gallery Credit: Mike Brant
Spirit Halloween is back! Here's every NJ location for 2023
Most locations are open by the end of September but check ahead before heading out. Click/tap on the links for each location for more info.
Gallery Credit: Mike Brant
More From WPG Talk Radio 95.5 FM