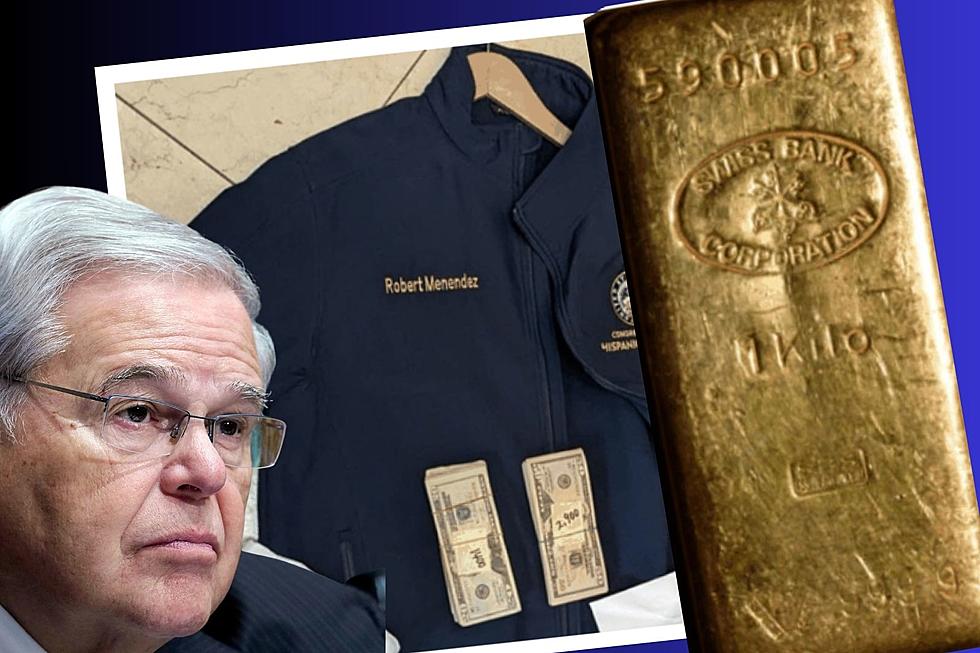 What NJ Senator Says About Gold Bars, Cash-stuffed Jackets Confiscated From His Home
(AP file/federal indictment/Townsquare Media illustration)
U.S. Sen. Bon Menendez, facing the second federal indictment of his storied political career, is calling the charges against him "false." He suggested the prosecution is part of a political conspiracy against a global freedom fighter. And he chalked it up to bias against a minority who rose to prominence.
But what about the gold bars? What about the wads of cash investigators said they found in his jackets?
On that, Menendez had little — if anything — to say.
Read his full statement below 👇
His 340-word statement on Friday goes on the offensive against prosecutors and unnamed forces but offers nothing in the form of facts, which he says the public should patiently wait to see and hear.
Gold bars and jackets stuffed with cash
At the senator's home, federal prosecutors said investigators found more than $100,00 worth of gold bars and $480,000 in cash in closets, a safe and in jackets with his name.
Menendez, 69, is accused of aiding the authoritarian regime of Egypt and trying to install Philip R. Sellinger as U.S. attorney for New Jersey, believing he could influence Sellinger to drop a criminal case against one of the three businessmen who were also charged with paying cash, gold and luxury car bribes to Menendez and his wife.
This is the second federal prosecution against Menendez in eight years. The first ended in a deadlocked jury after he was accused of using his influence to help Dr. Salomon Melgen, an eye doctor who was convicted of defrauding Medicare but whose 17-year sentence was commuted by President Donald Trump before he left office.
Menendez responds to latest criminal indictment
The following is U.S. Sen. Bob Menendez's full statement
"For years, forces behind the scenes have repeatedly attempted to silence my voice and dig my political grave. Since this investigation was leaked nearly a year ago, there has been an active smear campaign of anonymous sources and innuendos to create an air of impropriety where none exists.
"The excesses of these prosecutors is apparent. They have misrepresented the normal work of a Congressional office. On top of that, not content with making false claims against me, they have attacked my wife for the longstanding friendships she had before she and I even met.
"Those behind this campaign simply cannot accept that a first-generation Latino American from humble beginnings could rise to be a U.S. Senator and serve with honor and distinction. Even worse, they see me as an obstacle in the way of their broader political goals.
"I have been falsely accused before because I refused to back down to the powers that be and the people of New Jersey were able to see through the smoke and mirrors and recognize I was innocent. I have worked every day to repay their trust by fighting to create jobs, strengthen public safety, update infrastructure, and reduce costs for New Jersey families. I have also stood steadfast against dictators around the globe — whether they be in Iran, Cuba, Turkey or elsewhere — fighting against the forces of appeasement and standing with those who stand for freedom and democracy. I remain focused on continuing this important work and will not be distracted by baseless allegations.
"They wrote these charges as they wanted; the facts are not as presented. Prosecutors did that the last time and look what a trial demonstrates. People should remember that before accepting the prosecutor's version.
"To my supporters, friends and the community at large, I ask that you recall the other times the prosecutors got it wrong and that you reserve judgment. I am confident that this matter will be successfully resolved once all of the facts are presented and my fellow New Jerseyans will see this for what it is."
Who is Bob Menendez?
Menendez, the American-born son of Cuban immigrants, is the product of Hudson County machine politics.
Menendez has been a U.S. senator for New Jersey since 2006, serving on the Foreign Relations Committee.
Menendez was first elected as a school board member in 1974 in his hometown of Union City.
In 1986 he was elected mayor, defeating his former mentor, Mayor William Musto, who had been convicted of corruption.
In 1987, while continuing to serve as mayor, he was also elected to the state Assembly.
In 1991, he became a state senator.
A year later, he left city and state politics after winning a seat in Congress in the 14th Congressional District. His son, Rob, was elected last year to Congress to represent much of the same area in Hudson County.
In 2006, Menendez was appointed to the U.S. Senate by newly-elected Gov. Jon Corzine, who also had won the right to appoint his successor in Congress.
He beat Republican challenger Tom Kean Jr. to retain that seat later that year.
He won re-election in 2012 against Republican Joe Kyrillos. And he won a third term in 2018 against Republican Bob Hugin.
In the Democratic primary, which was treated as a formality because Menendez had no serious challenge, the results shocked some when perennial candidate Lisa McCormick won 158,998 votes to Menendez's 262,477. McCormick won six of the state's 21 counties.
Top NJ contributions to President Biden's re-election campaign
In New Jersey. these are the top campaign contributors (of at least $2,000) to donate to President Biden's re-election as of June 30, 2023. The list also includes contributions made to the Democratic National Committee, which is also spending on Biden's re-election. Donations to the DNC are labeled as such.
More From WPG Talk Radio 95.5 FM