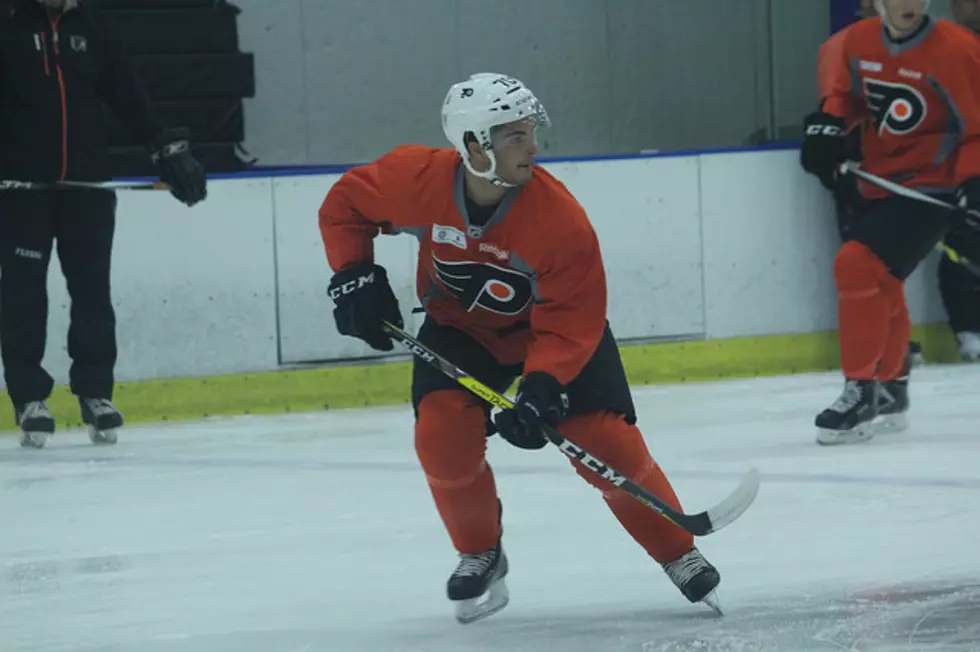 While Flyers Struggle with Scoring, Danick Martel is Lighting-Up AHL
(Kevin Durso/Sports Talk Philly)
Frustration is in full force for the Flyers and fans over a lack of scoring. In six games in November, the Flyers have been shut out three times and five times overall in 18 games this season.
One place where you won't find a scoring drought is the Flyers AHL affiliate, the Lehigh Valley Phantoms. The Phantoms are currently carrying highly-touted prospects like Oskar Lindblom, Sam Morin and Phil Myers on their roster. But there is one player who is stealing the show and leading the league in scoring early: Danick Martel.
During training camp, there are a lot of players that don't get much of a mention or much of a look from fans. It's understandable for players to be lost in the cracks during camp when some 60-70 players are in attendance.
Martel is still noticeable, if you look close enough and stay long enough. Always one of the last to leave the ice, it's still just a game for Martel, who looks like a 12-year-old kid with his personality and youthful energy. The 22-year-old has channeled that into an excellent start this season, with 14 goals and 19 points in the team's first 16 games.
Martel's path to become a pro wasn't highly profiled. He was born in Drummondville, Quebec and the winger flew under the radar throughout his junior career. He scored 32 goals and had 60 points in 63 games in his second junior season with Blainville-Boisbriand Armada in the QMJHL. The next season, he scored 48 goals and had 102 points in 64 games.
By that point, it was March of 2015 and Martel was a 19-year-old undrafted free agent when the Flyers came calling. They signed Martel to an entry-level deal and he joined the Phantoms later that season, scoring one goal and adding two assists in five games.
His rookie season in the AHL was a success with 22 goals and 37 points in 67 games for the Phantoms. He posted 20 goals in his second full season there a season ago, and added 20 assists for a career-high 40 points in 68 games.
Martel fits the bill of the undersized players that have really started to take over the game in recent years. He is just 5'8" and 162 pounds, but he makes up for it in heart and determination, even going to lengths to drop the gloves with much larger players in defense of teammates.
In a time when the Flyers are looking for scoring, Martel's name has certainly come up and at 22, he is ripe for the picking. And yet, it seems like the discussion never shifts his direction.
He's been a top-six forward for the Phantoms for three seasons now, and the numbers don't lie. This is a player that needs to be on the Flyers radar.
Kevin Durso is Flyers editor for SportsTalkPhilly.com. Follow him on Twitter @Kevin_Durso.
More From WPG Talk Radio 95.5 FM