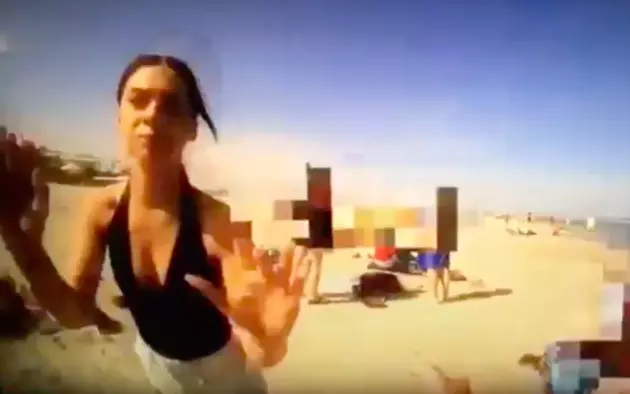 Woman in Wildwood Video Suffering from Depression, Lawyer Says
Wildwood Police Dept.
PHILADELPHIA — The woman arrested at a Wildwood beach in a hectic, violent confrontation with police says through her attorney she was injured in the incident.
Attorney Stephen Dicht told 6 ABC Action News that Emily Weinman, 20, has suffered from depression since the incident last Saturday in which she argued with Wildwood police officers about alcohol containers she had on the beach.
In police bodycam video of the incident, Weinman walked away from the officers after she refused to give her last name. She's seen turning around and slamming an officer in the chest. She is then heard screaming and seen flailing her arms as officers try to cuff her.
Her lawyer told 6 ABC she has had back, head and neck pain since the incident.
Story continues below the video:
Weinman was charged with two counts of aggravated assault on a police officer, aggravated assault by spitting bodily fluids at/on a police officer, disorderly conduct, resisting arrest, obstruction and minor in possession of alcohol.
Bodycam footage from the three officers involved was released on Wednesday, showing more of the incident than was initially posted on Twitter by a witness. The Cape May Prosecutor's Office is reviewing the video and a final report will be issued, according to Wildwood police.
Dicht has not yet returned messages from the Townsquare News Network.
On Thursday, Gov. Phil Murphy said he had yet seen the video but was confident the "wheels of justice" were in motion regarding the incident.
"I'm also of the opinion that there is no reason to be spitting at a policeman. But also the other parts of that were disturbing and lets see where that takes us," he said.
More From WPG Talk Radio 95.5 FM