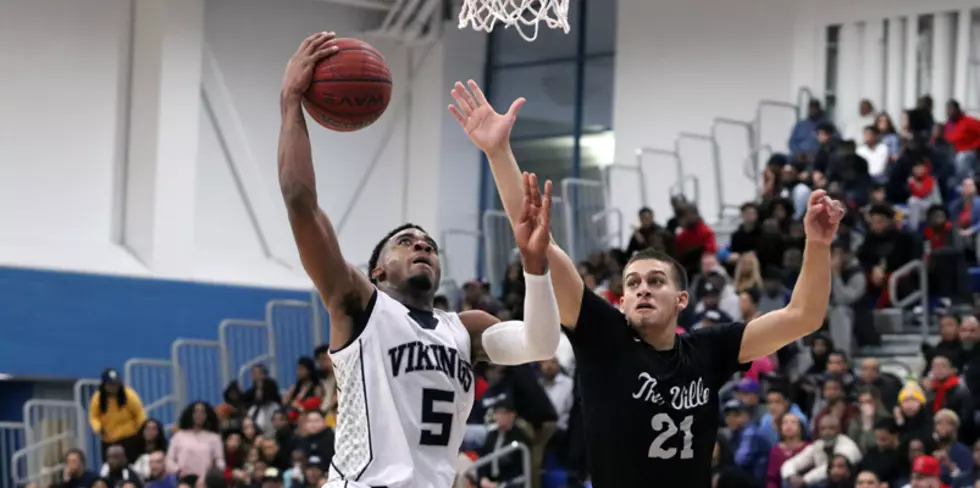 Atlantic City Beats Rival Pleasantville at Battle By the Bay
(Glory Days photo/Dave O'Sullivan)
ATLANTIC CITY — When you play basketball for Atlantic City High School, there's no better feeling that beating rival Pleasantville a couple hours before the Super Bowl, and finishing out the Battle by the Bay showcase with a crowd-pleasing performance.
The Vikings had the home crowd in a frenzy on Sunday afternoon, especially in the fourth quarter when they ripped off a 13-0 run after the visiting Greyhounds had closed to within 64-60. That was part of a 30-point outburst in the final frame as Atlantic City cruised to a 91-68 win over Pleasantville after fighting off the Greyhounds' comeback attempts for the better part of three quarters.
"This means a lot. There's a lot of hype behind it, and as a team we really needed this win. Last year, we had a tough loss and had to rebuild off that loss. I guess you could say this is bragging rights, but basically we're just worried about the next game," said Atlantic City senior forward Stephen Byard, who scored 22 points and finished with 13 rebounds, five assist and four blocked shots. "We had to play with a lot of intensity because I feel like if we played slow they would outscore us and run up and down the floor. We needed to bring intensity and get into the game, and play defense, especially."
Right from the jump: From the opening tip the Vikings (14-4) came out firing on all cylinders, opening up an early 11-3 lead and scoring 25 points in the first quarter. Byard had a slam dunk on a putback to give the Vikings a 9-3 lead and Pleasantville (8-10) called a timeout, but there wasn't much the Greyhounds could do as Atlantic City was shooting the ball well, getting it inside and scoring when it had chances. By halftime, Atlantic City had a 47-32 lead and had shot close to 50 percent from the field while grabbing 11 offensive rebounds.
The Vikings scored 14 points off 11 Pleasantville turnovers in the first half, and 34 of their points came in the paint.
"Second-chance points mean a lot. Those can determine the game sometimes, and we needed those," Byard said.
Down, but not out: Despite never leading in the game, Pleasantville refused to be counted out and stayed in the game in the first half on the strength of Atlantic City transfer Issa Baker's 18 points and some solid play from forward Elijah Jones, who finished the game with 21 points, 16 rebounds and seven blocked shots.
Pleasantville got to within 53-52 with 1:50 left in the third quarter, but as it had all day long, Atlantic City came up with an answer. Jayden Jones followed with a bucket to push the lead to 55-52 and after a dunk by Teriq Chapman the Vikings lead 58-52. The Vikings got a big boost from Quran Palms, who stole an inbounds pass with less than five seconds left in the third quarter and scored a layup to give the Vikings a 61-54 lead heading into the fourth quarter.
The Greyhounds closed to within 64-60 on a Jones inside bucket, but then Atlantic City ripped off a 13-0 run over the next few minutes that stretched the lead to 77-64 and put the game out of reach.
Palms Sunday: Palms, who scored just five points in the first half, came alive in the second to finish with a game-high 23. During that decisive 13-0 run, he scored on a putback then followed that up with a steal and layup to give Atlantic City a 70-60 lead with 5:23 remaining. He added another bucket off an offensive rebound — one of 10 he had in the game — to stretch the lead out to 73-70, and Naquan Blakeley added a jumper to give the Vikings a 17-point lead before Baker stopped the bleeding by scoring off a steal.
Several times Palms was the recipient of an assist from Chapman, who finished with nine of Atlantic City's 25 assists.
"I was just driving and kicking, and if someone was open I was going to find them. That's just me," Chapman said. "That's the most important because if you pass the ball you get an easy shot. You swing it one time you get a good shot, but if you swing it the next time you get a great shot.
"When you're winning, this feels better. Last year we had a down year; it was a good game last year, but it felt better to get that win in a rivalry game. It feels amazing," he added. "We're playing together. We're sharing the ball more. We're a family."
Stats: Atlantic City had four players in double figures; aside from Palms' 23 and Byard's 22 points, Chapman added 11 and Ja'Heen Fredericks finished with 12. Baker had 20 points for Pleasantville and Marquise McLaughlin and Julz Sanchez each finished with eight points.
The glaring statistics were assists and rebounds. Atlantic City had 25 assists to Pleasantville's five, and the Vikings outrebounded the Greyhounds 47-40. The Vikings also limited Pleasantville to just 3-of-21 shooting from three-point range.
What's next: Atlantic City hosts Millville on Tuesday at 4 p.m. Pleasantville travels to Wildwood Catholic on Tuesday at 7 p.m.
Enter your number to get our free mobile app
More From WPG Talk Radio 95.5 FM