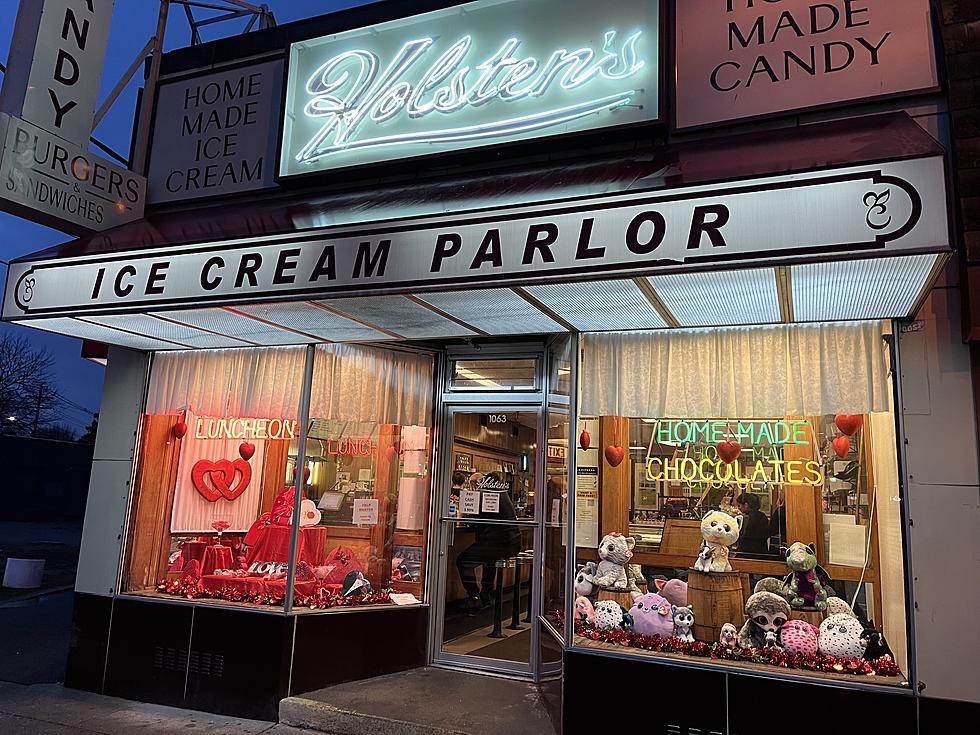 AC, NJ Siblings Dine In Booth From 'The Sopranos' Final Episode
Rick Santoro photo.
The HBO television series, The Sopranos was one of the most popular in history and in its day, it was cable television's most financially successful series in history.
12 million people tuned in on June 10, 2007 for the 86th and final episode of the iconic mafia series, created by David Chase, who was the long time  writer, producer and director for other iconic television series … The Rockford Files, I'II Fly Away and Northern Exposure.
Chase based The Sopranos television series from his Italian-American childhood in New Jersey.
The genius of my friend Tom Cantone brought "The Sooranos" cast back together on March 20, 2013, when the following cast members appeared together at Mohegan Sun for an exclusive players event hosted by Mohegan Sun and Cantone.
Cantone, the corporate president of sports and entertainment for Mohegan Gaming set-up a full capacity private special event … along with a Question and Answer component with their VIP players … it turned out to be a Cantone offer that they couldn't refuse.
The Sopranos cast members in attendance included all of the show greats:
James Gandolfini, Jamie-Lynn Sigler, Lorraine Bracco, Michael Imperioli, Steven Schirripa, Tony Sirico, John Ventimiglia and Vincent Curatola.
Little did anyone know at the time, that James Gandolfini would die suddenly at age 51, in Rome, Italy, just 91 days later, on June 19, 2013.
This made Cantone's event the very last time that this many "The Sopranos" cast members were at the same place at the same time.
This brings us to today, or, I should say yesterday.
A good friend and former Steve Wynn - Golden Nugget and Trump Hotel Casino and Resorts colleague of mine … Rick Santoro, (along with his sister Diane) recently "conducted some family business" at Holsten's Ice Cream Parlor … dining in the very same booth where the final episode of the Soprano's was filmed.
Holsten's Ice Cream Parlor is located at 1063 Broad Street, in Bloomfield, New Jersey. It's been in business since 1939.
Dining there is a true throwback experience.
We had the opportunity to conduct a wide-ranging interview with Rick about his time at Holsten's Ice Cream Parlor and The Sopranos influence at this established.
Santoro, whose entire name was used in the motion picture, "Snake Eyes," starring Nicolas Cage, and Gary Sinise, was filmed in Atlantic City.
Cage played "Rick Santoro," as an Atlantic City Police Detective for the movie. We learned that Cage is a method actor, who studied Santoro in a complete emotional identification effort to create the character "Rick Santoro" for the movie.
The real Rick Santoro is a highly respected and nationally recognized security expert. He often travels to different parts of the country and sometimes outside of the country, often on very short notice.
Our interview with Santoro on his visit to Holsten's Ice Cream Parlor was so interesting, that we want to share all of it here with you.
"Recently when traveling home from some business in Edgewater, New Jersey, I had the pleasure of meeting my sister Diane for a bite to eat when stopping in Bloomfield, New Jersey at the now famous Holsten's Ice Cream Parlor," said Santoro.
Holsten's has been In business since 1939 and "has been elevated into iconic Pop Culture status as having been the location of the last scene of the HBO mega series The Sopranos," said Santoro.
Santoro's first impression when walking into Holsten's, "was that it is frozen in time from the 1950's with paneling walls, a long line of counter service stools on the left and 40' of confectionery display cases on the right."
"Past the counter and candy cases lies the dining area of red pleather booths and a few tables in the back."
"One booth was different from the rest, it's the only one that contains a table top juke box," said Santoro.
"This distinction is not the only one, this booth is the booth where the final scene of the final episode of the Sopranos took place.
Sitting the booth prompted the impulse I had to place an order of onion rings, and drop a few coins to play the Journey song, "Don't Stop Believing," said Santoro.
Our interview with Santoro ended on a memorable note regarding this iconic television series controversial and cryptic ending, with Santoro saying:
"If anyone has the same sense of being left hanging as I was by the series abrupt and left field ending that David Chase left us all in, I suggest you visit Holsten's … enjoy some great onion rings, some homemade ice cream or a decent burger and fries and close your eyes and let your mind wander to the place of your own version of the ending," concluded Santoro.
Atlantic City Area Readers Submit Cell Photos Of Favorite Meals
What Are These Atlantic & Cape May, NJ Communities Best Known For?
More From WPG Talk Radio 95.5 FM