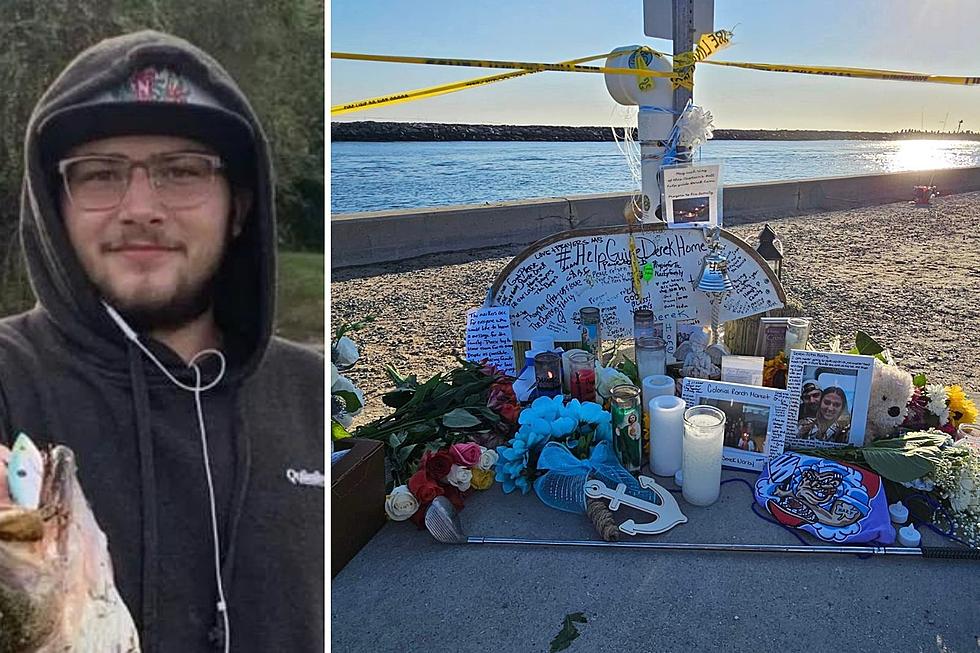 Body of NJ Man Still Missing Week After Huge Wave Overturned Boat
Derek Narby Joseph Walsh-kistner via GoFundMe), memorial to Derek Narby at Manasquan Inlet (Jen Ursillo)
It has been a week since a 10-foot wave hit a fishing boat in Manasquan Inlet knocking a father and two sons overboard.
David Narby, a U.S. Merchant Marine,  and his two sons Dawson, 23, and Derek, 21, were on board a 31-foot boat in the normally calm waters of the Inlet churned up by Hurricane Lee several hundred miles off the Jersey Shore.
David and his younger son were pulled out of the water by Point Pleasant Beach police officers but Derek remains missing.
Derek Narby, 21, has not yet been found by State Police who continued their search Thursday
New Jersey State Police have been in the water daily with side scan sonar, sector scan sonar, and scuba divers, according to State Police Sgt. Charles Marchan. So far only the boat's stern has been found and some pieces in Seaside Heights.
"We will continue to search as long as weather permits," Marchan said.
Support for the Narby family
The Midstream section of Brick has rallied around the Narby family as they await word about Derek. Lanterns and candles have been set out nightly to symbolize helping guide Derek home.
The Brick Little League has set up a tribute book at its snack stand for notes and pictures to be left for Derek's family. Donations may also be made for the Narby family. Derek played in the Brick Little League and for the Brick Memorial team.
A friend also created a GoFundMe page for the family.
Get to know the lighthouses of NJ: Photos
A look at New Jersey's lighthouses and fun facts, as well as those who participate in the Lighthouse Challenge of New Jersey.
(The list below is organized alphabetically by county)
The Top 30 Roller Coasters in New Jersey
Happy National Roller Coaster Day! The state of New Jersey is home to the 6th most roller coasters in the United States, spread across 14 thrilling theme parks.
More From WPG Talk Radio 95.5 FM