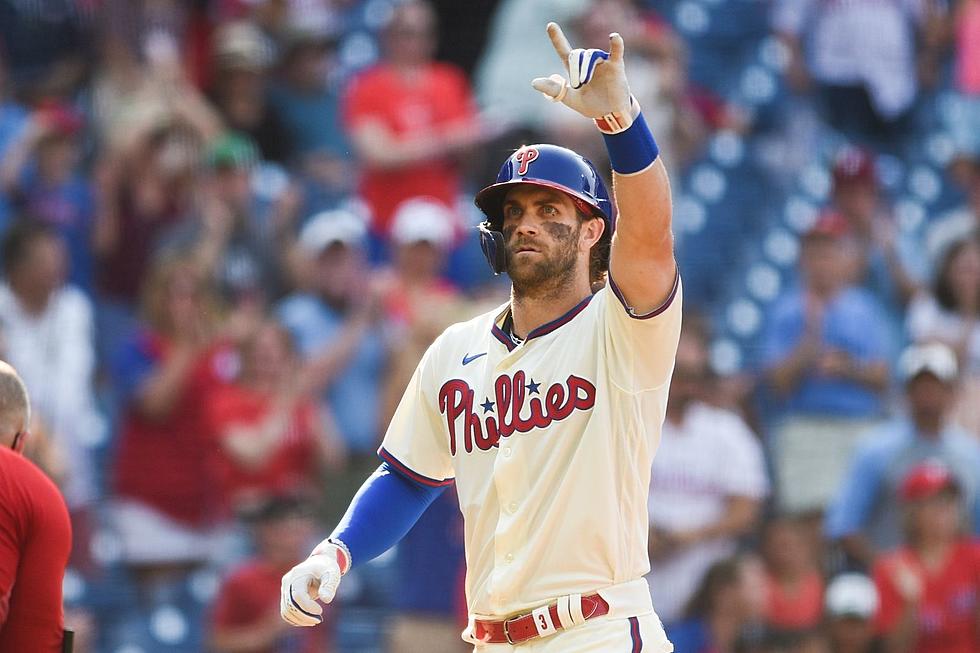 Bryce Harper to Return to Philadelphia Phillies' Lineup on Tuesday
(Photo by Cody Glenn/Getty Images)
He's back!
Philadelphia Phillies' superstar Bryce Harper will return to the field on Tuesday night, marking an incredibly fast return to action following an off-season elbow surgery.
Today's surprising news comes just months after Harper underwent Tommy John surgery in the off-season to reconstruct his right elbow. At that time, he wasn't expected to return to major league action until at least July.
Harper reportedly visited with a doctor this morning in Los Angeles for the final clearance to return to the game. His elbow had been responding well to an accelerated recovery plan in recent months, reports said.
Monday morning's doctor visit must have gone well because multiple outlets (including NBC Sports Philadelphia & ESPN) report that he has been officially cleared to return to the field for the Phillies. 
Bryce is expected hit the Phillies lineup as the team's Designated Hitter against the Los Angeles Dodgers tomorrow night (Tuesday, May 2). That's just 160 days after his surgery. 
Harper teased the news on social media Monday afternoon as well. Posting a photo in his Phillies uniform with the caption, "Aye Pham. You ready?"
https://www.instagram.com/p/CrtiqJkv_dR/?hl=en
The return of Bryce Harper to the Phillies lineup likely means that Kyle Schwarber, who had been primarily serving as the team's designated hitter, will return to left field.
More than 80 Pennsylvania Towns Are on A Ticket Blitz
PennDOT has joined with the Pennsylvania State Police and more than 80 local townships across southeastern Pennsylvania to target aggressive driving with more tickets and citations possible. The 86 townships that are part of this initiative are located throughout Bucks County, Pa.; Chester County, Pa; Delaware County, Pa.; Montgomery County, Pa.; and even Philadelphia, Pa.
More From WPG Talk Radio 95.5 FM