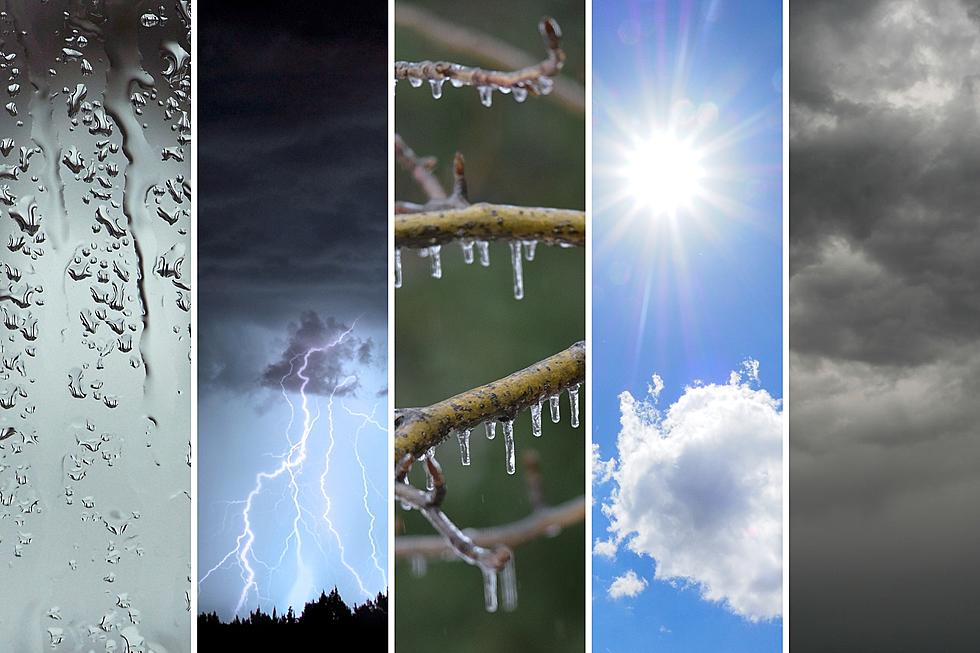 Crazy Weather for NJ: Rain, Thunderstorms, Icy Mix, Cold, Warm, Windy
(Canva)
The Bottom Line
Yeah, the forecast through the end of the workweek is all over the place. We've got three batches of precipitation, including one chance of thunderstorms and one threat of icy weather. We've got high temperatures ranging from the 30s to the 70s. There will be sun. And clouds. And wind.
I feel better about the forecast this time around, as forecast models have come into better agreement about timing and precipitation types. There is nothing here that necessarily rings alarm bells — but you will want to stay ahead of the constantly changing weather.
The end result of this wild week of weather will be another cooldown this weekend. Could that set us up for accumulating snow in the closing days of February?
Tuesday
This back-to-school, back-to-work day will be bookended by wet weather.
As of this writing (6:30 a.m.), steady rain is pushing through the eastern half of New Jersey. By mid-morning (8 or 9 a.m.), even lingering showers will wrap-up. And we'll catch dry weather through at least lunchtime.
Skies will go from mostly cloudy to partly sunny, brightening up a bit into this afternoon. It does feel a bit raw Tuesday morning, due to the dampness and temperatures in the 40s. Tuesday afternoon's high temperatures will range from the mid 40s to mid 50s, north to south. The farther south you go, the milder it will feel.
There is one more little problem looming late-day. Another round of showers — and possibly even thunderstorms — will sweep from west to east, starting around 2 or 3 p.m. Tuesday.
Just enough instability and moisture will build in our atmosphere to spawn some gusty winds and rumbles of thunder. A marginal risk for severe weather in February?! Go figure!
Any residual raindrops should exit by about 7 p.m. Then skies will clear and conditions will dry out overnight. So it will be a quiet night. Low temperatures will dip to around the freezing mark, in the lower to mid 30s by Wednesday morning. (20s in NW NJ.)
Wednesday
Temperatures turn seasonably chilly for a day. And that cooldown could be just enough to spark our next taste of wintry weather.
Early sunshine will quickly give way to clouds Wednesday morning. High temperatures will only reach about 40 to 45 degrees. Close to normal for late February.
Pockets of light showers may come into play starting Wednesday late morning, around 11 a.m. And we'll leave that chance in the forecast through the early evening hours. For most of New Jersey, it'll just be some spotty rain.
But to the north, temperatures (both at the surface and aloft) may very well be cold enough for a period of snow or icy mix (sleet and freezing rain). Accumulations will be light. Travel impacts will be minor. But we will have to be on the lookout for slippery spots during the day Wednesday. Especially north of Interstate 78.
Wednesday night will also turn quiet, as temperatures gently rise.
Thursday
The weirdest day of the bunch, as ridiculously warm air surges into (part of) New Jersey.
Our latest call: Near 50 in North Jersey, around 70+ degrees in South Jersey. I now suspect most of the state will end up on the warm side, at or above 60 degrees. But not everywhere.
I'm also leaning toward a dry forecast on Thursday, with increasing breaks of sun. Looks like a good day overall, especially if you can ditch the jacket for a few hours.
Friday
Ch-ch-ch-ch-changes. Yet again, Friday is the big cooldown day. A cold front will arrive in the early morning hours, leading to another dramatic temperature tumble throughout the day.
That front may spark an isolated shower, but don't bet on it. Thermometers will descend from 47 to 63 degrees (north to south) pre-dawn, to 28 to 40 degrees (north to south) at sunset. A brisk wind out of the northwest may gust to 40 mph.
The very definition of blustery.
The Extended Forecast
The final weekend of February is a mixed bag, as our weather progresses from cold to seasonable.
Saturday looks cold and breezy, with filtered sunshine. Morning lows near 20. Afternoon highs only in the 30s. Our first below-normal day in three weeks? A storm system drifting south of New Jersey is currently forecast to stay south of us.
Sunday warms into the mid40s, again with abundant cloud cover. There is a chance of showers (snow and/or rain) in the afternoon.
Monday scales back to the lower 40s. Our next substantial storm system arrives Monday night. And depending how temperatures trend, this one could be a snowmaker for at least northern New Jersey.
As I have mentioned endlessly, the 7-day outlook has been terrible this winter. So I take no stock in that snowy prediction at all at this point, and you shouldn't either. Just something else to watch closing the closing days of February.
The 99 top paying jobs in New Jersey
How much do you make? These are the occupations in New Jersey with the highest median annual compensation. Source: Federal Bureau of Labor Statistics, 2022
KEEP READING: Scroll to see what the big headlines were the year you were born
Here's a
look at the headlines
that captured the moment, spread the word, and helped shape public opinion over the last 100 years.
More From WPG Talk Radio 95.5 FM