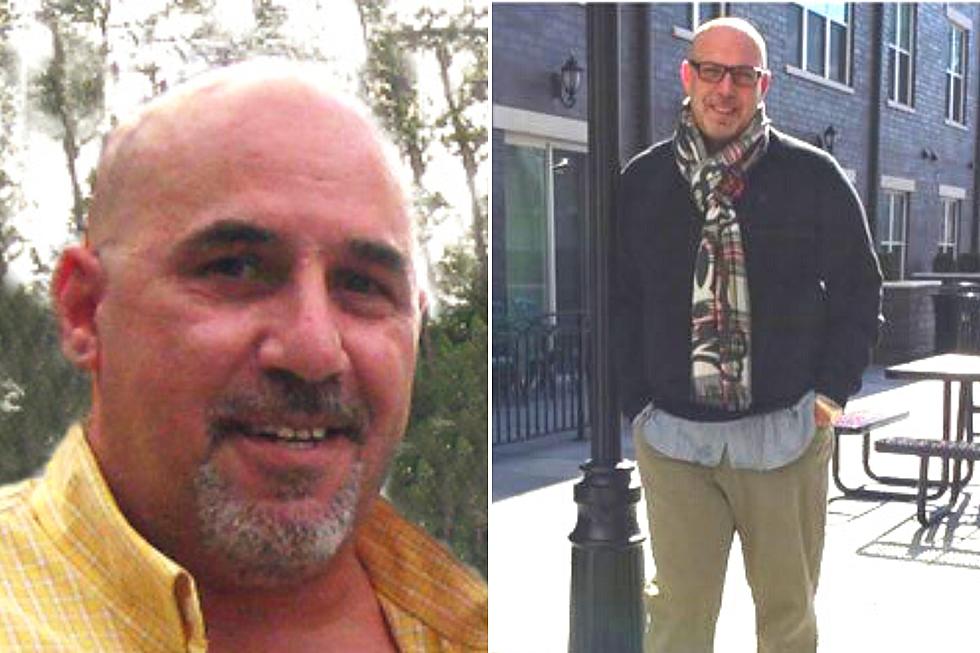 Extortion threat fueled NJ political murder-for-hire plot, prosecutors say
Michael Galdieri (left) and Sean Caddle. (Riotto Funeral Home/via Twitter)
TRENTON — A New Jersey political consultant who hired two career criminals to kill a colleague plotted the slaying because the fellow consultant sought to extort money from him, prosecutors said in a court filing made public Wednesday.
Sean Caddle, a former Democratic campaign consultant, is scheduled to be sentenced Thursday for his role in the murder-for-hire scheme that resulted in the death of fellow political operative Michael Galdieri in Jersey City in 2014.
Federal prosecutors have long cloaked the case in secrecy, revealing few details about the killing even after Caddle pleaded guilty in 2022, citing an ongoing investigation.
But authorities finally outlined the motive for the first time in the court filing, saying Caddle and Galdieri were longtime friends and collaborators on political campaigns whose relationship had gone sour.
Caddle told investigators he had become concerned that Galdieri was abusing drugs, but felt compelled to help him with money and occasional favors partly because he reminded him of his younger brother, according to the prosecutors' document.
But during Galdieri's final months, Caddle told authorities, Galdieri became erratic because of drug use and threatened to go public with details about "certain things" he had seen while working on campaigns together — unless Caddle funneled him money.
Prosecutors didn't say in the filing what sort of things Galdieri had threatened to expose or how much he sought to extort from Caddle.
"Fearing that Galdieri's revelations would ruin him as a political consultant and cause his clients to abandon him, Caddle made the fateful decision to have Galdieri killed," prosecutors wrote.
In November, a former top aide to the state Senate president pleaded guilty to tax and fraud charges related to work he did with Caddle. By inflating political invoices, the former aide made $107,800 and failed to pay taxes, prosecutors said.
Caddle has admitted to hiring two hit men, who stabbed Galdieri to death and then set fire to his second-floor apartment along Mallory Avenue in May 2014.
The two killers, George Bratsenis and Bomani Africa, pleaded guilty in 2022. Bratsenis has already been sentenced to 16 years and Africa to 20.
Bratsenis and Bomani had met while in prison in New Jersey where Caddle's now-deceased brother, James Caddle, also was serving time. Their role in the killings became known to prosecutors after the pair pleaded guilty to a 2014 Connecticut bank robbery.
Unprompted, Bratsenis said he had information about a killing in New Jersey. He told authorities that after his release from prison in 2013, he went to work for Sean Caddle and that in March or April of 2014, Caddle invited him to his Jersey City home for dinner. There, Caddle said he was aware of his "extensive" criminal history and asked if he could find someone to commit murder for $15,000.
Bratsenis then sought out Africa, who agreed to help, according to prosecutors. Caddle said he wanted Galdieri dead within 30 days and gave Bratsenis between $2,000 and $4,000 upfront, prosecutors said.
On May 22, 2014, the two men drove together to Galdieri's apartment. He was expecting Bratsensis because they had discussed robbing drug dealers together, authorities said.
Not long after he let them in, Galdieri was fatally stabbed by both men who doused his home in gasoline and set it on fire, according to authorities.
The day after the killing, Bratsenis and Caddle met at the parking lot of a diner in Elizabeth, where Caddle paid him the remaining money, though he hadn't brought enough and left to withdraw more from his political consulting business' bank account, prosecutors said.
On the same day, prosecutors interviewed Caddle about Galdieri's death. He told them about his drug use, according to prosecutors, but did not disclose his role in the killing.
The prosecutor's memo describes Caddle as "cold-hearted" and says he even attended the repast after Galdieri's funeral.
"Caddle's crime was among the most serious a defendant can commit. He set into motion the brutal murder of a friend," prosecutors wrote. "This was not just a fleeting crime of passion."
The U.S. attorney's office is seeking a 15-year sentence.
Caddle has been confined to his home on pre-trial release and hasn't committed any violations, his lawyer said in a sentencing memo also released on Wednesday. His health has also deteriorated and while he's employed he's also fallen into poverty and been evicted from his home, Caddle's attorney wrote. Caddle's attorney asked for a 9-year sentence.
Report a correction 👈 | 👉 Contact our newsroom
NJ breweries with top-rated beer
The reviews are in — see which NJ breweries have the most beers with a great rating on BeerAdvocate.
Plant Some Of These In Your Idaho Garden to Keep Mosquitoes Away
As we previously told you, mosquitoes are the most
dangerous creatures on earth
. If you want to keep them away from you're yard, these plants can help!
These are the best NJ high schools for sports
Stacker
put together a list of the best high schools for sports across New Jersey — using data from Niche that included sports championships, family surveys, student enrollment, athletic participation rate and sports options. Here's the top 25.
More From WPG Talk Radio 95.5 FM