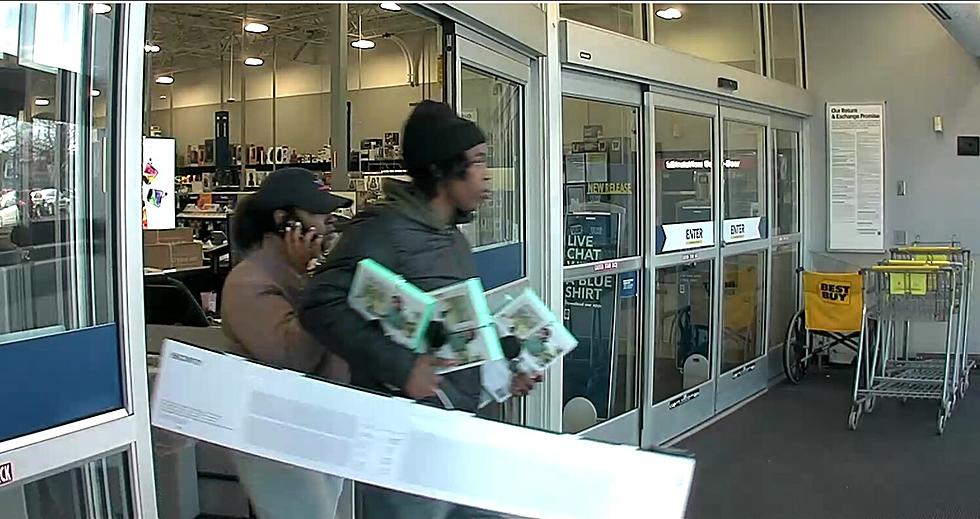 Facebook Erupts as Vineland, NJ, Police Look For Possible Theft Suspects
Vineland Police via Facebook
If you're part of a police department and you post photos of suspects on Facebook, you have to know people will comment.
That's what has happened to a post from the Vineland Police Department. Police are looking for two females suspects "regarding an investigation at Best Buy."
While pictures don't always tell an accurate story, it looks like these two people may be walking out of the store with a big screen TV and other items. Possibly without paying for them?
It's important that we point out at this time that all suspects are innocent until proven guilty. The two people caught on video are to be considered innocent until proven guilty in a court of law.
OK, first the serious stuff: Vineland Police are looking for the two people picture above, If you can help, you're urged to reach out via email: APooley@vinelandcity.org. Also, "you can send an anonymous tip to VPD.TIPS from any smart device."
Now, let's get to the comments from the story. First, here's what the original post looks like:
Buckle up, here we go with the comments -  most of which are memes responding to the post:
The Funniest Yelp Reviews of an Atlantic City Strip Club
Please note: We cleaned up a lot of these comments to make them readable by fine readers such as yourself.
More of the Funniest Yelp Reviews of An Atlantic City Strip Club
This is our second foray into "naked women are our business" scene.
More From WPG Talk Radio 95.5 FM