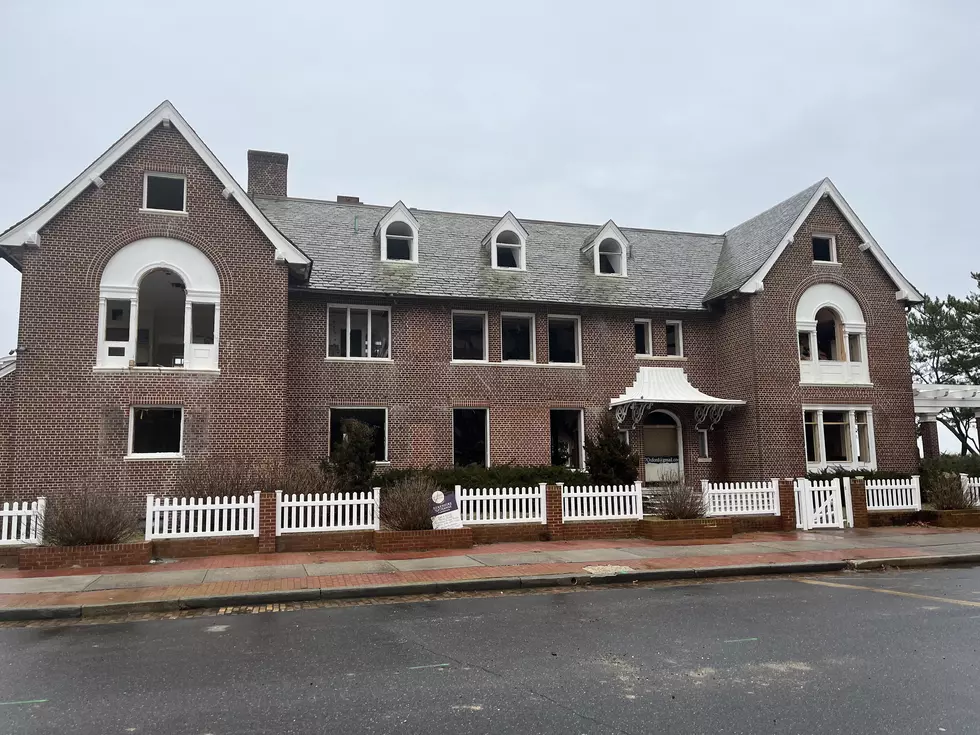 Former Atlantic City Casino Owner Wynn Ventnor Home Demolished
Rick Santoro photo.
Time stands still for no one.
The former Ventnor City, New Jersey home, once owned by former Golden Nugget Hotel Casino (Atlantic City) owner Steve Wynn is in the process of being torn down.
It was a magnificent home that Steve and Elaine Wynn transformed into a pristine, perfectly maintained property when they were in the area.
As a former Wynn junior executive, I spent some time at the home on occasion. Every imaginable attention to detail was meticulously attended to.
We went to the perfect partner to collaborate on this walk down memory lane about the 107 South Cornwall Avenue Wynn Mansion.
This grand property is located within Ventnor's highly desirable historic St. Leonard's Track.
Rick Santoro is a former Steve Wynn executive,  who Wynn trusted to protect him and his family. It's the highest compliment that you (Wynn) can pay to someone.
This is saying a lot as one of the Wynn's daughters, Kevyn was kidnapped and held for ransom (in Las Vegas) after Wynn's departure from Atlantic City casino gaming jurisdiction.
Santoro moved to Las Vegas and continued his working relationship with Wynn.
At the end of this article, please look at two photo galleries, complete with photos and blueprints of the Golden Nugget Atlantic City Casino Hotel that have not been seen in more than 40 years … most have never been seen before.
Santoro is a wealth of knowledge regarding the former Wynn Ventnor Mansion, sharing with us that;
"Prior to GNAC acquiring the home in 1979, it was owned by the Archdiocese of Camden as a summer retreat for high-ranking members of the archdiocese middle management and critical staff," said Santoro.
Further, the original first floor had a sanctuary, prayer room, library, kitchen, office m, dining room with a large table for 16 people, and five full bathrooms.
"The second floor originally had four bedrooms, including an oceanfront master suite," said Santoro.
"The third floor was broken up with two bedrooms on each end and 8 more dormitory beds in the open area in between," said Santoro.
According to Santoro, the mansion also came with a sprawling concealed, gated garden sanctuary prayer and expansive garden that stretched between Cornwall and Derby Avenues.
It had a religious statuary, located within the high bushes that went around the entire perimeter.
Santoro shared that the Wynn Mansion is fortresslike and had 12" thick walls and an all-brick facade and a slate roof.
Everything that Wynn did … was of the highest caliber.
When Wynn purchased the property, his design company called "Atlandia" … the team of Joel Bergman, Ken Wynn (Steve's brother), Nicki Jones and Paul Steelman went to work on the interior and exterior design.
They completely redesigned the entire interior, The statuary was removed and interior spaces were completely reimagined over time, between 1980-1983.
To illustrate the quality and tasteful interior renovations … Santoro confirmed that the 1983 Wynn - Atlandia Design interior finishes, including wallpaper, paint, curtains all appliances remained in the mansion for the past 37 years.
Santoro confirmed that some of these finishes can still be seen from the windows, including the retractable master bedroom shade.
In addition to the Wynn family, Santoro shared that many entertainers and their families were afforded the use of the house by Steve Wynn including, Diana Ross, Kenny Rogers, Dolly Parton, Vic Damone and Diahann Carroll, Andy Warhol, Mr. and Mrs. Frank Sinatra, Paul Anka and many more.
Vic Damone and Diahann Carroll were married at The Golden Nugget Hotel and Casino on Monday, January 5, 1987. I attended the wedding. So did Santoro.
Santoro confirmed that very high-powered meetings took place at the Ventnor Wynn Mansion, including the original founding members of the New Jersey Casino Association.
Numerous equity and financial powerbrokers, investors, state and federal politicians, a United States Vice President, union heads, labor leaders, and some of the most brilliant gaming and resort designers, architects, and experts on the planet spent time at the property.
As a very young man, Santoro was the key person responsible for the armed protection of Wynn and his family, and guests, "the security of the mansion and the various inhabitants became my responsibility," said Santoro.
"As a 21-year-old, I would reside in the home most times the Wynns were present, and hung out for hours and walked miles around the property during big meetings and the like," said Santoro.
"A few times I spent the night in one of our cars outside when all the bedrooms were occupied."
"After the first year, the company rented the basement apartment of the house next door for me for which I occupied for the next 6 years until the company was sold to MGM."
"I had camera and alarm feeds and an intercom from the residence into my apartment next door that was considered high tech at the time," said Santoro.
The property became the property of MGM after Wynn sold his Atlantic City assets.
MGM eventually sold the property to a private owner. The current owner is in the process of tearing the property down in order to redevelop it.
To see the once grand and opulent Wynn Mansion become a "tear down" is surreal, even more than 40 years later.
Here is some of the tear-down construction in real-time:
Santoro is never one to brag, but, we asked him about what he had achieved at such a young age.
"I have so many very fond memories of my 'armed house mouse' duties and the entire experience with Golden Nugget Atlantic City."
After my transfer to Golden Nugget Las Vegas in 1987, at 28 years old, I was promoted in 1988 at 28 years old to the director of Security of the Golden Nugget Las Vegas property," making Santoro the youngest casino security director in the United States at that time.
Santoro moved on to work for President Donald Trump, ultimately becoming Executive Vice President at Trump Hotels and Casino Resorts.
Directly below, we have exclusive photographs and blueprints of the Golden Nugget Hotel and Casino Atlantic City … many of which have never been seen before.
An Exclusive Look Back at the Golden Nugget, Atlantic City from 1980
Original Atlantic City Golden Nugget Blueprints - Charlie's Steakhouse - 1982
In 1982, part of welcoming back the legendary Casino Host Charlie Meyerson, Steve Wynn, Joel Bergman, and Paul Steelman reimagined this space and created the best and most opulent steakhouse in Atlantic City. Paul Steelman has exclusively provided us with 21 of the actual original blueprints. No expense was spared and a substantial 7-figure investment was spent on this project. These images have never been seen before now.
More From WPG Talk Radio 95.5 FM