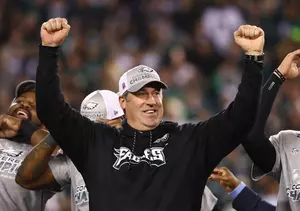 From 'Worst' to Last Man Standing in Three Years
Al Bello/Getty Images
PHILADELPHIA - Mike Lombardi became the symbol of the freezing cold take when it came to Doug Pederson and the Eagles hiring of the once lightly-regarded backup quarterback before the 2016 season.
There was no question Lombardi was over the top with his criticism of Pederson but plenty of others -- including many fans -- have enjoyed sitting in Lombardi's shadow, basking in anonymity while dodging the fact they were dead wrong on the coach who has already led the Eagles to a Super Bowl LII championship and a return to the postseason this season after three consecutive wins to turn around what had been a disappointing season until that point.
The first of those wins was as a two-touchdown underdog in Los Angeles and the second over a Houston team which had won 10 of 11 coming in.
On Monday, Pederson officially outlasted every member of his own coaching class, becoming the last man standing from the 2016 cycle.
In many ways, Pederson's success, which arguably would have been three straight postseason berths if not for Lane Johnson's 10-game PED suspension back in 2016, doomed the rest of the hires -- two of which were earmarked by Philadelphia before settling on Pederson -- now-former Miami coach Adam Gase and ex-Giants mentor Ben McAdoo.
Gase was the No. 1 target of the Philadelphia brass but wanted a little too much power, a sticking point coming off the disastrous Chip Kelly experiment,t and McAdoo was on the New Jersey Turnpike on his way to the NovaCare Complex when the Giants had him turn the car around.
While patience and continuity have proven to be the preferred way to do business in the NFL, most organizations have lesser patience in what has become an instant-critique world thanks to social media.
The thought process seems to be if coaches like Pederson, Sean McVay, and Matt Nagy can turn things around quickly why can't everyone else?
When the Eagles coach was told he was the last coach left from 2016 on Monday he responded with a "phew" before reminiscing a bit.
"All I can remember is, I think, I was seventh of seven [hires] that year," Pederson claimed with a bit of an eye roll to the legion of detractors who described him as the worst hire of the cycle. "That's all I remember."
The coach remembered more, though,  and has thrived with the underdog persona, often playing the us vs. them card to get his locker room motivated.
The underdog theme was such a big part of the team's Super Bowl run last season that the masks that Johnson and a number of other players adopted were actually inscribed on the team's championship rings.
So Pederson and his team are in familiar territory as they head to Chicago Sunday as a 5 1/2-point underdog except few will be surprised if the Eagles come out on the other side with a ticket to New Orleans.
"Listen, you have to have confidence in your ability, and obviously I'm not going to speak for the other [coaches], but I had a lot of confidence in myself," Pederson insisted. "I feel like you have to surround yourself with really, really good assistant coaches, good coordinators, and guys that love ball and love to teach. That's obviously something I learned from [former NFL head coach and executive] Mike Holmgren and Andy [Reid].
"Again, I can't speak for the others, but that's just what I know. Then having the ability and confidence in myself to lead and teach and get guys to play. I feel like if that's good enough, it's good enough."
More From WPG Talk Radio 95.5 FM