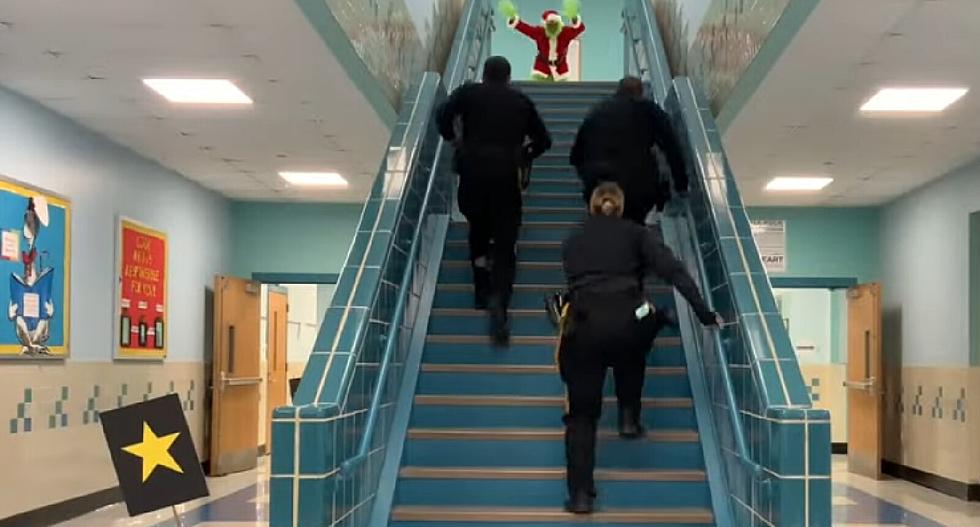 Fun Video: Grinch Terrorizes Brigantine NJ, School, Cops Nab Him
YouTube - Brigantine Community School
I have to hand it to the kids of Brigantine Community School: they did an EXCELLENT JOB putting together a Grinch-themed holiday video!
The project was apparently put together by the 8th-grade student council, with cooperation from the whole school. The video is filled with students, teachers, and administrators - all who should be commended for a job well done!
Also playing a big part - officers from the Brigantine Police Department!
From the police department: "The Brigantine Police Department would like to thank the students of the Brigantine Community School for taking action and immediately notifying us of this suspicious person trying to steal Christmas. Your outstanding videography and news anchor skills as well as your tenacious pursuit of holiday justice was directly responsible for the apprehension of this mischievous, grinchy perpetrator who was trying to steal from YOU, the future leaders of our community!"
What a great project highlighting school and community partnerships!
The video is pretty funny, too! Check it out:
So, what did we learn from watching this video?
1. The Grinch is, in fact, a Mean One!
2. Police ALWAYS get their man!
3. Brigantine Police Officers Ward, Rote, and Rehill did A LOT OF RUNNING! (And, we noticed that they carry a lot of equipment on their uniforms!)
4. Superintendent/Principal Glenn Robbins is a great sport - and a pretty good actor! (He played the Grinch.)
5. Finally: They have ice cream in school now? I never has ice cream in school?
Again, a tip of the cap to all involved! Thanks, Brigantine Police for ridding the world of another menace!
Light Up South Jersey 2021
Scroll through all of South Jersey's amazing holiday lights displays.
Rent This Dream Atlantic City Area Mansion for New Year's Eve
Check out this luxurious mansion just steps from Atlantic City
PICTURES: See Inside Reba McEntire's Former Manor Home That's Now an Upscale Resort
Reba McEntire's former Nashville mansion is now turning into a 5-star resort. The 13,000-square-foot home on 83 acres in Lebanon, Tenn., features seven bedrooms, five full bathrooms, a chef's kitchen, home theater, wine room, eight-car garage, pool, guest house, barn and more.
The bedrooms have been decorated to pay tribute to McEntire, Patsy Cline, Willie Nelson, Garth Brooks, Dolly Parton, Loretta Lynn and Johnny Cash.
With recent additions over the last few years, the space is now set to become a resort and spa that's "the ideal setting for nationally recognized corporate events, retreats, charity galas, weddings, concerts and ticketed events."
More From WPG Talk Radio 95.5 FM