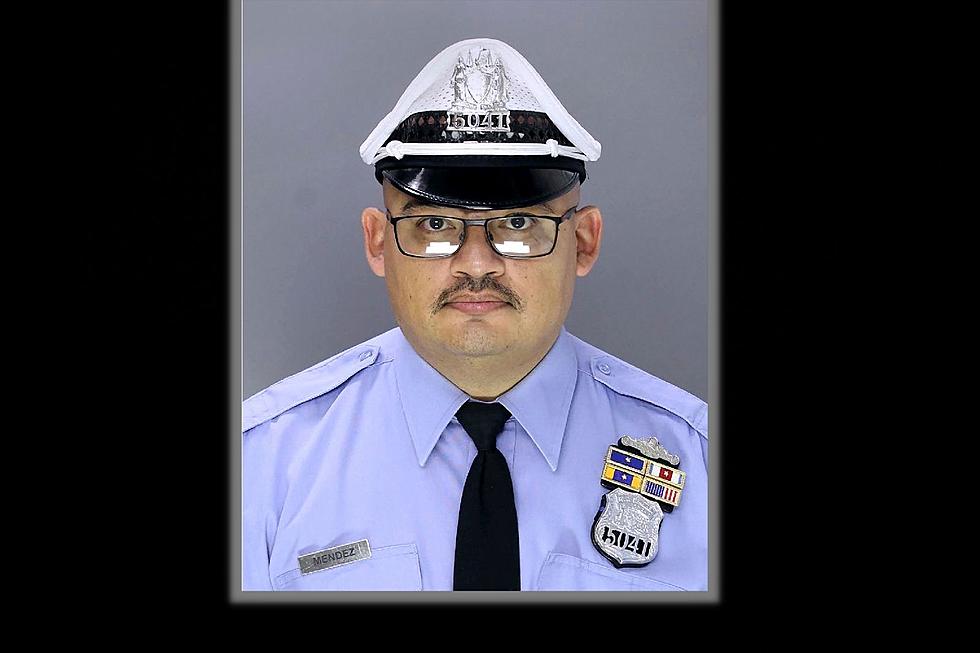 Gunman Who Shot Cop at Philadelphia Airport Arrested in NJ
Slain Philadelphia Police officer Richard Mendez (Philadelphia police via AP)
PHILADELPHIA —  A New Jersey teen was arrested early Monday in connection with the fatal shooting of Officer Richard Mendez inside a Philadelphia International Airport parking garage.
Philadelphia police said Yobranny Martinez Fernandez, 18, was taken into custody by U.S. Marshals and New Jersey State Police in Cherry Hill after discovering his location around 2 AM.
Mendez's cuffs were placed on Fernandez's wrists around 4 AM.
It's not clear if he fired the fatal shot.
Reward offered for more arrests
A reward of $207,000 is being offered for information leading to the arrest and conviction of those responsible for the shooting.
Two other accomplices are still being sought.
Getaway car found in South Brunswick
Police said that Mendez was shot from behind and never fired his weapon.
Police said Fernandez and the accomplices were involved in car thefts in New Jersey and Philadelphia but would not say if they are part of a larger car theft ring citing the ongoing investigation.
The gun used to shoot Mendez has not yet been recovered.
The officers had just arrived for work around 11:00 Thursday night at Philadelphia International Airport when they heard breaking glass and saw several people breaking into a car in the parking lot at Philadelphia International Airport. A confrontation ensued, and the two officers and one of the suspects were shot.
Mendez, who had been on the force for more than two decades, was shot four times and was pronounced dead at a hospital.
Officer Raul Ortiz, a 20-year veteran of the force, was shot once in his arm and was released from the hospital Saturday.
Gravely wounded accomplice dropped off at hospital
Authorities said the suspects fled in an SUV reported stolen a week ago that was later seen at Children's Hospital of Philadelphia dropping off 18-year-old Jesus Herman Madera Duran, of Camden, who authorities said was believed to be involved in the confrontation with the officers. Duran had been shot in the chest, abdomen and left arm and was pronounced dead around 11:30 p.m. Thursday.
The vehicle was found on fire off Route 32 in South Brunswick around 1 a.m. but the occupants of the vehicle were gone.
(Includes material copyright 2023 The Associated Press. All rights reserved. This material may not be published, broadcast, rewritten or redistributed.)
Competitive NJ school board races fall 2023
In time for November elections, 1,804 board of education candidates have been registered around New Jersey, for a total of 1,487 open seats.
These are not evenly spread — some boards have zero candidates for an available spot, while others have more than three candidates vying for each seat. The following competitive races are based on data from the New Jersey School Board Association.
Gallery Credit: Erin Vogt
NJ bears prep for winter: Here's what attracts them to your yard
Black bears are on the move in New Jersey and all 21 counties need to be ready.
Gallery Credit: Mike Brant
More From WPG Talk Radio 95.5 FM